pak sirkus (not circus) canggu's balian healer
Published: 26-04-2017 - Last Edited: 15-11-2022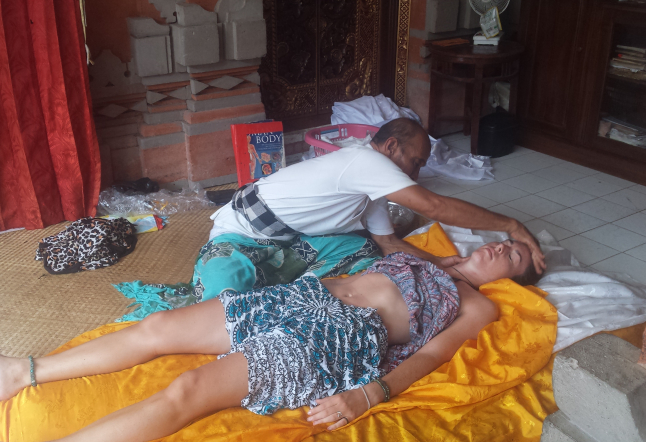 Bali healing on Jl Berawa in Canggu
As the consciousness of the mind and body grow in today's society, the experience of seeing a healer has increased in popularity and become an attraction for tourists to visit Bali. With this in mind, we visited a well-known healer, Pak Sirkus (Not Circus), in the comfort of his home where he practices, at a walking distance from the popular Peloton Supershop café on Jl Berawa in Canggu.
As it is difficult to track down what days the healer will be in, we arrived at Pak Sirkus around 9:30 a.m. on a Wednesday, a half hour after opening.

A good mix of about 20 locals and foreigners were already waiting to be seen.
For about 3.5 hours we watched him heal each person in the center one by one with awe.

Pak Sirkus sat cross legged on the floor next to a mattress engaging with the people as he invited them to the mat and performed his healing ritual.
Also Read>>> Where to buy yoga mats in Bali
Also Read>>> Where to buy yoga pants in Bali
At the beginning of his practice, he used a stick between people's toes and applied pressure.

Some people showed extreme pain during this quick process, yet it allowed the healer to specify where in their body they needed healing.
Once it was my turn he located the pain and tension and worked out different areas.

There was a minor language barrier, but throughout the process, Pak (meaning Mr. in Indonesian) encouraged me with tips and comments, and I felt we connected as he knew what I was feeling and where I needed work specifically.

He kept the mood light to render my mind away from the quick jolts of pain, each giving me a sense of release immediately after. His favorite line was "no pain no gain", which suits the entire experience!
When he finished moving around my body, applying pressure and different natural oils, he sat behind me and gently played with my hair.

He told me he was rearranging it "Balinese style."
As his service is per donation, many people enter the room beside to buy an offering as an expression of gratitude (ask a local working on site).

With patience and appreciation, attending healing with Pak Sirkus is a magnificent event.
Note: There's no email booking or phone number. Just follow the address, or ask the locals where to go. He begins healing around 9 a.m. a few days per week.
Address: Tibubeneng, North Kuta, Badung Regency, Bali – Map Me (next to Bungalow Living furniture Store) – Tel: n/a – Just show up early – First come first serve basis).
For more info on Bali's best spots, including
| STAY | SPA | PLAY | EAT | SHOP | YOGA |
Download THE ULTIMATE BALI TRAVEL GUIDE for free here.
Read next >> bali is heaven for massages