kecak tari sanghyang fire traditional dance in bali
Published: 21-09-2018 - Last Edited: 15-11-2022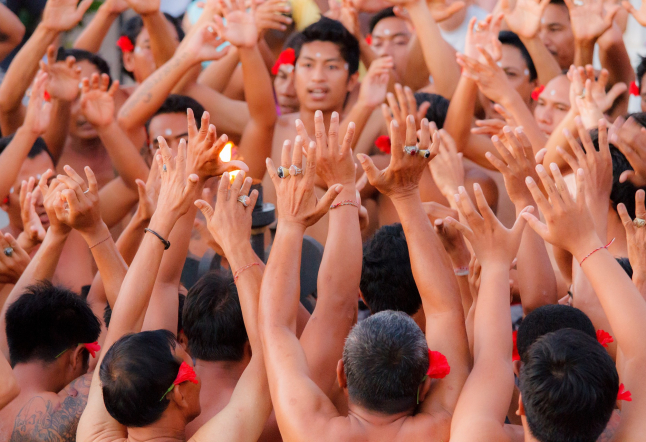 Hypnotic and spellbinding, you may remember Kecak from the 1992 film "Baraka". A chorus of fifty to a hundred bare-chested men enter a stage imitating the sounds of a "gamelan" orchestra; they chant "cak-a-cak-a-cak-a" in harmony with one another, raising their vibrating arms and swaying expressively. At times they sit cross-legged in a circle; sometimes they stand, squat, or stomp their feet, always in close physical proximity to one another.
Kecak is a Balinese Hindu dance and art performance – also known in Indonesian as Tari Kecak – which traditionally takes place in a temple. It depicts a battle from the poem Ramayana. An epic love story that centers on the divine prince, Rama, as he enters a forest with his allies to rescue his wife, Sita, from a demon king Ravana. While living in Bali in the 1930s, German artist Walter Spies was captivated by the intriguing albeit universal tale of 'good versus evil' and decided to narrate it to Western tourists via a sacred and traditional, ritualistic dance called "Sanghyang".
Audiences experience an artful array of twists and turns representing the challenges overcome by Rama during his quest. A virtuous hero, a damsel in distress, a monkey-like devotee and a demonic king all feature in the action that unfolds. The climax scene is where Rama's savior, Hanuman, escapes a fire that has been lit to destroy him. Audience members gasp. Those at the back of the amphitheater may feel a tinge of relief as flames flicker wildly and glowing embers fly out in all directions.
Kecak is particularly popular in Uluwatu, South Bali, where you will find a nightly performance at Uluwatu temple, edging the limestone cliffs with views of the Indian Ocean. But if you are not heading South, the dance can be enjoyed on various corners of the island, including Sahadewa Barong Dance theater in Batubulan, the village temple of Taman Kaja in Ubud, and the Garuda Wisnu Kencana cultural park in Ungasan.
Kecak is a feast for the senses with an eclectic medley of colors and sounds. It is unlike anything you will find in other parts of South East Asia. Visitors can expect a memorable display of percussive movements, vibrant costumes and rhythmic vocals, walking away with a little piece of Balinese magic.
For more info on Bali's best spots for the modern yogi STAY | SPA | PLAY | EAT | SHOP | YOGA – Download our ULTIMATE BALI GUIDE for free.
Read next >> wonder women of bali