why bali is an ideal yoga destination?
Published: 22-03-2019 - Last Edited: 19-08-2021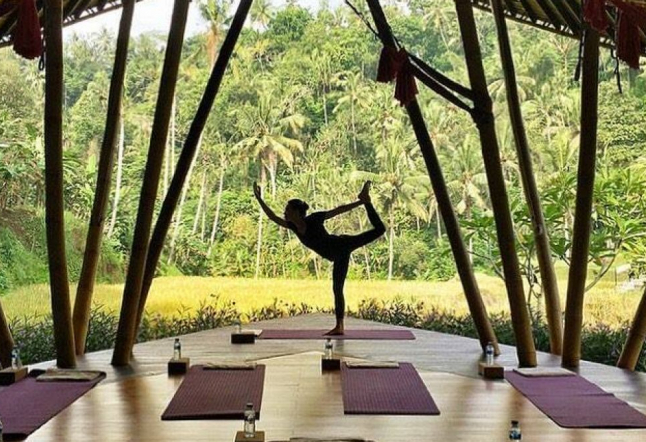 From lush vegetation, green rolling mountains, rice fields, volcanoes and beaches, Bali has it all. It is a paradise which creates magical feelings for all, from traveling yogis to foodies.
Bali is a hub of health and wellness and boasts a number of great spots just waiting to be explored. There are spas offering a variety of treatments, restaurants creating delicious organic foods and hundreds of yoga retreats led by world-class instructors, to name a few. You will feel an ingrained spiritual culture anywhere you go on this Island of the Gods.
To put it simply, Bali is any yogi's dream! The compiled list is some recommendations we think you will love.
Wellness à la carte
There is an abundance of wellness spas throughout Bali. In fact, the island reportedly has the highest number of spas in the world. There are around 1,200 dotted around Seminyak, Canggu, Kuta, and particularly in Ubud.
In these spas, the most common treatment is the Balinese massage. It is a full-body treatment consisting of long, gentle strokes which target specific points similar to the acupressure technique. The prices range from very affordable $8 sessions to more sophisticated treatments in luxurious settings. Some spas also combine reflexology and aromatherapy and could cost up to 40-50 USD.
Ubud is considered to be the most holistic village in Bali. Not only does it have a multitude of wellness centers, but there's also an intrinsic motivation for living a healthier life. This has attracted many yoga teachers from all over the world who have transformed it into one of the most popular destinations for practice. There are at least 200 yoga retreats where you can deepen your practice, receive spa treatments and kick start a healthier lifestyle.
Deep spirituality
Unlike the rest of Indonesia, Hinduism is the main religion in Bali. The combination of their religion with Buddhist mythology, local beliefs, and indigenous deities has created more gods than the usual Hinduism. Not only has this created a distinct culture on the island that is a perfect fit for practicing yogis, but the number of ancient temples and sanctuaries have definitely created a strong sense of vibrational energy which follows you.
Unless you're planning to dedicate a few years of your life to explore and discover all the temples Bali has, the following four are the most iconic:
Pura Taman Saraswati
Dedicated to the goddess Sarasvati, Pura Taman is the most popular temple in Ubud. Featuring the distinguishing Balinese architecture, the location is popularly known for its pond filled with beautiful pink lotuses, the atmosphere is incredible and visited by many. When you're done soaking in the culture, head to Northeast Ubud and visit the 11th-century temple and funerary complex, Gunung Kawi. With tall towering buildings and carved rock cliffs, the unique complex is a must-see.
Tirta Empul
Translating to 'holy spring water', this temple is built around a natural spring. Water spouts from several fountains where locals bathe for a purification ritual. Soak in the water and feel cleansed at this national cultural heritage site.
Uluwatu
A sea temple located in Uluwatu which is widely known for its magnificent location as it sits atop a 230ft cliff. The altitude helps to witness the best views of the island; an ideal location to capture the sunset and stunning seascapes with waves crashing at your feet.
Tanah Lot
One of Bali's most important landmarks, Tanah Lot is popularly known for its unique offshore setting and sunset views. The entire location is buzzing with a calming energy and it is one of the most important venues for the Balinese to worship the sea gods.
Healthy food
Ubud and Canggu have one of the best vegan food scenes in the world. Almost every eatery has plenty of vegan, vegetarian, and plant-based options and they all emphasize the importance of consuming locally grown products. With its nice climate year-round, it is easy to find fresh fruits and vegetables.
Gado-Gado is a traditional Indonesian dish which is a vegetable salad with cabbage, lettuce, potatoes, steamed carrots, tofu and doused in delicious peanut sauce. It can be bought from all local vendors.
If you prefer soups, try Sayur Asem – a tamarind soup with veggies and served over rice. For coconut lovers, Sayur Lodeh is a delicious combination of coconut milk soup, gourd, and carrots. Both soups can be accompanied with rice, tofu, and other vegetables, making them perfect vegan dishes.
Impressive nature and activities for all tastes
The natural beauty of Bali has no rival. Though it's a relatively small island, it's blessed with a variety of breathtaking landscapes. Its beaches, the hypnotizing rice fields, the monkey rainforest and the splendor of Mount Agung are impossible to replicate.
Moreover, Bali sits on the Coral Triangle, which is the most important marine region in all of Southeast Asia. A billion acres of ocean encompasses over 30% of the world's flora and fauna and is home to a huge marine diversity.
After a morning yoga session, you could plan a trekking trip in the caldera of Mt Batur or Mt Batu Karu. Book a snorkeling tour and admire the vibrant colors of the underwater world in Pemuteran, Amed, or Tulemben; wake up early for a dolphin-watching trip or take your time and get lost in Ubud's monkey forest whilst playing with macaques.
If you happen to be in Bali when a festival is taking place, it's the universe telling you to attend. Ubud Village Jazz Festival is an excellent event which can be combined with a Ubud yoga holiday; Soundrenaline is a yearly event which takes place in mid-September and it's one of the most popular music events in Bali. If you're ready to celebrate music, dance, yoga, and dream then Bali Spirit Fest is the festival to attend. Globally recognized as one of the best yoga festivals in the world, not only does it offer workshops, classes, live music, and dances – the festival contributes to helping the greater community in Bali.
Any yogi's dream
Its safe to say Bali should be on your bucket list. Immerse yourself in everything it has to offer and you will not only feel a deep spiritual connection with the island and its culture, you will not want to leave!
For more info on Bali's best spots for the modern yogi STAY | SPA | PLAY | EAT | SHOP | YOGA – Download our ULTIMATE BALI GUIDE for free.