a guide to temples in bali
Published: 30-11-2018 - Last Edited: 12-08-2021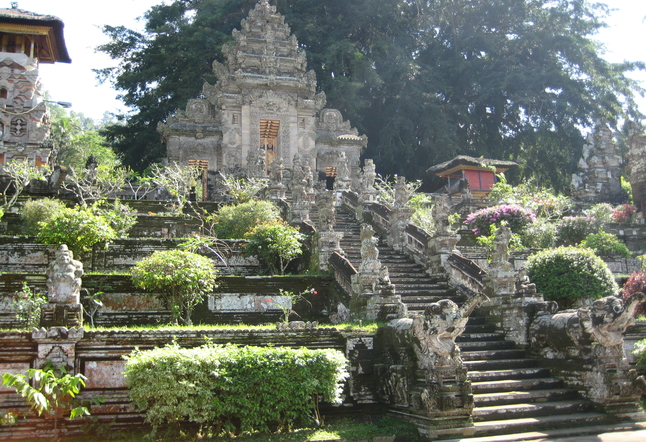 10 must-see holy sites in Bali
Bali is renowned for its abundance of temples. Water temples, sea temples, cave temples, and mountain temples are just some of the spectacular holy sites speckled across the island. However with more than a thousand spots to choose from, how do you decide which ones to include in your itinerary?
We are here to point you in the right direction. Our informative guide draws on a wide range of motivations to embark on a temple-centric adventure. Read-on to find out which of Bali's temple's we recommend (in no specific order) and why they have made it onto our "must-see" list.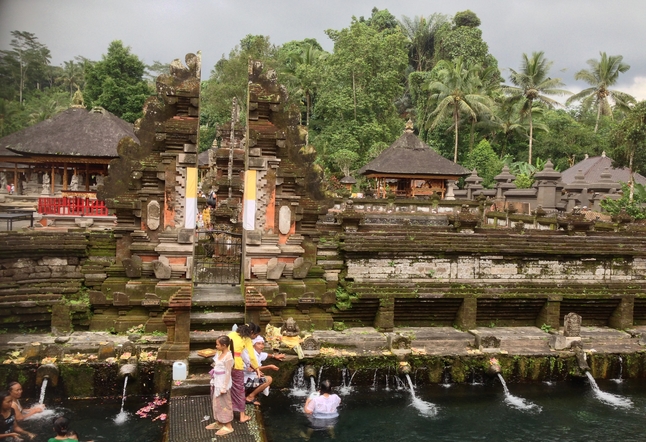 Pura Tirta Empul
Pura Tirta Empul is Bali's most famous "water temple", that is, a temple built over a sacred spring. Balinese locals and tourists from all over the world visit the site to partake in a traditional "water ceremony", which is performed by a Hindu priest to cleanse and heal their bodies of sickness. The ancient temple is said to have been created in 962 A.D. by the god Indra following the defeat of the evil king Mayadenawa, representing the triumph of good over evil. Walking around the temple, there are tons of magnificent features to appreciate: sculpted fountains, ornate statues, a Balinese gate and beautiful stone architecture. It is one of the most magical places in Bali to experience the therapeutic qualities of a "holy water" shower.
Pura Tanah Lot
Tanah Lot lures tourists from all over the world with its fascinating structure and spectacular sunset vistas over the ocean. Over the years it has become hugely popular, but we felt compelled to include it in our list because it plays an important role in Hindu Balinese mythology. Perched on top of a rock in the ocean, it is allegedly protected by a giant snake from intruders and evil spirits. It is one of seven "sea temples" that rest along the south-west coast of Bali, founded in the 16th century by the Javanese priest, Danghyang Nirartha, to honor the ocean and sea gods.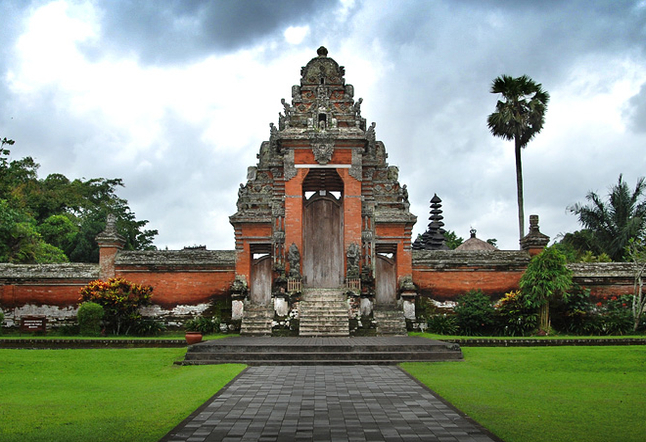 Pura Taman Ayun
Taman Ayun is a charming landmark located in Mengwi village and slightly more serene and off-the-beaten-track than other temples in Bali. Built in 1634 by King of Mengwi, it stands as a prominent example of Balinese Hindu architecture from the 17th century, with a touch of Chinese influence. The temple site is comprised of spectacular courtyards, numerous multi-tiered merus, and a spacious tropical garden. A peaceful afternoon can be spent strolling around the lush natural surroundings and idyllic lotus ponds.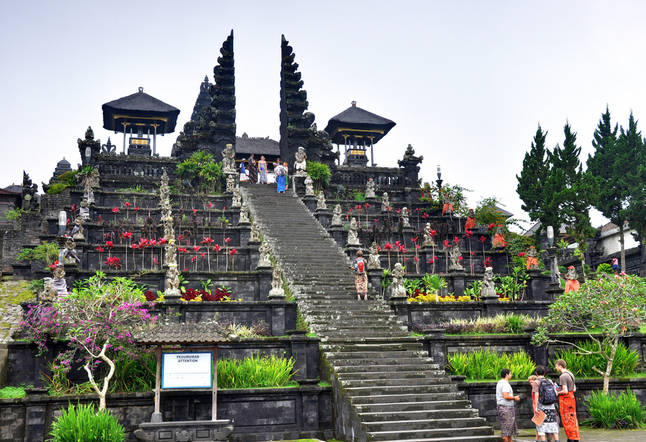 Pura Besakih
Often called "the mother of all temples", Pura Besakih is Bali's largest Hindu temple, located on its tallest and most sacred mountain, Mount Agung.' It is so big that it can take an entire day to explore, and may even warrant several visits. Thought to date back to the 10th century, this intriguing complex is made up of 23 distinct temples and hundreds of intricate towers. It is famous for escaping destruction when Mount Anung erupted in 1963, and has since been considered one of holiest places on the island. It is a wonderful spot for fervent photographers and those who love to do a lot of walking.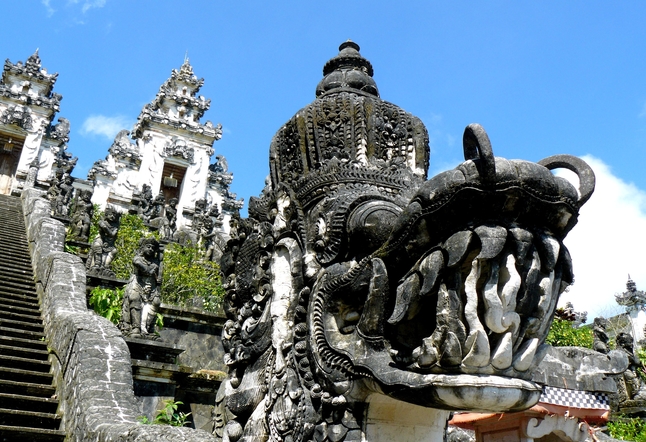 Pura Luhur Lempuyang
Pura Luhur Lempuyang is one of Bali's nine sacred directional temples, built to bring balance to the island and protect it from evil forces. Often referred to as the "Gates of Heaven", the temple consists of seven sanctuaries dotted along a trail leading to the summit of Mount Lempuyang. The grande complex is a stunning example of traditional Balinese architecture. To reach its peak, you must climb 1,800 steps, where incredible photo opportunities await. It is one of the most challenging temples to get to, but the most unique and least touristic.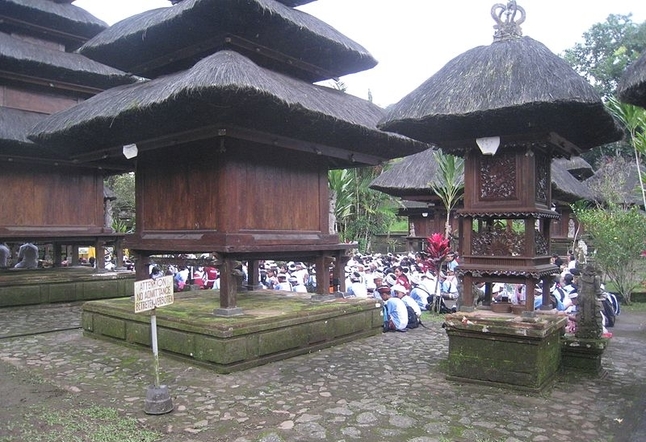 Pura Luhur Batukaru
Another directional temple, Pura Luhur Batukaru, was constructed in the 11th century on the jungled foothills of Mount Batukaru. You will find numerous exquisite buildings to marvel at, including a 7-tiered shrine dedicated to Mahadeva, the god of air, water and plants. The temple is a great place to delight the senses or learn about Balinese Hinduism in a tranquil setting, as it tends to be less frantic than other attractions. You can combine it with visiting Bali's famous rice terraces, Jatiluwih, which are only two-kilometres away.
Google Map

Also Read>>> Best Bali Waterfalls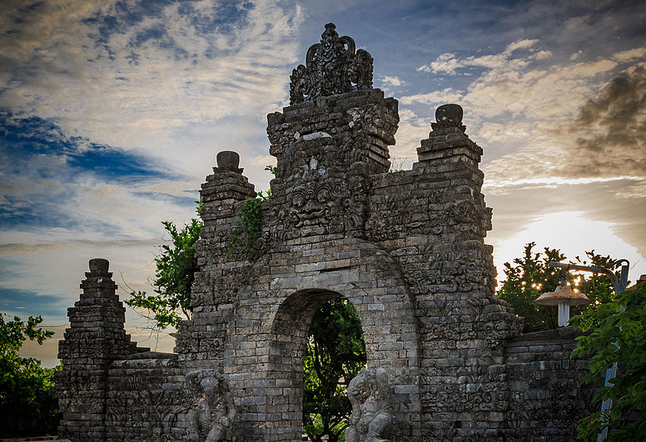 Pura Luhur Uluwatu
Probably the busiest of the bunch, Uluwatu Temple is a key directional temple established with the aim of protecting Bali from evil spirits. There is some debate surrounding its origins, but it is believed to date back to the 10th century. It has become famous for its iconic sunsets, ocean views and spectacular nightly performances of the traditional Balinese dance, Kecak. You will also catch sight of countless monkeys dashing about – keep a careful eye on your belongings and resist waving any bananas about if you do not wish to be a target.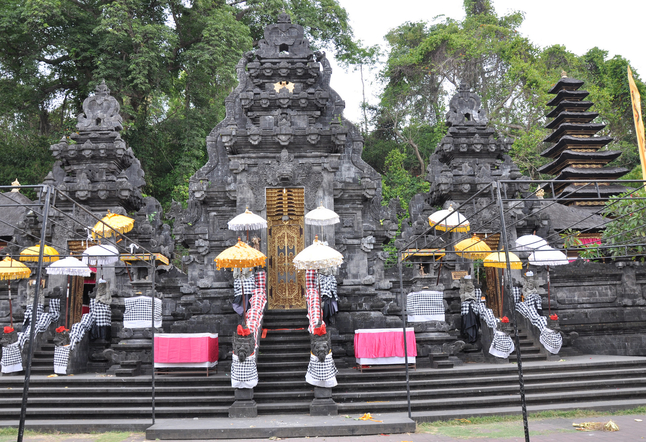 Pura Goa Lawah
Goa Lawah is a directional temple in East Bali, built around a cave filled with thousands of bats. It is smaller and less striking than other temples in Bali, but has numerous enthralling legends and myths attached to it. The story goes that a giant serpent hides within its corridors and a hidden tunnel inside leads to Besakih temple. The mysterious temple was established in the 11th century by the Javanese religious figure Mpu Kuturan, who played a significant role in introducing Hinduism to Bali. Hundreds of locals enter the site on a daily basis for prayers and rituals. There is a gorgeous black-sand beach situated directly opposite the cave, so don't forget to drop by for a swim once you are all templed out.
Pura Melanting
Tucked away between Pemuteran's beautiful mountains and beaches hides Melanting. The temple site is a feast for the eyes with its exotic stone buildings, beautiful lotus ponds, and ornate merus. Like many temples on the island of gods, it was built in honor of Danghyang Nirartha, and the Balinese believe that Nirartha's eldest daughter's spirit can be found inside its walls. Since it is more remote and less packed with tourists, Melanting is often a peaceful place to meditate, pray or enjoy some stillness in Bali.
Google Map

Also Read>>> Where to Buy Yoga Clothing in Bali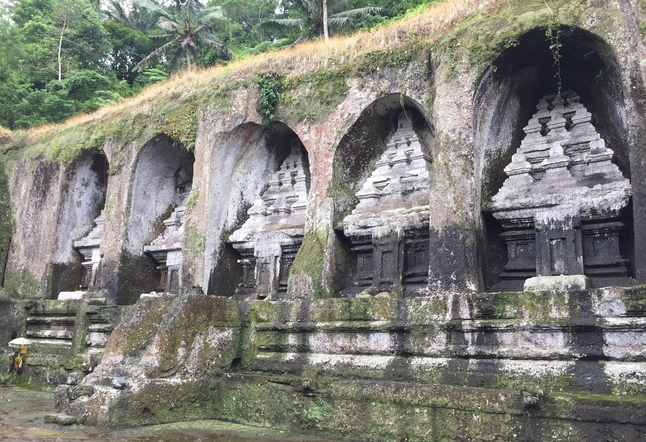 Pura Gunung Kawi
Gunung Kawi Temple complex has been described as Bali's most distinctive archaeological site, consisting of 10 ancient shrine reliefs carved into a rock cliff face. The captivating temples can be found sandwiched between the emerald-green rice fields of Tampaksiring. On the east side of the Pakerisan river, there are five buildings devoted to King Udayana, his queen Mahendradatta, and their sons. On the west side, the temples are dedicated to the king's mistresses. The temple site looks like something out of a fairytale, filled with statues, fountains, lakes and a stunning bathing pools in the courtyard. It can easily be deemed Bali's prettiest temple.
Rules and Etiquettes
Bali's temples are not just an opportunity to capture incredible photos – they are holy spaces where people partake in important religious ceremonies and rituals. It is vital to be aware of the etiquettes for each of the temples and abide by their codes of conduct. While these can differ slightly, there are certain rules that generally stay the same.
Every person entering a temple should dress modestly, covering their shoulders and knees. A long sarong ('kain kamben') must be worn with a sash tied around the waist. You can usually rent one at the temple entrance, but if you intend to visit several temples during your trip then it may work out cheaper to buy your own.
Remember that you cannot step into a temple if you have a wound or an injury, that includes women who are menstruating or have given birth in the last 6 weeks. Anyone who is bleeding is considered "impure", and while this may be a point of contention for some, remember that you are a guest and should respect the beliefs of the island while visiting.
Doing a bit of research to learn more about Bali and the stories behind its traditions is an exhilarating part of the journey around this majestic island. Exploring its temples and sacred sites can bring you one step closer to experiencing the magic it has to offer first-hand.
For more info on Bali's best spots for the modern yogi STAY | SPA | PLAY | EAT | SHOP | YOGA – Download our ULTIMATE BALI GUIDE for free.