atelier om
Published: 29-07-2017 - Last Edited: 15-11-2022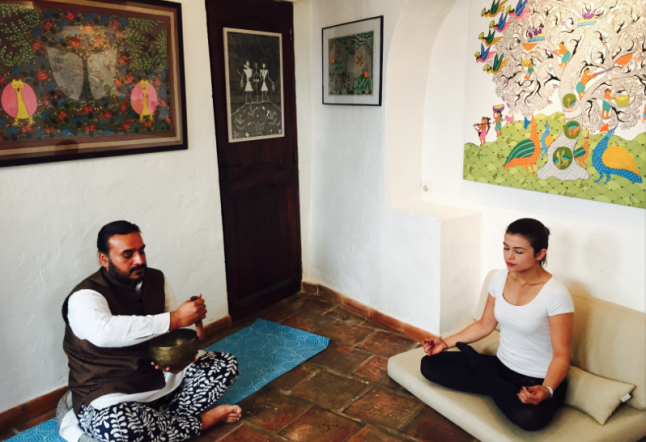 Atelier OM is an Indian tribal art gallery transformed into a cozy yoga studio in the charming streets of Saint Paul de Vence, a village in South of France. Dr. Sunny Sandhu, the charismatic and welcoming founder of Atelier OM, offers 4 different classes, which are available either in private or small group formats.
Dr. Sandhu, also a composer, musician, and singer, conducts a Naadi diagnosis and treatment by touching the fingers and the hands.

This process enables him to do a full scan of the body, mind, and spirit, which helps the practitioner to go into a deeper understanding of the process needed for ultimate health.
Sun Yoga is based on the principles of union with the energy of the Sun. It involves learning the art of Sun gazing at sunrise, followed by Surya Namaskar, (Sun Salutations) Pranayama, Asanas, Chanting of AOM and meditation.

The classes are one hour sessions conducted in the early morning. It gives practitioners tremendous energy, many health benefits and boosts their understanding of the phenomena of nature.

With time the practitioner experiences higher states of consciousness with ease. Sessions are conducted outdoors.
If you are looking for a more physical practice, the Traditional Yoga classes are available in the morning, 7 am – 10 pm, and conducted indoors in the atelier.

They mix Surya Namaskar (Sun Salutations), Pranayama (breath control), Asana (physical postures), with also Chanting of Om and Meditation.

These sessions help relax the body and mind and enter into higher states of consciousness.
Naadyog (yoga du son) is the basis of many philosophical schools in India and is a vocal practice of SaNiDhaPaMaGaReSa scale of classical Indian music.

Understanding sounds helps in being present in the here and now. It increases the ease of meditation. There are ear and vocal training conducted in the sessions. More awareness comes about how one is breathing.

It becomes easier to understand the different states of consciousness that we live in. The power of words is understood. The classes are available 10 am to 11 am.
Finally, for the people who have difficulty in sitting still and meditating, Dr. Sandhu teaches this specific technique called Kundalini Dance meditation.

It was developed by Indian thinker and spiritual leader Osho and takes its origins from tribal dances, and is always accompanied with music. The first fifteen minutes consist of vigorous shaking of the whole body while standing.

The next 15 minutes are open for free dancing to express inner emotions, then meditation, and finally lying down to fully relax. Perfect for those with lots of stress and an inability to follow yoga or other meditative practices. Available 5pm – 6 pm.
Note: Classes can be available at other times upon request. Mats are provided for practice. 20 euros/person in group sessions – 50 euros/per person for private classes.
Read next >> vegan paris eateries