women's yoga retreats
Published: 28-05-2023 - Last Edited: 08-07-2023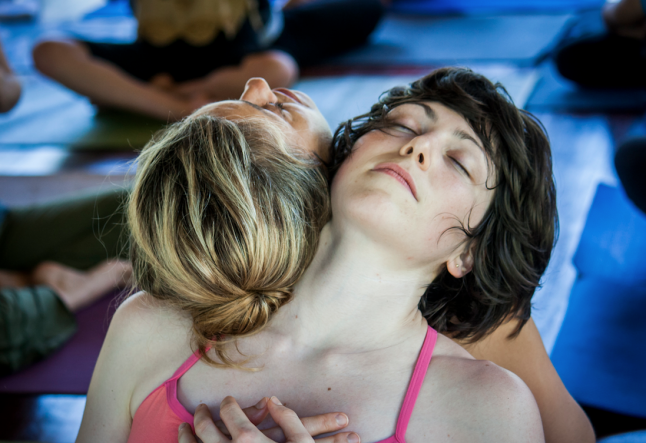 The Healing Power of Yoga in Women's Yoga Retreats
Recharging, rejuvenating, renewing – these are words associated with all yoga retreats. So what's different and special about a yoga retreat for women? Can a retreat that's specifically for women take your own personal journey one step further?
Yoga retreats provide the opportunity to step back from the demands of daily life, take stock, and reorient your focus and priorities. During a retreat's many moments of quiet introspection, you can rediscover what is important to you, what you cherish in your life, and what you want to develop.
Creating a Sense of Sisterhood and Support
Yoga retreats inspire you to make positive changes, as well as appreciate and have gratitude for what you already have in your life!

And while 'finding yourself' is something that can happen unexpectedly, organically, and magically on any yoga retreat, there is a special atmosphere in all-women's retreats that stimulates inspiration, empowerment, and new perspectives.
Also Read>>> Relax, rejuvenate and do lots of yoga at one of DoYogaWithMe's Yoga Retreats
Being with all women tends to bring out a sense of sisterhood and support — empathy that flows so naturally in the feminine nature. Women bond, laugh, cry, get sexy, act silly, and express ourselves in full color.

Discovering common ground and sharing life stories and rites of passage with other women helps you connect, not just with them, but with parts of yourself that you may have lost touch with.
A Safe Space for Self-Reflection and Growth
How many times have you recognized yourself in another woman's story of pain and triumph — transforming your own 'internal critic' into a voice of wisdom and support — your heart overflowing with love and compassion for the woman in front of you? These "aha" moments seem to flow abundantly when women gather in an intentional way.
While being around men is truly wonderful, let's face it. . . we women see ourselves, and see each other differently when there's a guy around.

The internal critic that is too often asking: "am I good enough, pretty enough, skinny enough, etc," tends to be louder and more distracting in the presence of the opposite sex.

On an all-women retreat, it can be easier to direct your attention towards yourself, restoring your mental and physical energy as it starts to flow into rather than away from you.
Also Read>>> A menstruator's guide to mental health
This lifts your spirits, invigorates your body, and boosts your confidence. At the same time, the freedom to observe yourself without feeling observed shifts your emotional and psychological state from self-consciousness to self-awareness.
Empowerment and Transformation Through Yoga
With its focus on a meditative, mindful approach to experiencing your body and mind in the present, a yoga retreat offers you a range of powerful techniques to realize your personal presence and empower you to release whatever may be holding you back.
With the objective but friendly support of a skillful teacher and a group of peers sharing this part of your journey, you can examine — and perhaps make — decisions that might prove daunting.

And haven't we all had the experience of a spontaneous late-night talk over a cup of tea shedding insight and inspiration to move us forward in ways we have been feeling annoyingly stuck!
Addressing Women's Health and Well-being
As well as offering opportunities for self-discovery and self-expression, all-women's yoga retreats offer practical benefits.

Teachers and fellow retreat participants share experiences in using yoga to address stages of life and health issues that are relevant to women, including pre- and post-natal, yoga designed to promote fertility, or to alleviate menstrual or menopausal symptoms.
Fun and Camaraderie in All-Women Retreats
And last but not least, you'll be amazed at how the camaraderie inspired by an all-woman retreat brings with it a sense of sheer fun! We're simply wild and radiant when we let loose and allow the full range of our emotion and beauty shine.

All-women retreats encourage emotional bonding, mutual empowerment, uninhibited freedom and are a great deal of fun! Find yourself on one!
Read next >> the healing power of yoga