You might be thinking, "rope bondage? Sounds straight out of a kinky BDSM fantasy." While you aren't wrong, there's more to be unraveled by tying each other up.

On top of sexual satisfaction, bondage ties allow you to find presence in your body, release old thought patterns and experience sacred union, making Shibari a yogi's steamy dream.
Countless things turn lovers on to Shibari (and often hold them there ;)). Anyone who has tried partner yoga or had a Thai massage knows how pleasing it can be to have someone pull you into poses.
Different positions can wake the senses and make for heightened sexual pleasure. Some people like the way the texture of the bondage rope feels on their skin. And, of course, if you're looking to fulfill any dominance/submission fantasies, Shibari has you covered.
While Shibari might have you feeling knotty, it also has some very nice benefits for you and your intimate other. A few loops and knots can bring two people closer together, body and spirit.
Why Shibari, Japanese Rope Bondage?
Shibari started in Japan, inspired by fantasies about the Japanese Medieval period, where prisoners were tied up and tortured.

Though similar to BDSM and its roots in images of Medieval Europe, Shibari evolved to include an awareness of the symbolic nature and spiritual essence of bondage ties.
SM shows and Shibari performances first became popular in the 1950s in Japan. Still today, practitioners perform Shibari on stage. Yes, to evoke sexual excitement in the audience. But also as an artistic demonstration.
At a Shibari show, the "rope master" goes into a flow state, mindfully moving the body into various geometrical shapes.

They get creative with different loops and bondage ties to manifest moments of beauty, tension, or deep expansion. The rope is viewed as an extension of the limbs and displays a deepening of the Rope Master's sensual expression.
Attending Shibari shows gives couples a front-row look at what Japanese rope bondage has to offer.
Shibari for Spiritual Bondage
Meditation is what makes Japanese bondage a gateway to your spiritual evolution. Contemplation and focus on the knots unlock the magic of the rope bondage that aids practitioners to feel connected to each other and themselves on the deepest level.
Shibari literally translates to "to bind." The name alone reveals the essence of the Japanese bondage practice; ties and knots to create stronger bonds. We've all heard the phrase "tying the knot."

Of course, marriage might not be the end goal for you and your Shibari partner, but these symbolic "ties" have always been around. Shibari allows you to experience them physically and to embody the bonds that make life worth an erotic celebration.
So, how exactly does Shibari leave us feeling more united and secure, even after being securely wrapped up in rope?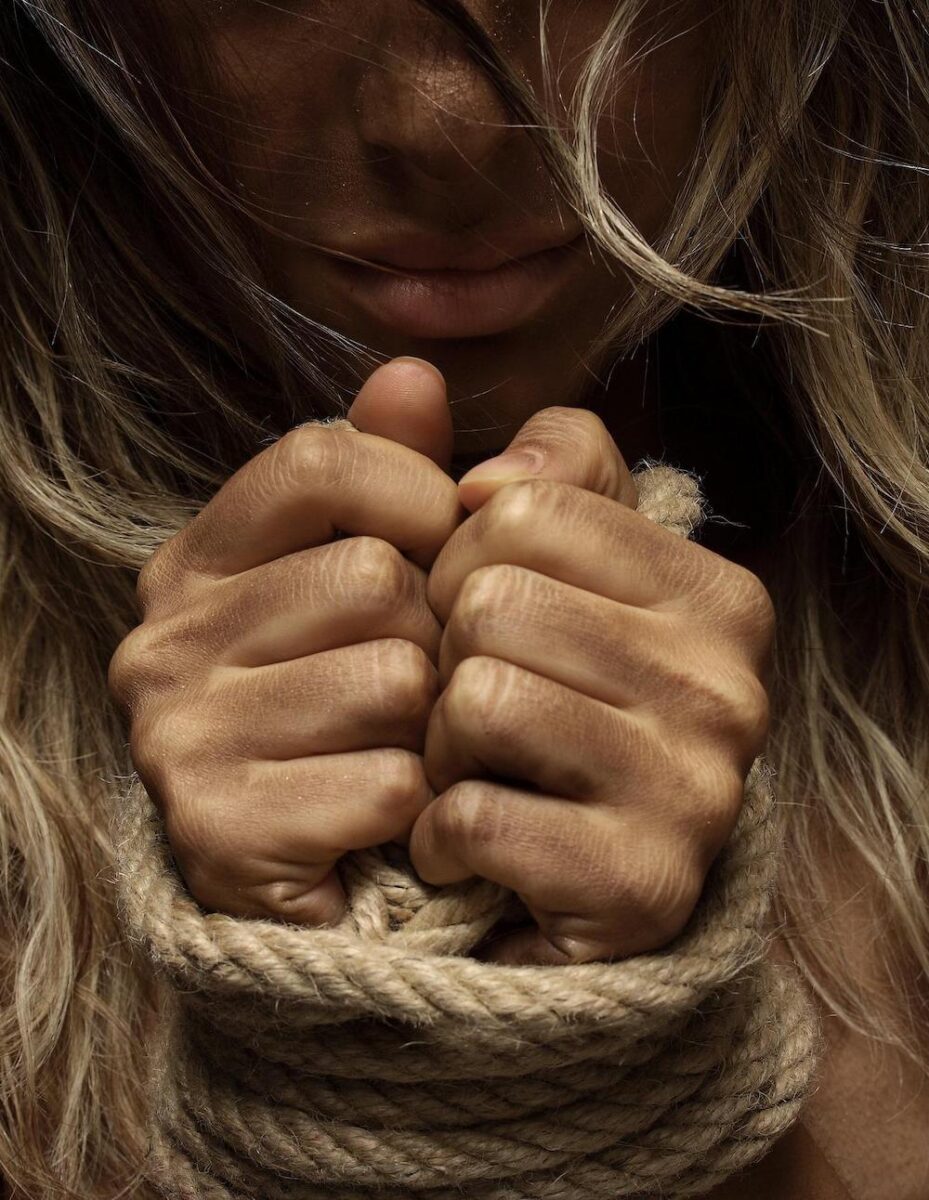 Rope Bondage Benefits Every Chakra with Shibari
Root
What is more important in any relationship than a foundation of trust? Still, society's pressures have many struggling to be vulnerable with a partner and feel present in their body. The irony is that as you open up, the other person will feel safe to do the same.
Submitting to one another will allow you to build trust while taking care of each other. Shibari encourages you to feel at ease in your lover's hands and safe in your earthly body.
Sacral
Tying your partner up opens up a world of possibilities; what you make of the experience is all in your hands. Shibari is an opportunity to sink into your creative side and feel into all of your sensual dreams. All you need is rope and your power to imagine.
Solar Plexus
Rope bondage is all about passion and your will to turn it into a knotty reality. The heat you feel for your partner, or even for the spiritual growth you both will experience, will guide the two of you into uncharted territory. Shibari will ignite the fire, and it's up to you to keep it burning.
Heart
Being tied up or even having authority over another person creates a connection that can be a doorway to your emotions. Whether it's joy and excitement or even feelings of shame or uncertainty, Shibari can assist us in moving through some of those feelings that may compromise our health and feeling the sweeter ones in their total juiciness.
Sharing these moments while bonded by rope will open you to the love that ties us all together. Ultimately, Shibari is a great heart opener whether your partner pulls you into a backbend or not.
Throat
Healthy communication and expressing boundaries can be a relationship saver. Shibari is a means to strengthen your ability to share your wishes and your limits. While your partner ties you up, you can practice finding that sweet line between releasing control and owning your power. So get ready to voice your desires.
Eye
Being attentive to your partner requires clarity and vision. When you see the knot, see what is happening in their body, and notice whatever feelings come up for both of you, you become fully aware of the bondage that is taking place.

Shibari enhances a mindful state that will remain long after the rope is untied.
Crown
If your hands and legs are tied, there's not a lot you can do but let go and surrender to the moment.

This is where your hours of disciplined yoga practice come in handy. Stay present, release your expectations, and become one with your rope master.
How to Start your Shibari Practice
While experimenting with Shibari can be exciting, it can be intimidating for beginners. You may want to go over a few things with your lover before you start your knot-tying journey.
Be sure to discuss the mood the two of you are aiming for and the signs that the other is enjoying themselves. Safe words are a must; feel free to get creative with yours.
Maybe your sailor skills are lacking, and an overhand knot is about all you know how to tie. The internet contains resources and information on various fun knots and positions to try. You may also want to look into standard terms used in Shibari, like "rigger" and "rope bottom," if tradition is your thing.
It's essential to keep in mind that Shibari is vastly adaptive. It doesn't have to resemble a wild, acrobatic porno scene to be life-changing. It can be as easy as tying your wrists together with a simple knot until your comfort levels build.
Remember, the rope is an extension of you, and your Shibari practice will evolve as you do.
Happy bonding!
Read next >> an untypical girl's weekend at bhakti fest