marlise karlin's sensuous world of beauty and tranquility
Published: 08-10-2011 - Last Edited: 12-08-2021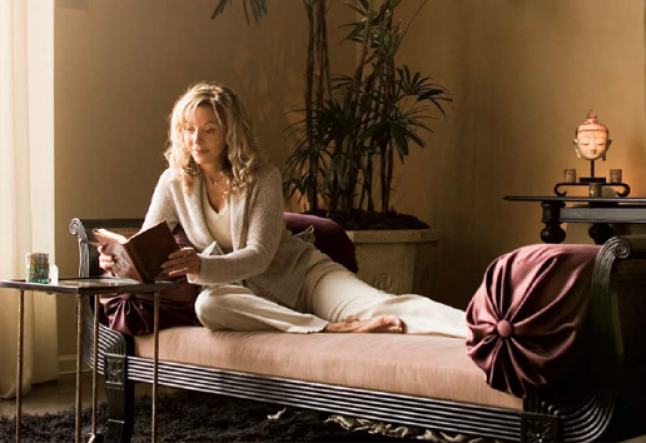 Step through the door, a simple action that we so easily take for granted. Yet for visitors to the home of Marlise Karlin this act takes on a wholly unexpected meaning and symbolism. Marlise has devoted her life to leading people through doorways; not the kinds with hinges and keyholes but spiritual and emotional doorways. As the founder of Inner Knowing, her Santa Monica-based center for inspiring personal discovery and awareness, the irony of her home is that it contains very few doors. Marlise has created a home full of space, light, and serenity, an expansive open environment where you are at once embraced by energized stillness and the vibration of inspiration.

The beauty of this unconventional yet entirely comfortable space belies its fortuitous if unexpected origin. When the time came for her to find a new living space, Marlise began to envision what she wanted her home to be and while looking for inspiration came across a magazine photo that captured the textural environment she was looking to create. With a new-found clarity defining what her future home would become, she began to expand her vision in order to manifest the home space she desired. While shopping at a local store, Marlise noticed a for sale sign attached to the commercial building that would become her future home. Intrigued by the space and the location, she contacted her realtor and found that the property had already been sold and was no longer available. She accepted this and continued exploring other spaces. One week later her realtor ran into the seller's broker at a party and found out in the course of casual conversation that the sale had fallen through. With the space back on the market, Marlise captured the property, ready to bring her dream to life.

Upon taking posession of her new space, Marlise was confronted with a barren warehouse style loft with only bare structural elements in place. It was cold and empty yet brimming with untapped potential. Marlise knew how she wanted her vision to unfold. Putting aside the naysayers, she created a place of beauty filling it with her own inherent grace. "Your home is a reflection of you. If you want tranquility and inspiration in your life but don't surround yourself with it, then you will be challenged. As you bring in art and the textures of life that make you feel good, you support that state of being. It gives you solace, it gives you peace, it gives you a place to find that balance that we all need."
The focus for this space was on keeping the home very spacious and not filling it up with a lot of clutter. Simplicity is the foundation of the home's design with luxurious yet subtle furniture grouped to create islands of intimacy and comfort throughout the home's large main floor. Unique large-scale pieces were chosen to provide scale in relationship to the size of the space. Each piece was chosen for a combination of its spiritual, textural and aesthetic qualities, mirroring Marlise's desire to surround herself with pieces that reflect her inner self. 
A very personal collection of spiritual art enhances each of the unique seating areas, adding warmth and intention to each component of the space. The many works of art that adorn the space were acquired during Marlise's travels, each for its energy and vibrational aspects.
The sculptures, statues and paintings each exemplify a numinous quality that radiates into the space and enhances the feeling of peace and serenity, giving each seating area its own unique energetic sweetness.
Texture is another vital component of the home's design concept, which wraps itself around you like a comforting hug. Seating areas are accessorized with richly textured blankets, deep luxurious rugs, sumptuous fabrics and even enormous overstuffed shag pillows that one can snuggle up in and read a good book or simply gaze out the floor to ceiling windows watching the changing colors of the Pacific seascape.
As you venture upward in the space, private, womb-like environments seamlessly reveal themselves. Traveling up the home's main focal point, a floating staircase that seems to defy gravity, the bedroom unexpectedly unfolds. The view from the bed is framed by an opening that overlooks the main living space and continues out the floor to ceiling windows flanking the palatial fireplace to the pounding waves of the ocean several hunred yards away.
The cocoon-like quality of the bedroom coupled with its panoramic vista provides a sense of safety and grounding that brings perspective and balance to this large space. Richly textured Venetian plaster walls and a cozy fireplace make for yet another oasis of luxury and sensuous indulgence. Gossamer curtains can be drawn to close the bedroom off from the rest of the loft, enhancing its womblike quality.
The master bath is Marlise's inner sanctum. A nurturing spa suite adorned with periwinkle glass wall tiles, this private retreat is designed to be sooting and calming while a large tub invites indulgent afternoon soaks hidden away from the fast pace of the outside world. Soft daylight filters in through frosted glass windows that are dappled with the shadows of leaves, the only reminders of the busy outside world. Marlise admits that the tub is one of her favorite spots in the house and she loves to sink in and drift away as the water releases and calms her.
Up one more staircase is the rooftop garden, another unexpected gem. Large and gracious enough for entertaining on a grand scale but also private enough to allow for solitude and inspiration, the rooftop garden provides stunning nighttime views of the Santa Monica Pier, the beachfront lights and the twinkling blanket of stars, all accompanied by the sound of the crashing ocean waves in the distance. A large statue of the elephant-headed Hindu deity,Ganesh, the remover of obstacles, anchors one corner of the garden and is the source of an intriguing story. The rooftop garden is bordered with black river stones bought in bulk from a local home center.
One day, after construction was complete a stone was blocking the light that had been placed at the foot of the Ganesh statue. When that stone was picked up to be moved, it had inscribed on it the word, BELIEVE. A few months later another stone was blocking the light and when this one was turned over it bore the word CHARITY. Since then, it has become a popular pastime for guests on the roof to turn over stones and see if there are any more inscriptions. So far, no more have been discovered.
By opening up her focus and energy, Marlise was able to create her own very unique living space, providing the inspiration and peace she desires. She also believes that this same sense of sanctuary can be created by anyone in any space. " You can create it in a large space or in a tiny room, you can have it flow throughout your entire home or have one special area where you can go to always find peace and inspiration. My intention was to have a home that would reflect the beauty and tranquility I wanted in my life. As I held that focus, even my sculptures offered me messages of how that would happen."
Marlise travels the world offering sessions and retreats that guide people into a greater connection with their Inner Knowing, which improves balance, health, peace and happiness in their lives.