garlic, ginger & chili glazed edamame
Published: 20-01-2012 - Last Edited: 29-01-2022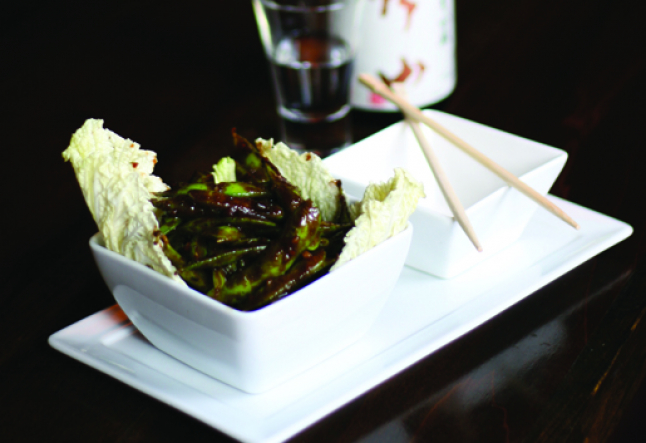 Born in California, Executive Sushi Chef Edward Brik is the son of Ukrainian immigrants who taught him the importance of world cultures and foods at an early age. In his large yet close-knit family where celebrations and gatherings brought four generations together, food was literally at the heart of it all.
A position at Spago's sushi station piqued Brik's interest in Asian cuisine, and he went on to study at the California Sushi Academy and the Culinary Institute of America. After honing his skills in France, the quadrilingual chef (he speaks Russian, French, Spanish and English) and loving father came back to the States, bringing his experienced worldview and passion for food to Blowfish Sushi, Tiger Lily and others before settling into Hadaka Sushi (now closed), a sexy new addition to Sunset Boulevard's trendy happening atmosphere.
garlic, ginger & chili glazed edamame ingredients
6 cups edamame
4 tablespoons Hoisin sauce
4 tablespoons oyster sauce
4 tablespoons Thai sweet chili sauce
¼ cup peanut oil
1 tablespoon chopped ginger
1 tablespoon chopped garlic
¼ of a jalapeño, sliced
1 tablespoon soy sauce
1 tablespoon sesame oil
how to prepare garlic, ginger & chili glazed edamame
Step 1.  Add the peanut oil to a hot wok.
Step 2. Once it's warm, add the garlic, ginger and jalapeno.
Step 3. Stir fry the ingredients until they're fragrant.
Step 4. Add whole edamame pods and stir-fry for 2 to 3 minutes.
Step 5. Add the rest of the ingredients except for the sesame oil and soy sauce and stir-fry for 3 or 4 minutes until the ingredients are combined.
Step 6. Just before serving, add the soy sauce and sesame oil and stir to combine.