bali spirit festival – aids programs & ago! awareness concerts
Published: 19-11-2014 - Last Edited: 10-10-2022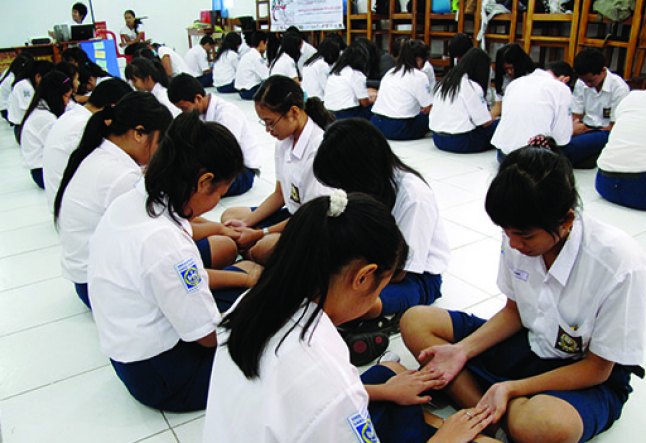 Bali Spirit Festival AIDS programs AYO Awareness Concerts
BaliSpirit Festival one of the top 5 festival's of its kind in the world, brings people together from all walks of life unifying them through live music, yoga, dance, energy movements, meditation and healing.
Passionate about spreading their message of peace and positivity BaliSpirit festival has worked alongside partner organizations to raise more than $75,000 annually for its Karma (Give Back) outreach programmes in environmental awareness, children's education and community health.
As of March 2013, the region of Bali ranks second in the nation of Indonesia for rates per capita of new infections of HIV with more than 40% of reported cases in young people aged 15-29. Although there are more than 60 testing and treatment clinics throughout Bali comprehensive sex and HIV/AIDS education have yet to be incorporated into public school curriculum.
In response to this critical need for HIV and AIDS education in Bali, BaliSpirit outreach established the AYO! Kita Bicara HIV and AIDS program in 2010 to help combat the growing rise of HIV and AIDS amongst the young people of Bali. They believe that  education through interactive communication can help to slow the spread, lose the stigma, and end the discrimination commonly associated with HIV and AIDS. 
As part of the program, Interactive EDUSpirit Workshops for Balinese high school students have been established as a process of teaching but also as means to learn through thoughtful communication and shared experiences. Workshop programs have successfully been run in 56 high schools in 9 regencies in Bali and have reached over 360 students, 150 teachers, 18 educational facilities on HIV and AIDS. Moreover the project builds community networks with NGOs in Bali, such as Bali Children's project, Bumi Sehat Foundation and many more. 
As a further means of raising awareness, BaliSpirit Festival have been hosting an annual FREE community concert in Central Ubud. Attracting more than 6000 people in its second year alone the AYO! Awareness Concerts have featured some of Bali and greater Indonesia's most well-known performing artists and dedicated advocates for HIV & AIDS awareness, including Ras Muhamad, Robi (Navicula), Ray D'Sky, Bintang (Bali), Dialog Dini Hari, Nymphea, and Kis Band (Bali).
The aim of the concerts is to disseminate accurate information about HIV & AIDS prevention, treatment, and social acceptance within Balinese communities, particularly teenagers and young adults and to encourage individuals and local communities to take stronger action in reversing negative social and cultural behaviour caused by stigma, discrimination, and misinformation about people already infected with HIV
In 2012, AYO! Kita Bicara HIV & AIDS expanded its educational platforms to include an annual Public Service Announcement and youth-led Social Medial Campaigns and AYO! have also collaborated with local non-profit foundations Yayasan Spirit Paramacitta and the Bali Children's Project to provide Balinese youth with access to HIV testing and support to apply for needs-based educational scholarships.
Just through your purchase of a Bali Spirit pass, you are giving back to the community of Bali. 10% of your Full Festival or VIP Pass ticket purchase will go directly to supporting the HIV/AIDS and Bali ReGreen outreach programs which will help shape the lives of Bali's youth in their personal and academic endeavours. 
The team at Bali Spirit is grateful for the early purchasers and participation in the 2015 BaliSpirit music, yoga and dance festival, which then contributes and support their outreach programs as a way of giving back to the community and preserving the magic of the special "Island of the Gods", Bali. 
If you are looking to deepen your relationships and learn the basics of authentic communication (with yourself and others) take a look at this online course – Transformative Communication – an easy and life-enhancing approach for better relationships.

Read next >> THE ULTIMATE BALI GUIDE