hatha yoga according to richard rosen
Published: 23-07-2012 - Last Edited: 05-04-2023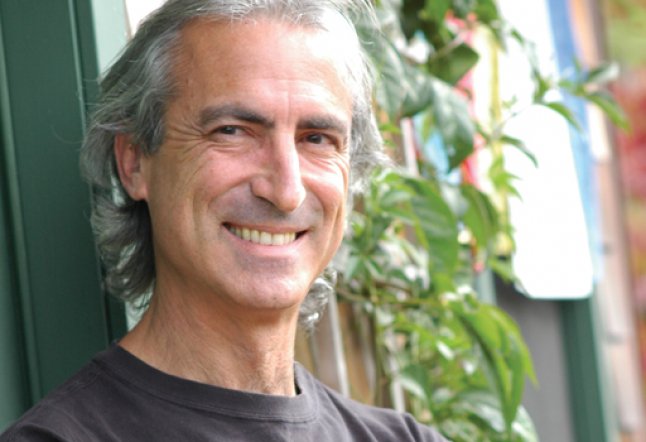 Maybe a yoga teacher is like a good Zinfandel, becoming richer, deeper and subtler with maturity. For no amount of youthful enthusiasm can compete with 20-plus years of teaching, dedicated practice and personal inquiry into yoga philosophy. Here in the Bay Area we're blessed with a whole array of senior yoga teachers, and Richard Rosen, based in the East Bay, is one of the most respected. As one of his fans tells it, this is because Richard has taken years of Iyengar training, digested the essence of the teachings and created his own nuanced understanding of the practice.
Richard's classes combine clear, meticulous asana instruction with pranayama and interesting yoga lore drawn from his years of studying the yoga texts. All of this is leavened with Richard's trademark humor, which, depending whose opinion you solicit, is either dry or really, really dry.
Richard is a co-founder of Piedmont Yoga Studio, as well as a long-time teacher there, and he became the studio's director, overseeing its "rebirth". He also is the author of three books on yoga: The Yoga of Breath, Yoga for 50+, and the forthcoming Pranayama. He has also written numerous articles for various yoga magazines. His current writing project is a book on the history of yoga in America, a project he describes as "moving along somewhat glacially but hopefully global warming will speed it up".
Becoming a Teacher
Like so many of us, Richard originally took up yoga simply because he had heard it was the best exercise system. He says that the practice resonated immediately with him, and he soon became a regular student of Mary Lou Weprin and Donald Moyer at the Yoga Room in Berkeley.
A few years later in 1982, he enrolled in the teacher-training program at the Iyengar Institute of San Francisco to deepen his studies. Although at that time he had no plans to teach, he says, "It must have been something in my unconscious that urged me on."
At the Iyengar Institute he studied with Jean Couch and with Manouso Manos, from whom he learned advanced asana and pranayama and whom he assisted for a year and a half. These studies really opened his eyes, he says. Until then, Richard's focus had been primarily on his asana practice, but at the Iyengar Institute he started practicing pranayama, learned different meditation techniques and took classes in yoga philosophy — a subject that continues to fascinate him.
And he slowly backed his way into teaching, initially by substituting at The Yoga Room and the Iyengar Institute. Then, in 1988 when Richard's friend and fellow yogi Rodney Yee decided to start Piedmont Yoga Studio, Rodney talked a somewhat reluctant Richard into joining him in the venture, along with their mutual friend Clare Finn. Because Richard is an introvert, it was originally difficult for him to teach; he felt extremely nervous putting himself forward in front of people. But gradually he become more and more comfortable and learned to call up his instructions from somewhere in his unconscious, relying on the increasing depth of his yoga knowledge.
Now, he says, "I get a terrific thrill when I see a room full of my students practicing their asanas or their breathing with skill and enjoyment. And that's the best part of teaching, the development of relationships with dozens of different people, many of whom don't communicate with me through many words, but simply by their devoted attendance in my classes."Because Richard believes that the breath is such a useful transformative tool, he always includes pranayama sessions in his asana classes, typically balancing one hour of asana practice with 15 or 20 minutes of pranayama.
Lately he's also started including traditional practices, such as mudras and old meditation techniques, which he's picked up from his studies of traditional texts. He confesses that he also gets a kick out of making people laugh and freely admits that one of his goals is to put the "ha" back in hatha yoga. According to long-time student, Kathleen de Wilbur, Richard achieves this and more. She says, "Richard speaks to me with his clear, well-chosen words. Most important he brings his great body of knowledge to share with all those who attend. I love his sense of humor. He is very, very special."
Also Read>>> Yoga Certifications
Yoga as a Catalyst
Although Richard denies that he's a scholar, this former librarian has an impressive collection of books on yoga practice, history and philosophy that he's read over the years. Some of the books that have helped shape his teaching are: The Alchemical Body by David Gordon White, The Doctrine of Vibration by Mark Dyczkowski and The Yoga Tradition of the Mysore Palace by Norman Sjoman. Many students say they appreciate how Richard weaves the knowledge he's gleaned from these books into his regular asana classes.
He says his personal ideas about yoga are pretty simple. He sees yoga as a catalyst, a way for people to "hasten the evolutionary process of the universe". He believes that the entire world is heading in the direction of self-realization, and that yoga is a means of helping the universe along toward this goal. More concretely, yoga helps you to look at yourself in a clean, clear way. And understanding who you are helps you to live more successfully, becoming both healthier and happier.
Home at Piedmont Yoga Studio
These days you can find Richard Rosen teaching public classes at Piedmont Yoga Studio in Oakland, a beautiful, light-filled space with bamboo floors. As the studio's new director Richard is refining the programming, which includes a wide range of Iyengar-based classes as well as Anusara and vinyasa style classes, he's excited about the studio's specialized classes for seniors, back care, people with disabilities, yoga for round bodies, yoga for a cause and the $5 community class. Several leading Bay Area teachers, including Sarah Powers, Judith Lasater and Elise Miller, will be teaching upcoming workshops, and a new teacher-training program, held in the evenings and on weekends, will begin next fall.