yoga for pregnancy in new york city
Published: 09-02-2015 - Last Edited: 30-10-2022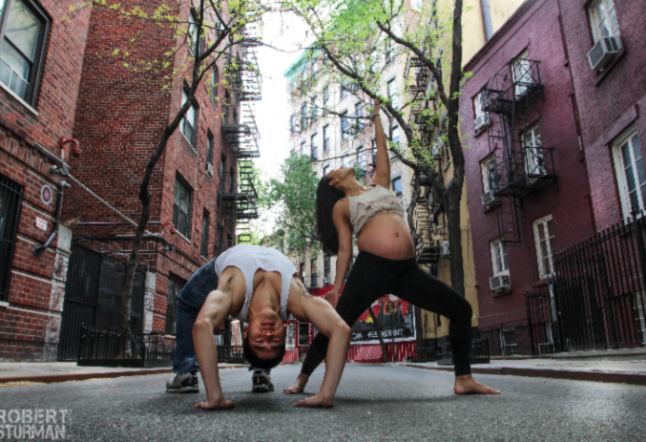 We all know the benefits of a regular yoga practice: clarity, stress relief, and those lean, toned muscles are just a few. But what about when there's a bun in the oven? Like mom, like baby. By continuing your practice while pregnant, both you and your baby can share the benefits of yoga, which will hopefully last well into childhood and beyond. 
A yoga baby starts in the womb. Prenatal yoga has been shown to improve sleep, reduce anxiety, and increase strength and flexibility in the muscles needed for childbirth. Prana (breath) exercises are helpful in labor, when you'll do some of your most important breathing. If that's not enough, there's also the simple fact that yoga helps mothers-to-be feel amazing through those nine long months. 
New York mamas can seek out prenatal yoga classes citywide. Based on the Upper West Side, the Prenatal Yoga Center is one centre well-known for its classes and community. In addition to yoga, they have a multitude of workshops on topics ranging from childbirth to cord blood banking. The studio also has auxiliary locations on the Upper East Side, Chelsea, Tribeca and Brooklyn. 
While having trusted teachers and a good studio to practice in cannot be underestimated, there are always those days when tiredness will get the better of us. No worries! YouTube comes to the rescue, from Tara Stiles' gentle prenatal yoga sequence, to Katy Appleton's four-part prenatal sessions. These can be done even in the teeniest of New York apartments, as all you need is a mat and a dedication to your practice. Commit to doing a practice per day and watch your tiredness and tension melt away. 
Once baby arrives and your doctor has cleared you to exercise, the city is a wealth of mommy & me yoga classes. From local community centres (such as this one in Battery Park) to specially tailored studios like Karma Kids, there are plenty of classes to choose from that you can attend with your baby. 
These classes serve a dual benefit – getting mom into shape and giving baby some gentle massage and stretches too, both of which many moms swear makes babies calmer and sleep better at night. Not to mention, the babies have a good time too while developing their motor and social skills. Once your baby is older, studios such as Karma Kids also have special children's classes for your budding yogi or yogini.
Don't feel like going out with your new baby? If you're feeling confident enough to freestyle it, maintaining your yoga practice can be as simple as putting your baby at the top of your mat on a blanket, giving baby ample safe space to have a kick and move around while you get on with your practice, stopping to give baby a kiss or quick cuddle at every utanasana.
Making a yoga baby: equal parts asana, pranayama, bestowing upon your little one a lifetime of love for the practice. 
Read next >> yoga studios in new york city