watercourse way
Published: 27-04-2011 - Last Edited: 09-11-2022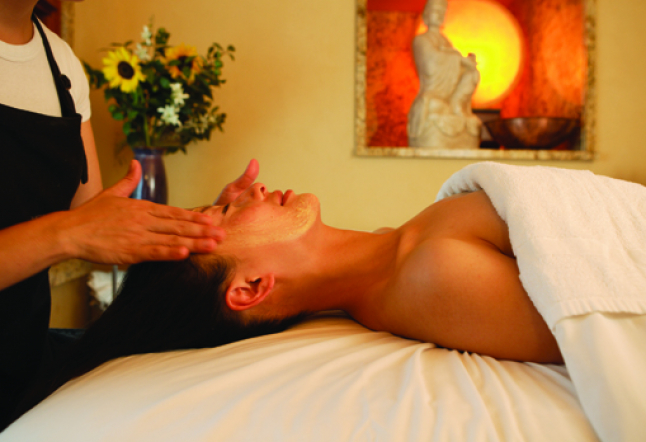 Tucked away in the southern part of downtown Palo Alto lies Watercourse Way, in it's 31st year of business. Best known for it's hot tub rooms, the spa is defined by beauty. The well-traveled owners have infused every detail of the spa with mostly Eastern decor and sacred art. Each of the nine uniquely designed spa rooms — with names drawing from nature such as "Six Dragonflies" — display meticulous tile work in various shapes, textures and colors. The play of light in these rooms, some using natural light from above, creates miniature sanctuaries that tantalize the senses and quickly transport one to a blissful state. The rooms offer a mix of cold plunges, showers, steam rooms and saunas to enhance the hot tub experience. The owners seem to have a firm grasp on the use of beauty and mood to alter one's experience, all while using water as the backdrop.
A one- or two-hour retreat in one of these rejuvenating hot tub rooms could be plenty, yet Watercourse Way offers a wide range of massages and spa treatments. I experienced their 30-minute Jurlique Aromatherapy facial in one of the rooms upstairs from the tubs. The upstairs area feels like Japanese quarters, where each detail of the architecture continues to nurture and impress. The waiting areas do not offer privacy, but once in a treatment room, the Zen-like surroundings quickly transport one to an inner retreat. My facial took me on a pleasant aromatic journey soothed by a peaceful backdrop of musical tones, and my practitioner was superb. From tropical banana scents to gentle sweet roses, each step of the facial inspired a soulful connection to nature. Once again, I found the treatment augmented the mood already created by the surroundings, and brought a well-hydrated glow to my face.
Other notable treatments at Watercourse Way include hot stone massage; a collection of Ayurvedic treatments, organic and European facials; and a selection of skin treatments. As I'm in my fifth month of pregnancy, I tried out their pregnancy massage, which consisted of oil being softly rubbed all over the body. The ambiance of the natural light brightening the celestial space with a large wooden mandala on the wall grounded my tired body and mind. Just a visit to the room alone offered some much-needed prenatal down time.
The key to creating an enjoyable experience here lies mainly in scheduling. Since Watercourse Way is a thriving spa, make your reservations far in advance. Mid-week is easier to get in than the weekends. The spa opens at 8:30 am, seven days a week, and during the day, hot tubs, steam and saunas are available at reduced rates.
Deserving of equal mention is the spa's gift shop, which serves not just as a place to purchase items, but doubles as the waiting area before and after your spa experience. The shop offers an array of uncommon products packaged in gorgeous displays and offering exotic aromas to help you take a slice of your spa experience home with you. On the other hand, the spa's location makes it easy for Peninsula dwellers and workers to visit frequently, sampling different treatments, therapists and hot tub rooms. It's a convenient, affordable and rejuvenating oasis to keep on your list of local treats.
Read next >> fruition day spa