warung 47
Published: 07-06-2012 - Last Edited: 15-11-2022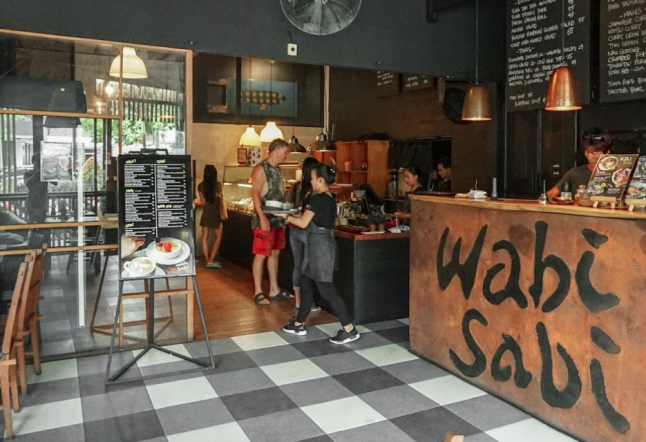 Recently relocated to this new slick location on Jl Drupadi, former 'Warung Kazu-ya', just opened its doors around the corner for its former location. The "Japanese Warung" as it's known to the locals and travelling community, is the quintessential 'diamond in the rough' in the heart of Seminyak.
Down the street from Bali's Iyengar Yoga Teacher Olop's studio, in a chic streets of Seminyak lies this unusual warung, which has no name above the door and no particular outstanding décor, however the place is packed full of travellers and local ex-pats who come here, not for the trendy displays, they come to nosh on the amazing food!
Run by a Japanese family, the service provided is true of their culture; quick, efficient and respectful to its customer. Be aware this is not a Japanese restaurant, the overall experience is somewhat different to what you'd may expect!
The queue for the front display – where the food is located – can be long, but it's worth the wait and gives chance to meet others. Expect to chat along with free spirited travellers and local expatriates – all which make up the laid back and rugged ambiance, which feels real and complimentary to the hearty food that waits.
The aray of food has pleanty of vegetarian and vegan dishes. There is brown rice, red rice, white rice and many yummy side dishes to accompany, such as; mixed vegetable curries, lentils, chick peas, many vegetable dishes, pumpkin and spinach croquettes – which seem to the favorite with the line of customers. A whole plate of food filled with a variety of nourishing dishes, washed down with a freshly pressed juice, is excellent value and perfect for a lunchtime meal.
A real community spirit runs through the heart of this warung. Along with the great food, very cool atmosphere and rough charm, this japanese warung ('Warung Kazu-ya') is a great choice to visit again and again.
More Vegetarian restaurants in Bali
For more info on Bali's best spots for the modern yogi STAY | SPA | PLAY | EAT | SHOP | YOGA – Download our ULTIMATE BALI GUIDE for free.
Read next >> sprout