ubud yoga house
Published: 21-10-2016 - Last Edited: 15-11-2022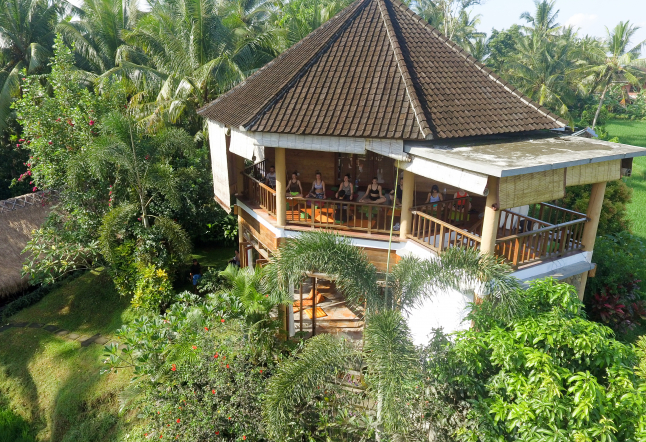 Have you ever experienced a yoga class with the sounds of a babbling stream, crickets, birds, gecko's and frogs nearby? If you dare to go off the beaten track into the quieter parts of Ubud, Bali's hub for yoga studio's and spiritual awakening, you can find real treasures hidden in the middle of the ricefields. Rent a motorbike or take a walk and you will experience true 'Mama Bali', like the Indonesians say.
Ubud Yoga House is an intimate and serene yoga studio in the Abangan area – not like the trendy clubs in town where you practice with dozens of people in one space. This studio is unique in energy and is the perfect place to connect with your inner peace.
There are two shala's, both with their own magical vibe. The first shala is on the first floor of the main building, with a spectacular view where you will certainly feel enlightened. The other shala is made out of bamboo and is a few footsteps away in the jungle. Here, you feel grounded to Mother Earth.
The studios are clean, stylishly decorated and provide quality equipment. You will feel at home in Ubud Yoga House and Sheila Burch is the lucky person who actually lives in this beautiful place! After a whole life of practicing and teaching yoga around the world, she settled down in the ricefields.
Besides a challenging 'Morning Flow' class, we joined the 'Tuesday Night Candlelight Yoga'. They create a wonderful atmosphere, with flowers and candles on the floor. This is an experience we will never forget! The teacher likes to call this evening class 'Meditation in Motion' – and this is exactly the right description. It is full of gentle stretches and lots of positive energy to prepare yourself for a lovely night. Sasha is the kind of teacher who teaches with grace and from her heart – and includes all the parts of yoga in her class. She is very knowledgable and demonstrates poses for every yoga level. Her favourite saying is, "Yoga is not a competitive sport". Do what you can and what makes you feel comfortable.
Classes are small, which makes it more personal and they do an introduction round at the beginning so the teacher is able to give personal attention and suggestions to each person. Don't worry about mosquitoes when the dark falls because they offer a natural bug spray. In the main building there is a nice community space to chill out before and after a class. After class, lemon water and a little bamboo Eco towel is given out to refresh yourself before going home. As you leave, enjoy the twinkling fireflies as you make your way back through the ricefields.
We felt really grateful for this wonderful experience! Thank you Sheila and Sasha for this unforgettable experience. We love your studio and will definitely come back again!
For more info on Bali's best spots for the modern yogi STAY | SPA | PLAY | EAT | SHOP | YOGA – Download our ULTIMATE BALI GUIDE for free.
Read next >> sarinbuana eco lodge