Spa Vitale
Published: 05-07-2011 - Last Edited: 17-11-2022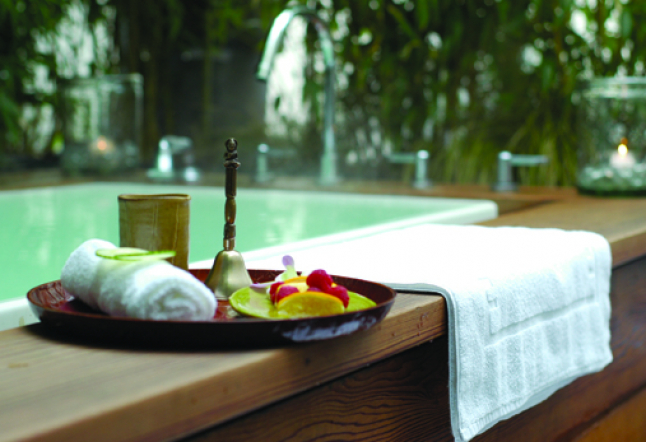 tucked-away neighborhood establishment that invites repeat visits
Most folks in the hospitality industry have an opinion about Chip Conley's sleek "post-boutique chic" oasis on the waterfront, Hotel Vitale. When it opened in December 2004, it was criticized for being utilitarian, and even ugly. Now, the muted earth tones, old-fashioned comfort and unbeatable customer service have won many naysayers over. Oh, and have I mentioned that Vitale houses a scrumptious nouveau Italian restaurant – Café Americano – and offers free yoga classes and kayaking on the bay, as well as soothing treatments in their penthouse spa?
There are countless reasons to spend a day or two at Vitale, but none that are as tantalizing as the rooftop spa. A pint-sized nook with a sweeping view of the Bay, Spa Vitale boasts the same modest serenity as the hotel, and an ambiance of sophisticated minimalism combined with Zen refuge that infuses the entire place.
I thumb through the pages of a coffee table book on meditation, before being ushered out to perhaps the spa's most distinctive delicacy: an outdoor bamboo garden flanked by a bona fide bathhouse. Actually, it's only two 142-gallon deep-soaking tubs, but they're enormous enough to warrant some admiration. It's the end of another workday along the Bay, when I peel off my robe and settle into the churning tub. Though I'm shrouded by mini-trees and exotic florals, neighboring buildings loom above me, a constant reminder that I'm smack dab in the midst of urbanity. Strangely, especially because of most city spas' tendency to shoot for a natural backdrop, the metropolitan atmosphere is actually quite refreshing. (Given the vicinity of office windows, bashful spa-goers might want to have their bathing suits on hand if they decide to take a soak.)
I focus on the darkening sky and a smattering of stars above me as I settle into my tub. Lavender, tangerine, rosemary and goat's milk have been whipped up in a delicious mixture and tossed into the water, making my skin feel super-soft. I sip on rooibos tea, nibble some grapes and swab my head with cool cloths. Needless to say, the 25-minute bathing ritual comes to an end before I know it.
After the exhilaration of being in my own private oasis, I head off to my next nap-worthy treatment, a Spa Vitale special known as From the Crown on Down, which is a mixture of acupressure techniques and aromatherapy massage. As I burrow underneath the cozy comforter on the massage bed, my gracious therapist brings me herbal tea to sip on before she goes to work. The treatment utilizes a "vitality blend" of sage, lavender and bergamot. The massage component involves just the extremities: a soothing scalp rub, hand massage and foot polish. Smooth river stones are placed all along my chakra points, their heavy warmth making me feel completely grounded and safe. As I emerge from my treatment in a lavender mist, I feel like I'm coming out of a meditation or yoga session rather than a spa treatment.
Spa Vitale's other offerings include side-by-side Swedish massage in the Aria room, which boasts enormous glass windows that frame the Bay Bridge. A lunch-time favorite is the San Francisco Treat, an hour of attention vigorously lavished on your hands and feet, with an organic lavender sugar scrub and a tingle-inducing peppermint foot masque. Couples interested in taking the spa experience home can also enroll in a hands-on couples massage class, in which a licensed therapist guides you through all the basics and not-so-basics, such as craniosacral therapy or Eastern techniques.
Unlike most hotel spas, Spa Vitale has the intimacy of a tucked-away neighborhood establishment that invites repeat visits. The spa menu is sparser than others, but the quality of service and, of course, the bathhouse with a view are reason enough to swallow down all the hype and head over for some waterfront indulgence.
Read next >> petite spa