moksa plant based restaurant
Published: 05-12-2017 - Last Edited: 19-08-2021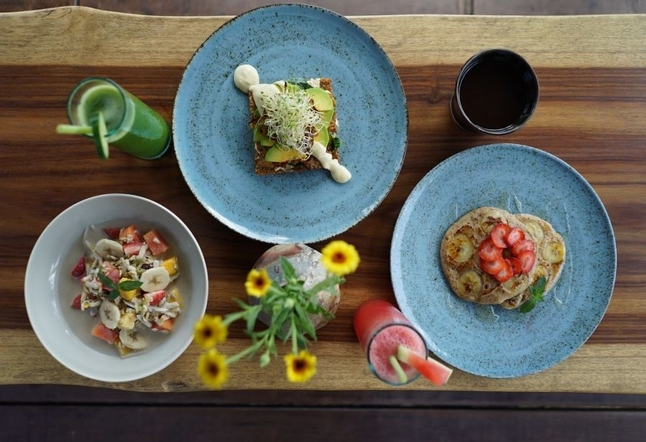 Tucked behind the city centre lays one of Ubud's healthy hidden gems. Moksa is a lot more than just tasty food and open atmosphere, the whole ethos centres around their garden; forget farm to table, at Moksa it's garden to table!
This forward-thinking restaurant called Moksa is not only just a plant-based restaurant with an emphasis on raw and vegan food but also a permaculture garden where most of their served food comes from a Dojo where various classes are offered, all around the subject of meditation and yoga.
Upon entering this secluded restaurant, you will be greeted with lush green gardens, seating bungalows and open air tables. The open air atmosphere allows you to relax, feel at home, and lounge in nature. Enjoy the casual table setting that looks out to the gardens below.
Though this is a vegan restaurant, co-creator Janus prefers to use the term 'plant-based' because of the negative connotations that the word vegan can sometimes have. Their menu consists of two different types of foods, raw and heated.
The combination of flavours that all the dishes have is a full sensual dining experience, guaranteed to explode your taste buds. Chef Made Runatha has a vast knowledge of European and Asian cuisine that is shown through the plethora of healthy options available on the menu.
Made's became the world's first Indonesia certified Plant-based Cuisine Chef after studying at Living Light Culinary Art Institute in the USA. Before obtaining this high accomplishment he also worked as a head chef at Ubud's restaurant Five Elements for 7 years. He brings his collective knowledge and dedication straight to your table with his endless flavours incorporated in his "living foods" creations.
Credit Moksa
Jackfruit raw Tacos, Tempeh Ribs, and Moksa Samplers are only a few of the astonishing dishes that can be enjoyed. Among the house samplers, you can find three different raw cashew kinds of cheese, pumpkin soup and raw lasagna.
Be sure not to get too full after such a delicious meal though, Moksa is not shy on desserts! One of their specialities is a range of dairy-free ice cream flavours that are made with pumpkin seed milk. Be ready for your mouth to take a journey down heaven!
If you want to experience something different than just eating at this new restaurant in Ubud, Moksa also offers a unique plant-based cooking class and a farmers market at the restaurant.
Moska is a "must visit" restaurant in Ubud. It's worth going for the beautifully presented food and atmosphere alone, but be sure you will leave with a happy and healthy belly!
For more info on Bali's best spots for the modern yogi STAY | SPA | PLAY | EAT | SHOP | YOGA – Download our ULTIMATE BALI GUIDE for free.