leaf cuisine | closed as of june 13th 2013
Published: 18-07-2011 - Last Edited: 19-08-2021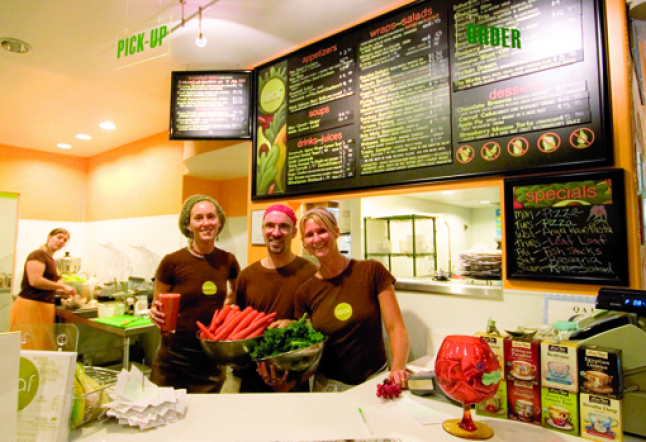 closed as of june 13th 2013
Bright spring green contrasts with a deep yellow on the walls, with large leaves stenciled onto one side. Upon little white tables rest shots of wheatgrass or pint glasses of power-packed smoothies in reds, greens, purples – though none are full for long. Orange plates hold a cacophony of delightful treats. Patrons arrive in ones, twos and threes, casually, eating gracefully and wholesomely, leaving contentedly.
At Leaf Cuisine, orders for kosher, vegan, and raw food and drinks are placed at the counter, adjacent to a juice bar with a few stools. Smiling servers wearing t-shirts as brown as pools of cacao deliver the food to the tables, stopping to chat and model their raw-food glow.The mock salmon nori rolls are a popular way to start. Holding a dense faux-salmon pâté, they have a convincing sea-salty hue, and the sprouts give the rolls a light, fresh crunch. Carrot and avocado are rolled up with the goods, and a mild wasabi sauce tops it off.
For filling up at mealtimes, wraps and salads are the only "main" options, unless there are specials available. The Bombay burrito and the Mediterranean medley are both fine choices, wrapped in collard green leaves (a sprouted grain tortilla is available as an alternative wrapper); this is the only un-raw item on the menu).
The real brawn of both wraps are their croquettes: pâté mounds of vegetables, nuts and/or seeds dehydrated until slightly crisp outside. The croquettes in the Bombay version are made with lentil, the Mediterranean with sun-dried-tomato and walnuts. The former is seasoned with a coconut-curry sauce, and the latter with a spinach-pesto sauce.
The wraps, which are divided in half, have a big-burrito feel. Both aforementioned have a subtle sweetness, contrasting with the slight bitterness of their collard green wraps. Toward the end of my "burrito," I tend to feel a little overpowered by the bitter taste and end up leaving it aside to hone in on the essence within, the yummy croquette filling.
For dessert, the chocolate brownie is a great selection. The raw cacao gives it an earthy sweetness, and a creamy sauce with chopped walnuts and coconut adds substance. It's particularly nice accompanied by a mug-full of the soothing, house-made agave-ginger-lemon tea.