two trees eatery – permanently closed
Published: 02-01-2018 - Last Edited: 09-10-2022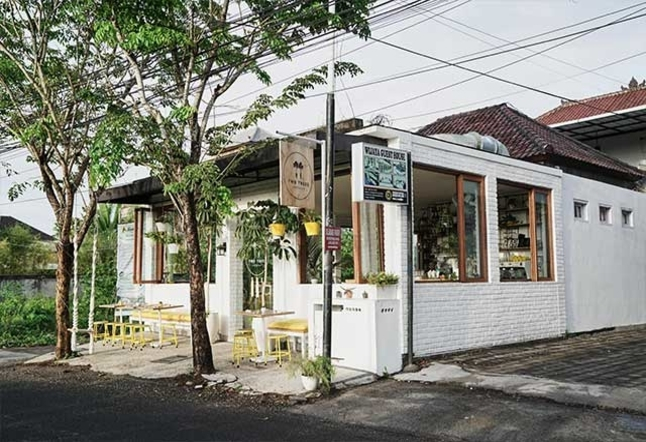 For all the good mood junkys who, craving a sophisticated feast of amazing foods in a pure visually delightful atmosphere – we found your heaven.
Two meaningful trees stand majestically next to the entrance of a yellow and white cafe. This beautiful, open-planned space called Two Trees Eatery is located on the direct route to Berawa beach.
The secret behind the meaningful trees will be lifted later – but let us first talk about food.
Upon entering the door to the Eatery you are welcomed into a relaxed, fresh and stylish environment. A bright yellow interior radiates and the beautifully happy staff behind the counter fill you with ease. From the very first moment it feels as if you are coming home to friends. Due to the open windows you feel like you are sitting outside surrounded by rice fields.
Also Read>>> Aliikai Phinisi Boat in Indonesia
This impression is supported by a white interior, giving the space more depth. Combining the white with the bright yellow accents, such as the chairs and the green hanging plants – it is a true homage to the beauty on this island. It is amongst the well chosen ambient music, the laughter from the beautiful staff and the coffee machine grinding away in the backround that you are encouraged to let your thoughts flow refreshingly away.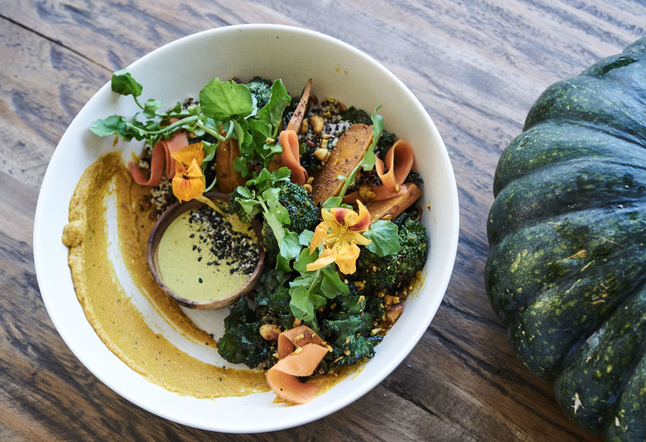 Credit Two Trees Eatery

While basking in the atmosphere of this special place you can watch your food being prepared behind the counter with freshly harvested local ingredients. The menu is like the interior – a colourful mix of raw vegan and terribly temptatious treats. The variety from healthy to naughty dishes is influenced by the French roots of the owner Laura and Cloé.
Which is why you will also find a bright selection of wines and cheeses. A refined selection of raw and healthy dishes is prepared daily by their passionate chef. To read the menu is in itself a delight. The dishes range from Sweet Potato Gnocchi to Tuna Poke to a Cheese Platter. Each one has been given a charming name – they certainly made you giggle while ordering!
Behind this charming concept of beautiful design with healthy and seriously arty and aesthetically pleasing dishes are two friends Laura and Chloé. This is where we find out about the meaning of the number two. Chloé and Laura are two French girls with the same roots, same age, and the same hometown in South West of France.
They have a billion of mutual friends, moved to the same island paradise and for some reasons they never met in the last 30 years. People would tell them, the day they met something crazy could happen, and it did!
They met and went straight away for a girls' weekend and discussed the idea of connecting. One week later they had found a place with two trees at the front and they bought it. Simple.
Two Trees is their story. Two seeds were planted in the same soil in France, got blown away by the same wind in the same direction and were waiting to meet and grow together organically. Like the two trees in the spiritual Land of the Gods, Bali.
Also Read>>> Banysn Botanicals
The Two Trees Eatery is an awe-inspiring space facing a rice field, close to the beach. Go by yourself to enjoy some quality "me time" in a heavenly atmosphere, while relishing a warm apple crumble tart next to your latte coconut cashew milk (don't miss that, trust). Or perhaps it's your perfect hang out with friends for a juice or a vino! Healthy breakfast & fresh juices, refined choices for lunch & treats to eat in or take out. Keep your ears and eyes open as it will open for dinner soon! I think you'll be moving in…
For more info on Bali's best spots for the modern yogi STAY | SPA | PLAY | EAT | SHOP | YOGA – Download our ULTIMATE BALI GUIDE for free.