joy boutique villa
Published: 08-10-2018 - Last Edited: 24-10-2022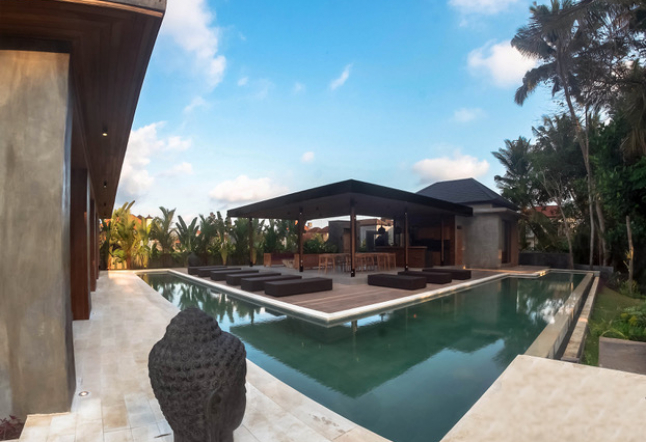 An oasis of pure relaxation can be found in the heart of Bali. Joy Boutique Villa is a show-stopper set amidst the lush jungle and rice fields of Ubud. This luxuriously-designed villa was created by a talented Balinese architect, offering a lavish space with five beautiful bedrooms, a peaceful wooden terrace with sunbeds, an infinity swimming pool, and spectacular natural surroundings. There is also a raised platform inside the jungle overlooking the creek, making it perfectly suited to a daily yoga practice. The Joy Boutique Villa is an ideal backdrop for a fabulous getaway.
What's truly enchanting about the location is the sense of intimacy and remoteness it provides. The villa frequently hosts wellness retreats where you can take some time off and reconnect with yourself.
An upcoming 8-day retreat, Cocooning in Bali, will be held between November 4th and 11th. Exceptional practitioners and experts will utilize a multi-disciplinary approach of daily yoga, meditation, dance, sophrology, coaching and cognitive exercises to help you enhance your physical and mental wellbeing. You will learn to establish and implement numerous healthy habits into your life in order to sustain a mindful and peaceful existence.
During the retreat, guests are provided with a unique opportunity to share and exchange ideas with a small group of inspired individuals in an undeniably exquisite setting. You are invited to indulge yourself in luxury and discover the beauty of Balinese culture while embarking on a transformative personal well-being journey. Encircled by photogenic landscapes, stepping into the space feels like entering a brand-new world, where you can leave your worries behind, relax, reboot and rejuvenate.
For more information on the Cocooning in Bali up coming retreat contact Anne at [email protected].
For more info on Bali's best spots for the modern yogi STAY | SPA | PLAY | EAT | SHOP | YOGA – Download our ULTIMATE BALI GUIDE for free.
Read next >> bali eco stay