energy muse jewelry
Published: 23-04-2014 - Last Edited: 20-10-2022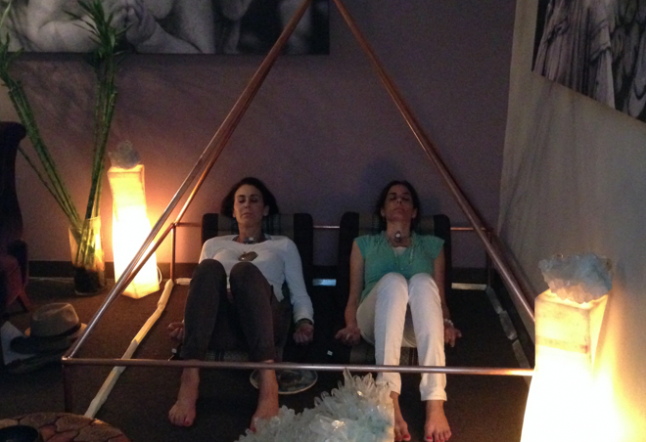 In the Energy Muse Sacred Intention Room of their Torrance Showroom in California, Timmi and Heather, the founder of Energy Muse Jewelry brand recently added a copper pyramid, filled with high-grade vibrational gemstones. After telling their friend Alberto – a very well-known Reiki Master and geomancer – about their new addition, he shared a secret on how to make a pyramid into one that rejuvenates and re-energizes anything that is laid under it.
If you were to look down from the sky at certain Egyptian pyramids, you would notice that they have a slight indentation on each of their four base sides, making their base into a star rather than a square. These slight indentations are what is believed to be the secret to creating a rejuvenating and re-energizing pyramid. The secret to turning a standard pyramid into a re-energizing pyramid is simple yet precise. After learning this secret, Energy Muse immediately altered every one of the pyramids in their office, immediately shifting the energy in the building.
The Energy Muse Copper Pyramid in the Sacred Intention room has a very powerful frequency. The combination of copper, a healing metal, and the high-vibrational crystals within the tubes is an unreal energetic experience. The moment you sit inside the pyramid, the energy shifts to exactly what you need; it is different for every person, and everyone has a different energetic experience. But one thing is for sure, a powerful vortex of healing energy resides within it. It is usually a moment to say prayers, gain clarity, manifest your intentions, and become centered.
As you are sitting under the pyramid and feeling the healing energy, it is beneficial to place different stones on different parts of your body to clear the energy of your chakras and rid your body of any energy blockages. Timmy and Heather will guide you to the best crystals for you during your meditation.
If you are local to Los Angeles or just visiting, go by their Torrance showroom and experience the energy of their Copper Healing Pyramid.
Energy Muse Showroom – Open Monday through Friday from 9 AM to 5 PM
Read next >> Sacred Jewels