big tree farms
Published: 28-06-2015 - Last Edited: 24-10-2022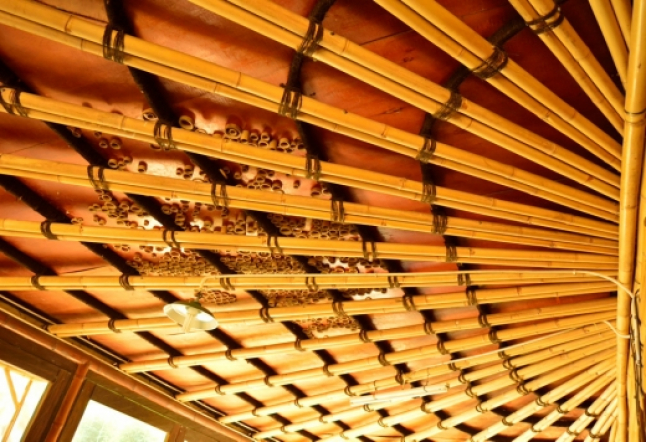 Sicne we wrote this review, Big Tree Farm is no longer producing, distributing Chocolate. !
We miss it.
After having seen enough traffic and tourists, hopping on a motorbike to escape the crowds is welcoming. Bali is an area blessed with splendor, nature and delicious food. The question then becomes where to go and what to do
Arriving at Big Tree Farms, this "bamboo cathedral" provides the initial welcome. In Bali style it's a breathtaking, beautiful, big commercial bamboo structure (the world's largest). From there guests are guided past production and the offices to the top floor where a heart-warming smile from the Big Tree Farms community and a cold, refreshing chocolate drink is waiting. Looking around, bamboo is laid in artistic patterns and the open air windows display vibrant trees and rice fields while the mouth-watering smell of chocolate creates curiosity of what's to come.
If you're doing the tour, get ready for an eye opening experience as the farm-to-table journey is explained. You'll glimpses into the plant where the transformation happens, to the moment tasting the delicious and sustainable products becomes reality. The claim that their products are nutritious and delicious takes the guilt out of enjoying the numerous delectable delights.
Among the edible highlights is the cacao butter, which is both tasty and luxurious to apply to your skin, their drinking chocolate and dark chocolate bars, which I've become addicted to, the must try coconut sugar flavors of vanilla and cinnamon (bonus that it's a yummy cane sugar alternative), and lastly, Coco Hydro Sport which came into my life years ago for Slackline Yoga and Acro Yoga and is all about effective hydration.
It's all about goodness here, as their website says: "Big Tree Farms is founded on the principle of jamu: an Indonesian concept of body, mind and spirit that are in harmony and balance…or to put it more simply: Rooted In Goodness.™"
Hours: Mon-Fri, Store: 9am-4pm and Tour: 2pm (1 hour)
Price range: IDR 40.000-267.000
Great for: Foodies and the those intrigued by beautiful structures
Open for: Factory tours, sustainable chocolate and coconut products
Best thing about it: The people and purpose and of course the consistent smell of cacao nib!
For more info on Bali's best spots for the modern yogi STAY | SPA | PLAY | EAT | SHOP | YOGA – Download our ULTIMATE BALI GUIDE for free.
Read next >> utama spice shop in sanur & ubud