best farmers markets in bali
Published: 22-11-2022 - Last Edited: 25-11-2022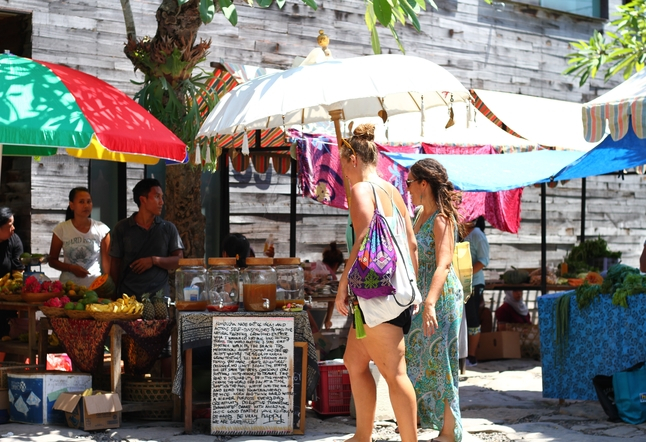 some of the best organic markets in Bali
Daily local markets are deeply embedded in Balinese culture, men and women waking up as early as 3 am to sell goods and purchase what they need for their families for the week. With so many foreigners flocking to the island, farmers markets have become the perfect way to present authentic Balinese art and clothing, allowing all to experience the culture and food of the island, and find unique goods made locally.
Because foreigners are so drawn to the island, Bali farmers markets have evolved from traditional markets to more Western markets targeting the expat community, allowing us to indulge in the things we may miss most from wherever we came from. Luckily, there are quite a few options for farmers markets in Bali! We have put together a comprehensive list of markets ranging from traditional and authentic to Western chic!
Old Man's
The last Saturday of each month, everyone's favorite beachfront meeting spot at Batu Bolong transforms into an abundance of small stalls where you can find clothes, crafts, arts, jewelry, second-hand items, food, organic veggies, and everything in between!
Old Man's Market is great for small businesses and island creatives to show off their unique handicrafts. You can also find gorgeous products Kevala Ceramics for around 50,000 IDR, which is a fraction of the normal cost at one of their outlets.
How can you resist this playground for the Canggu community- if you wish to make some new friends or catch up with the old ones, don't miss it! After your shopping spree, pop by one of the cafes on Batu Balong for a refreshing drink or lunch before heading home!
Pantai Batu Bolong, Canggu
+62 361 346 9159
market@oldmans.net
oldmans.net
Last Saturday of every month from 8am to 3pm – GOOGLE MAP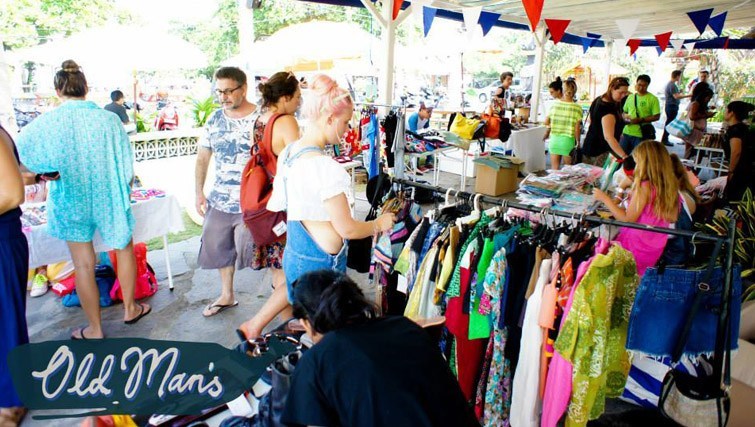 Samadi
Samadi, a beautiful space with a modern yoga pavilion and a cozy open-air vegetarian cafe offers a vibrant local market every Sunday, featuring local organic farmers and artisans. This happening vibrant market boasts music, laughter, excellent food and fresh produce. Samadi Sunday Market is about community, supporting local organic farms and artisans and promoting a conscious lifestyle through togetherness. Local farmers supply chemical free, healthy, fresh produce every week and are committed to being non-GMO and anti-pesticide.
You can find young asparagus, cherry tomatoes, beetroots, strawberries and even mulberries from independent farms in Bedugul. There is also a fresh fish stall, where you can browse and buy fresh local snapper and squid. A homemade jam stall complete with baked scones, brownies and delicious is a big hit as well, even sharing its profits with local charities.
You might be looking for organic food for Sunday dinner, fresh produce, but you'll be drawn to other welcoming vendors where you'll find homemade, all-natural beauty and wellness products, vintage clothing aplenty, and a paint-a-tee activity stand for children. Samadi is the epitome of farmers markets – welcoming, eco-chic vibes while promoting community and sourcing local.
Jalan Padang Linjong 39, Canggu
+62 812 3831 2505
info@samadibali.com
samadibali.com
Every Sunday from 9am to 2pm,
Wednesdays from 9am to noon – GOOGLE MAP
Tema Doma
This all natural, organic market is held every Saturday morning at Tema Doma restaurant. You can find fresh vegetables, delicious bread, miso soup, koji, goat cheese, soap and more. The best part is the natural Indonesian cheese from ROSALIE CHEESE, beautiful selection of fresh greens, fruits and herbs from Pak Joko, homemade Japanese Tofu, Nato, and vegetarian sushi. Make sure you come early as the veggies run out quickly!
Jalan Pantai Berawa Br.Berawa 25B Canggu, Badung
Every Saturday from 930am – 1pm
Temadoma – GOOGLE MAP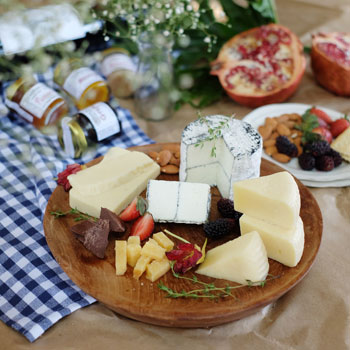 Sanur Sunday Market
This Farmers & Craft Market is the perfect Sunday family activity, located beachfront at Mercure Resort Sanur. With an inviting community vibe, it's easy to support the local vendors, artists, charities and special monthly events. There are a variety of stalls each month; with crafts, kids & adult fashion, accessories, food and recycled goods. Bring your family along to spend the day tasting food and drinks, browsing the market stalls, relaxing on the beach or taking part in yoga classes at Power of Now Oasis' beautiful beachfront yoga studio. Visitors are also invited to enjoy the Sahadewa Swimming Pool and Mercure Resort Kids Club activities for only Rp.50,000 per family. We can't think of a better way to spend your Sunday with family!
Mercure Resort Sanur, Jalan Mertasari, Pantai Sanur
+62 361 288 833
Last Sunday of every month from 10am – 6pm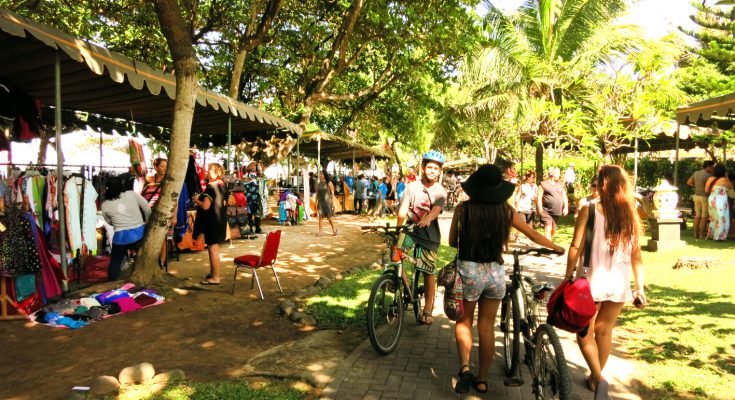 Love Anchor Bazaar
While not exactly a farmers market, the Love Anchor Bazaar has around 50 traders who sell jewellery, local and international food & drinks, unique clothing, bathing suits, and accessories for great prices. Love Anchor is a good spot if you are in Canggu for a short time and want to get some souvenirs to remember your time in Bali! The market is vibrant, colorful and full of smiling faces.

Jalan Pantai Batu Bolong No 56 C, Canggu
+62 853 3399 9917
loveanchorcanggu.com
Every Saturday and Sunday from 9am to 5pm – GOOGLE MAP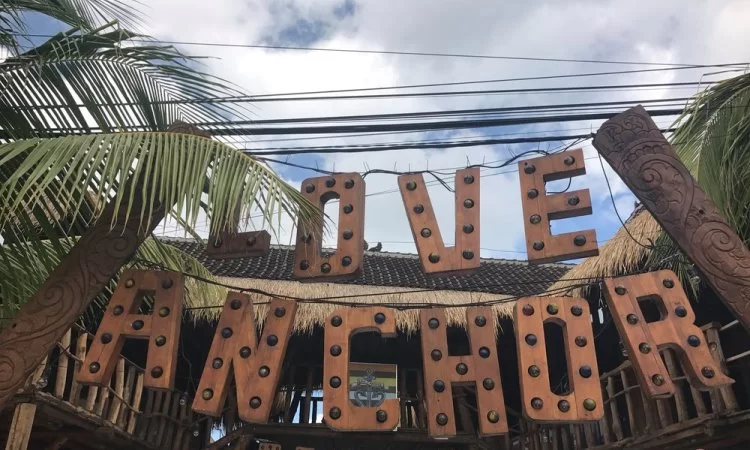 Deus Farmers Market
If you're worried Deus is just another food bazaar in Canggu, you have it wrong! Deus pops up on Wednesday nights and makes sure to stand out in everything they do. The cozy courtyard is filled with various stalls with fresh produce, healthy food, baked goods, organic beauty and skin products and more! Come discover local business owners and their selection of fresh and natural goods while enjoying a nice happy hour drink in the courtyard!
DEUS Temple Of Enthusiasm
Jalan Batu Mejan, 8, Canggu
deuscustoms.com
Every Wednesday from 6pm to 9pm – GOOGLE MAP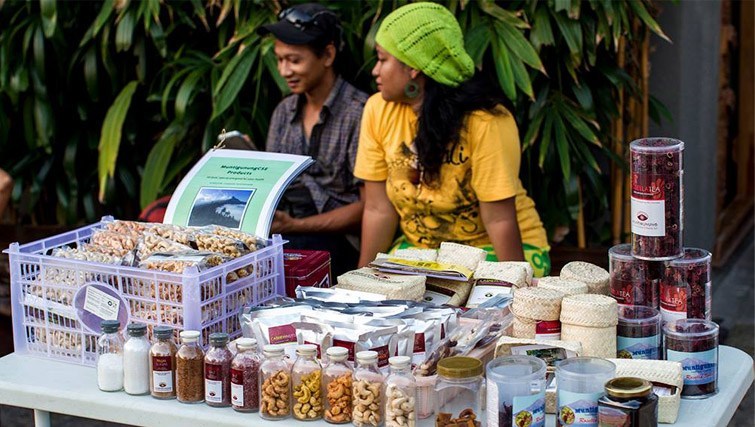 Batu Jimbar Cafe Farmers Market
This casual yet chic sidewalk cafe transforms into a market on Sundays, the front courtyard full of pretty parasols, where you can find local organic produce and food products and artisans selling clothes, bags, jewellery and other handmade goods. The food at the cafe is incredible and this fun environment, combined with a delicious brunch at the cafe makes for a lovely Sunday outing in Sanur.
Jln. Danau Tamblingan 75 A, Sanur, Denpasar
+62 361 287374
info@cafebatujimbar.com
cafebatujimbar.com
Every Sunday morning from 1030am to 3pm – GOOGLE MAP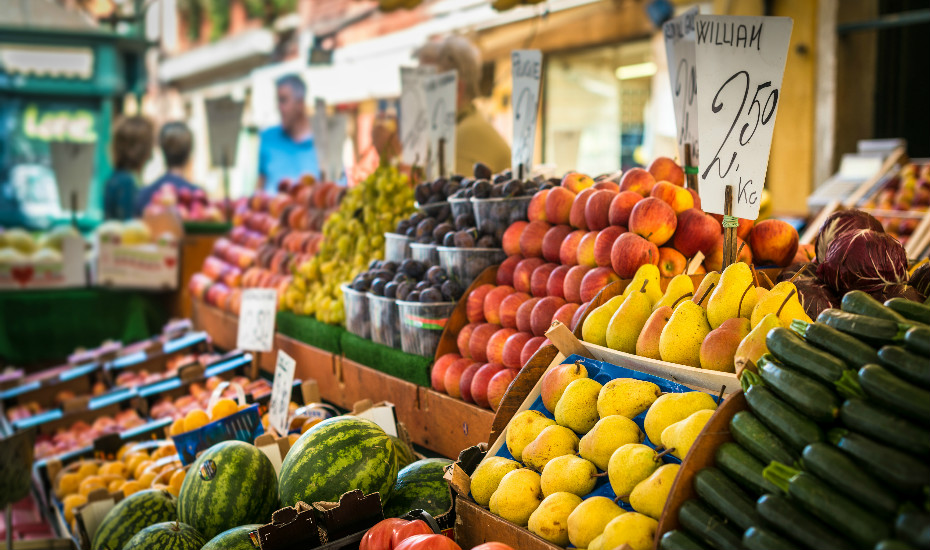 Biasa+ Market
Twice a month on Saturdays, this famous art space in Seminyak, Biasa+, becomes an eccentric market. The main gallery area remains intact, while the spacious inner yard transforms into a cozy bazaar. Everything about this market is artistic and the atmosphere draws an eclectic crowd of artists, designers and creatives alike.
You can find greens and vegetables straight from the farm, potted plants ready to bring home with you, a little sushi corner, delicious coffee, exotic flowers and more. This laid-back market is the perfect spot to spend the day with friends and meet new ones!
Biasa ArtSpace Jl. Raya Seminyak, 34, Seminyak
+62 361 847 5766
Biasagroup.com
Friday evenings, twice a month – GOOGLE MAP
Moksa Farmers Market
Moksa Ubud is a raw food restaurant that takes conscious eating to the next level. Not only do they have a restaurant, a permaculture organic farm, a workspace and a deli, but they also have a farmers market where you can pick up some organic produce and artisanal goods from their garden and other farmers. If you're in or near Ubud, take some time to buy all your fresh goodies for the week, but don't forget to bring your own bag!
Moksa Ubud Banjar Kutuh, Sayan, Ubud
+62 813 3977 4787
info@moksaubud.com
moksaubud.com
Every Saturday and Tuesday from 10am to 2pm – GOOGLE MAP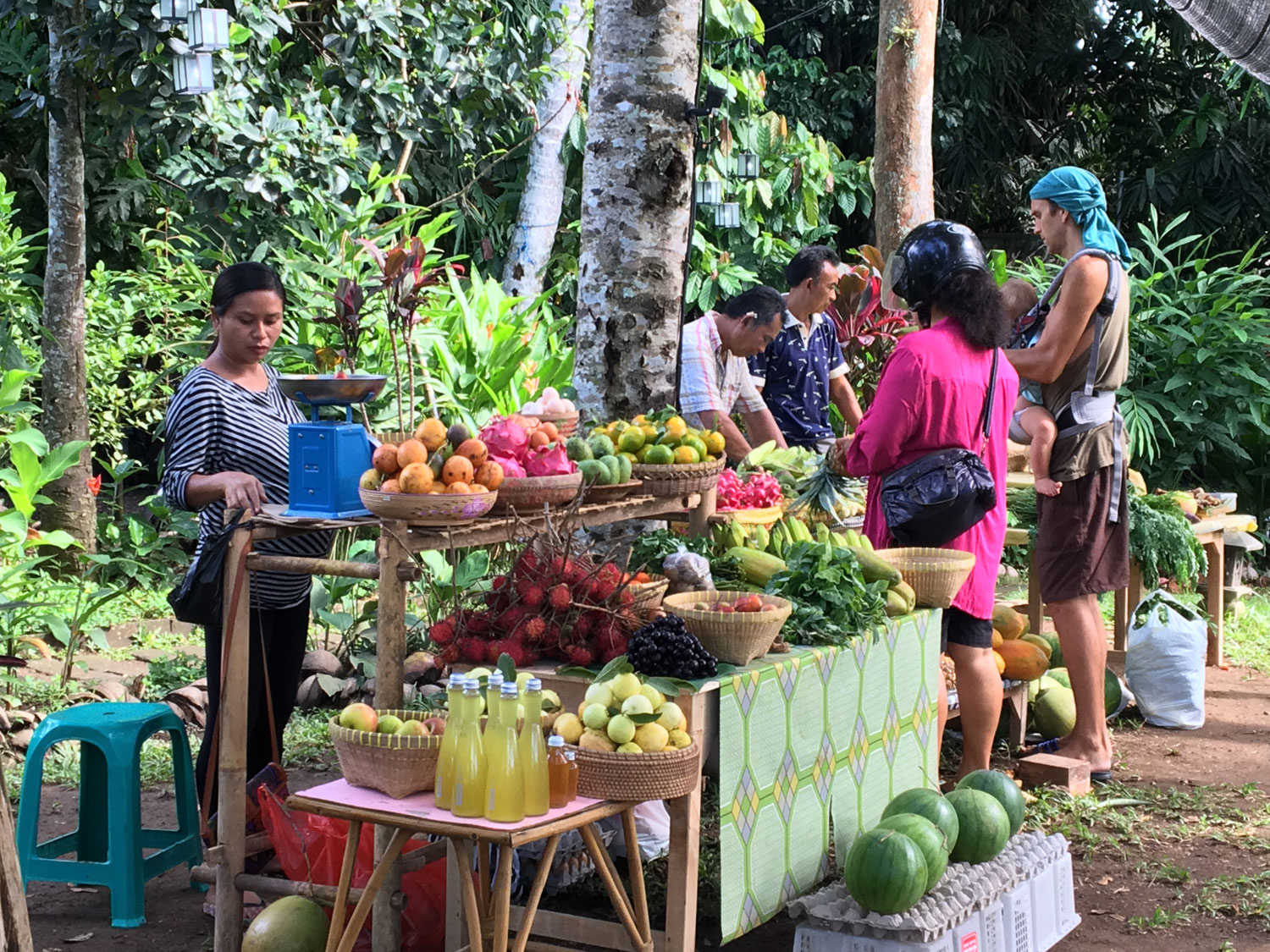 Ubud Art Market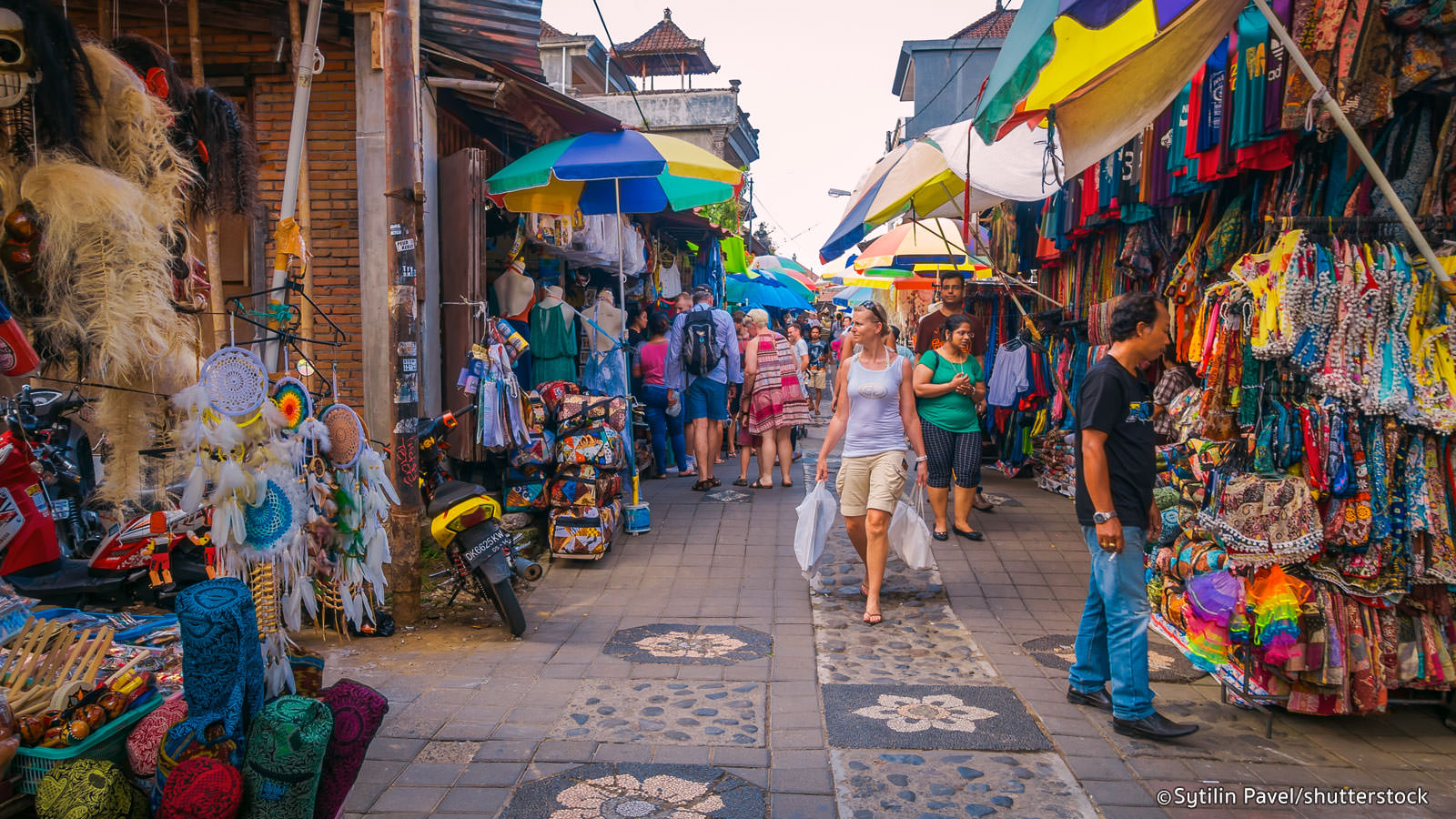 If you don't mind crowds and tourists, Ubud Art Market has an excellent selection of souvenirs from your time in Bali. The market offers traditional Balinese items such as beautiful silk scarves, lightweight shirts, handmade woven bags, baskets, kites, and also rather a universal and international assortment of goodies for everyone. The shopping here tends to be of a higher artistic value compared to other art markets such as Kuta. If you're doing a tour of Ubud and hitting the monkey forest, this is an easy place to stop and shop! This vibrant place was even found in multiple scenes in Eat Pray Love.

Ubud Art Market
Jalan Raya Ubud main road, Ubud
Open daily from 8am to 5pm
GOOGLE MAP

Green School Farmers Market
Green School offers a Friday farmers market where you can find a variety of local products from food, arts and crafts, and it supports the Green School project and non-profit organizations.
Green School
Jalan Raya Sibang Kaja, Banjar Saren, Abiansemal, Kabupaten Badung
greenschoolfarmersmarket@gmail.com
Two Fridays a month from 2pm to 5pm – GOOGLE MAP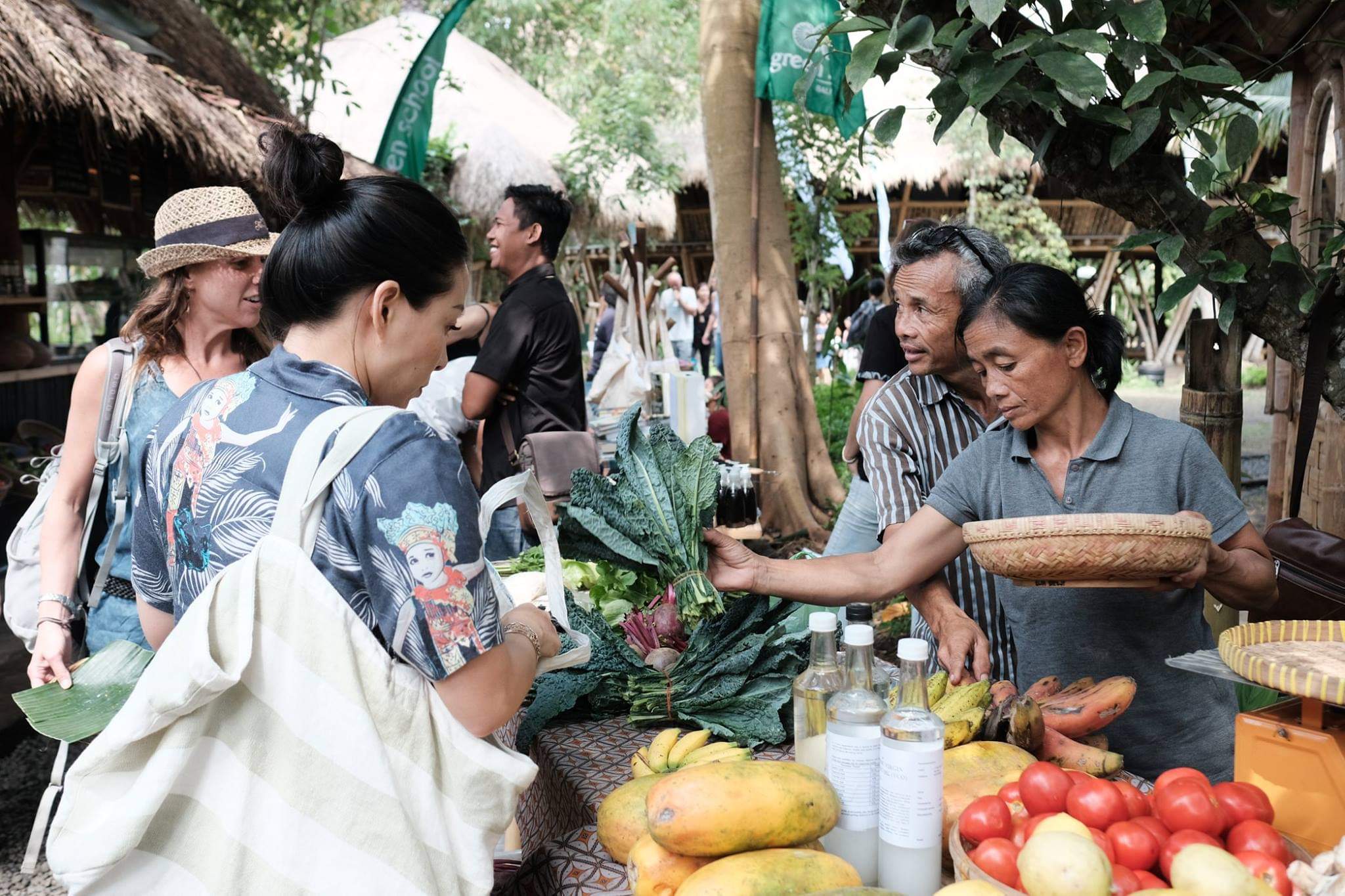 Sukawati Art Market
Located approximately 20km northeast of Kuta and Denpasar, Sukawati Art Market (referred to locally as 'Pasar Seni Sukawati') is arguably Bali's most distinguished and long-standing art market. There are multiple floors filled with Balinese art pieces like framed painting, handmade bags, wooden figures, clothing, traditional kites and ceremonial items. Also, you can find fabric, sarongs, incense, candles and oil-infused fans. The prices offered at the Sukawati Art Market are considered by the locals to be cheaper than most similar markets on the island. You won't regret getting a real taste of Balinese culture at Sukawati – so much so that you'll have to bring something home with you!
Sukawati Art Market, Jalan Raya Sukawati, Kabupaten Gianyar
Every day from 8am to 7pm – GOOGLE MAP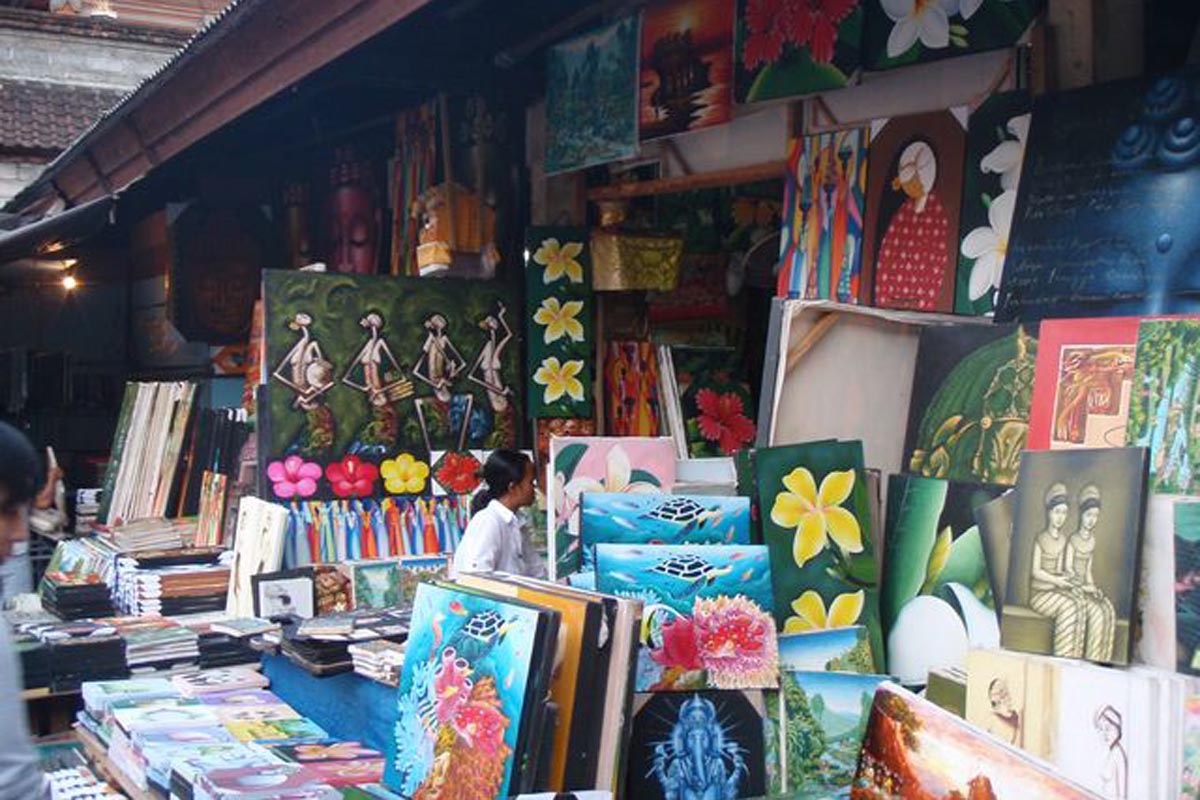 If you're looking for more traditional Balinese markets, take a look at the following:
Bali's Best Fresh Local Markets:
Pasar Bedugul – Tabanan
Pasar Taman Sari – Seminyak
Badung Market – Denpasar
Jimbaran Fish Market – Jimbaran
Kuta Market – Corner of Jalan Raya Kuta
Sindu Market – Sanur
Bali's Best Night Markets:
Kuta Night Market, Jalan Blambangan, Kuta
Sanur Night Market, Jalan Danau Toba, Sindu, Sanur
Denpasar Badung Night Market, JI. Gajah Mada, Denpasar
Ubud Gianyar Night Market, Jalan Ngurah Rai, Gianyar
Traditional Balinese livestock markets:
Bebandem Market (far eastern Karangasem District)
Beringkit Market (near Denpasar)
For more info on Bali's best spots for the modern yogi STAY | SPA | PLAY | EAT | SHOP | YOGA – Download our ULTIMATE BALI GUIDE for free.