be-juiced
Published: 12-06-2015 - Last Edited: 19-08-2021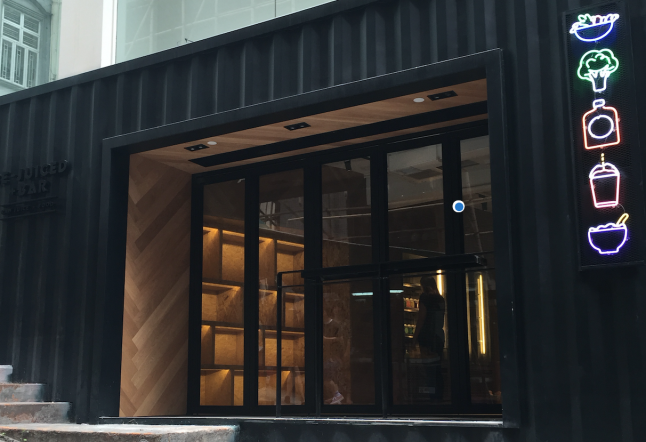 The benefits of a Juice Detox have long been known to the health conscious. Especially in Hong Kong, the daily grind of a hectic city life often leads to exhaustion, lack of energy and motivation, insomnia, bloating, headaches and muscle aches – all of which are signs of toxins building up in the body.
The philosophy of "Good IN, Bad OUT" relies on simply replacing your three daily meals with six 500ml bottles of freshly pressed, raw, unpasteurized vegan juices and nut milk. Since fruits and vegetables are humans' prime source of all nutrition, BE-JUICED has designed each juice to provide the required levels of protein, carbohydrate, water, salt fat and vitamins to power you through the day.
Having tried a couple of detoxes and cleanses I was very curious about the new juice shop that has recently opened in Soho. Founded by two Hong Kong siblings, who strive to introduce this dietary concept by bringing a natural body detoxification and restoration. BE-JUICED knows how to make the cleanse easy and breezy. Grace is a specialist in that matter so when I first met her at the newly opened shop on Peel Street she explained the whole process and made me try all the delicious juices. I knew straight away I was in good hands!
Since BE-JUICED offers three different levels of cleanses I thought I would try one on each of my 3-day cleanse.
I started with the mildest one – Reboot, followed my Grounding to end with my personal favourite – Veggiecation.
1: REBOOT (MORNING SQUEEZE, VEGGIE BOMB, BEET IT, ALOHA CHILLER, OH MY GAZPACHO, MILKILICIOUS)
Equal blend of fruits and vegetables for beginners.
2: GROUNDING (MORNING SQUEEZE, VEGGIE BOMB, DR BUNNY, GREEN MACHINE, OH MY GAZPACHO, MILKILICIOUS)
For more experienced participants who prefer a higher vegetable content with less fruit and sugar.
3: VEGGIECATION (SPICE QUENCHER, VEGGIE BOMB, MR B & FRIENDS, GREEN MACHINE, PINAKALEADA, MILKILICIOUS)
Designed for expert cleansers and green juice enthusiasts or those with a restricted sugar diet. Mostly greens with limited sugar content.
The cleanse was a bliss and apart from a slight headache on the first day I felt fresh, alert and full of energy. The process was very pleasant and waking up to 6 bottles of nutrient dense juices was fun and exciting. Having a 500ml bottle to enjoy every two hours I almost never felt hungry or had any cravings. I continued with my usual routine (Yoga, light weights and soul cycling) but found it easier to stay focused if I avoided any social gatherings during the cleanse to avoid any temptations (even though I'm pretty sure I wouldn't fell of the wagon as the benefits of juicing would be worth it!). My personal favourite was the level 3 Veggiecation, the other two were great but a little too sweet for me but I loved Beet it, Oh My gazpacho and Milkilicious.
BE-JUICED cleanse is a fantastic way to kickstart a healthy diet or simply let your digestive system rest for a few days. I would recommend it for busy Hong Kong people who want to feel lighter and healthier. You can place your orders at least 2 days before their cleanse is due to begin by logging onto our website bejuiced-hk.com and the juices will be delivered to your door one day before the cleanse commences.