Beach Cleanup in Petitenget
Published: 12-06-2011 - Last Edited: 24-10-2022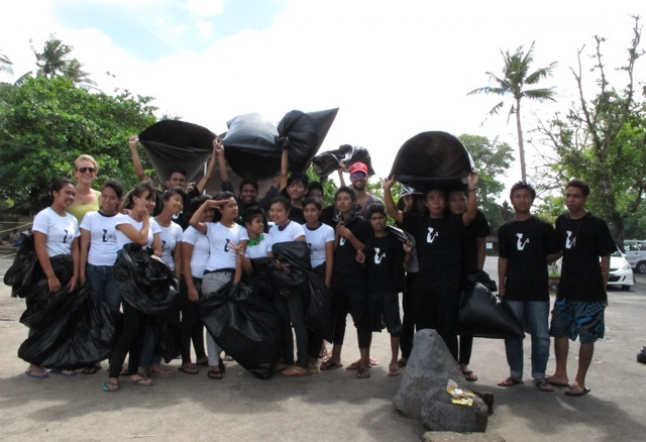 For those of you that have been to Bali, you know it's a beautiful island with a dirty little secret. Lots of trash.
When I arrived in Bali in November 2010, I was surprised how much litter there was on the local roads and beaches. It got me thinking. What can I do to make a difference?
When I was a little kid growing up in the Midwest, United States, I was taught to leave any place I visited in better condition than how I found it. So, that's exactly what I aimed to do here in Bali. And, what better place to start, than the beautiful beaches of Bali.
After throwing a few parties on the island, I started meeting some like-minded individuals who were interested in helping me organize a beach cleanup. Philip Mimbimi, executive chef at Hu'u, was one of those individuals.
We decided to throw a charity event at Hu'u Bar, and use the proceeds to fund the cleanup. We enlisted the help of the children from the Wisma Harapan orphanage to join us in our quest.
With the help of about twenty kids from the orphanage, we scoured the beach for over two hours. Since there isn't a lot of education about environmentalism and proper waste disposal here in Indonesia, we decided to share our knowledge. We explained the importance of the environment and keeping our beautiful planet clean and green.
It was really amazing to see how much we accomplished as we worked together. And, how much did we accomplish, exactly? We removed about 1200 pounds of trash in that little amount of time! When we were finished, the beach looked … clean.
After the cleanup, we took the kids to Hu'u and treated them to lunch. They were all smiles. We took the remaining money from the party, and donated it to the orphanage for school supplies, toiletries, etc. With full bellies and a sense of accomplishment and pride, we all said farewell. It was a good day – good, clean fun!
Keep it clean. Keep it green 🙂
For more info on Bali's best spots for the modern yogi STAY | SPA | PLAY | EAT | SHOP | YOGA – Download our ULTIMATE BALI GUIDE for free.
Read next >> utama spice shop in sanur & ubud