bahay kalipay raw food & yoga retreat house
Published: 10-02-2017 - Last Edited: 09-11-2022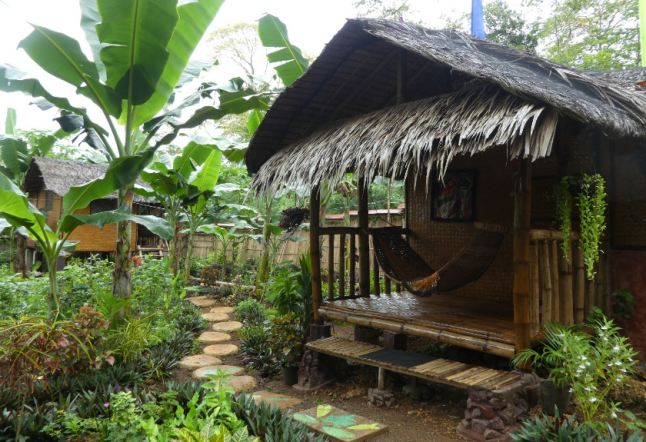 Planning a visit to Palawan in the Philippines? Make sure you spend a few days at the wellness detox retreat center of Bahay Kalipay, a peaceful green getaway just a 20-minute cycle ride outside the city of Puerto Princesa. You'll find amazing raw vegan food, great yoga classes, inspiring workshops, a community of lovely local staff and like-minded people from all over the world.
The natural setting of the retreat is simple Filipino style with traditional nipa huts made of natural materials. There's a real sense of community as most rooms are shared. In an effort to be ecofriendly, biodegradable toiletries and cloth towels are used in lieu of toilet paper.
The kitchen team cooks three amazing raw meals, one green smoothie and an afternoon snack each day. We had colorful tropical fruit plates for breakfast, vegetable wraps and sushi, raw soup, salad and amazing coconut/cacao balls. Even if you are not on Bahay Kalipay's detox program, you'll get your cleansing just from the food.
The cleansing program has daily activities and workshops you can choose to participate in. The day starts with coconut oil pulling to cleanse the body. Then there is a sunrise yoga class followed by one or more activities and workshops. We joined a fun coconut workshop and learned about how to open young and old coconuts. The Inner-dance workshop was a powerful and transformational process that we will never forget. We also enjoyed a workshop where we learned three different types of meditation. The local teachers were wonderful – very professional and inspiring.
Wednesdays are "silent coconut fast days" with no activities scheduled. You can kick back in a hammock with a book from the library, have a walk on the labyrinth, or go to the mangrove beach close by. They also offer massages, colonics and private healing sessions on request.
Bahay Kalipay feels like a safe home where you can find your true inner sensitive self and experience an emotional and physical detox. The wonderful staff and facilities help guide everyone through their individual journeys.
Thank you, Sasha, Kimberly and the Bahay Kalipay Family – we would love to visit you again!
Read next >> silent meditation retreat in peru