bagels & beans
Published: 16-06-2016 - Last Edited: 24-10-2022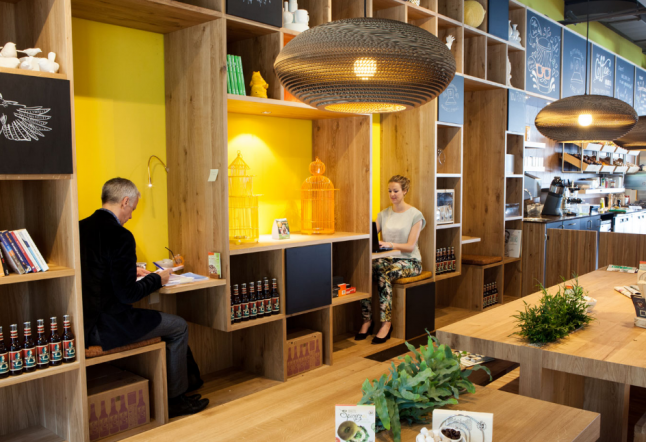 Bagels & Beans. What's in a name? Bagels, and… Well, coffee! If you're looking for a nice breakfast or lunch spot while enjoying a homely, living room feeling, this is the place to be.
Bagels & Beans definitely knows how to make bagels. There's a wide range of options from sweet to savoury. They serve bagels with and without cream cheese, and either warm or cold toppings. First, you choose your type of bagel (try the Oathie bagel, it's delicious!) and then you choose your topping. Not too long ago they added many new creations to the menu. Bagels & Beans now serves four types of vegetarian 'Bagel Burgers' for the vegetation burger lovers, how awesome is that?! They're made from, for example, mushrooms (The Paddoburger).
All coffees can be served with soy, almond, or spelt milk. Although the name implies they mainly serve coffee, Bagels & Beans also serves healthy juices and a wide range of delicious teas, of which the health benefits are described in their menu. There are, for example, different types of tea that are specially made for the Ayurvedic doshas Kapha, Vata, or Pitta. That's the spirit, know what you eat or drink, and why it's good for you! Finish your breakfast or lunch with a date cake, it's fantastic.
Bagels & Beans doesn't serve just vegetarian food, but the vegetarians and/or vegans have many options to choose from. There are quite a few locations in Amsterdam, just find the one closest to where you are!
All other locations:
Raadhuisstraat 18 t: +31 20 638 0788
De Clercqstraat 22HS t: +31 20 760 2868
Waterlooplein 2 t: +31 20 428 8906
Overtoom 306 t: +31 20 737 0033
Veemkade 368 t: +31 20 419 4622
Ferdinand Bolstraat 70 t: +31 20 672 1610
Ruyschstraat 52 t: +31 20 468 4425
Van Hallstraat 613 t: +31 20 486 4647
Waterlooplein 2 t:+31 20 428 8906
Bos en Lommerweg 333 t:+31 20 488 2801
Veemkade 368 t: +31 20 419 4622
Overtoom 306 t: +31 20 737 0033
Willem de Zwijgerlaan 161 t: +31 20 737 2563
IJburglaan 567 t: +31 20 717 3080

Read next >> de bakkerswinkel