de bakkerswinkel
Published: 01-05-2015 - Last Edited: 24-10-2022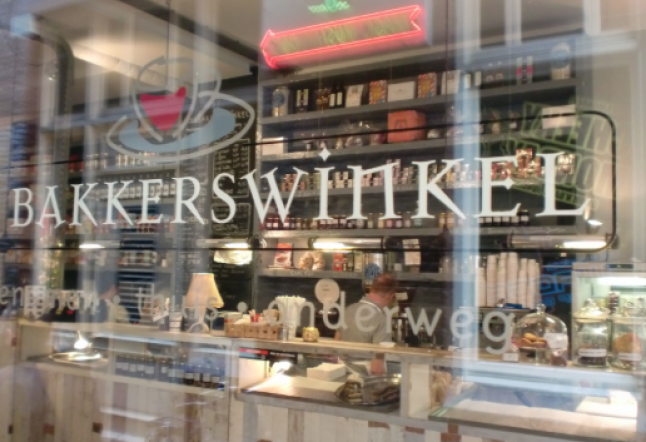 The perfect place to read a book and enjoy a tea or coffee, to spoil yourself with an high tea with your friends, to take your kids and enjoy a family breakfast or brunch, or to stop by for lunch after strolling through Amsterdam's streets; this place is something for everyone! Even though the Bakkerswinkel is located on several locations throughout Amsterdam, each one of them is unique. A sense of coziness and livingroom atmosphere is what they all have in common, and delicious food of course! Piet Hekker, born into a baker's family, is the founder of this highly appreciated concept.
As soon as you enter the shop you'll smell all kinds of freshly baked goodies! One of the favourites are the scones served with organic jam and cottage cream. You can choose between a plain, raisin or cranberry scone. The breakfast menu consists of several packages, which all include either your choice of coffee or tea and an orange juice or fruit shake. Try the yogurt breakfast; a bowl of yogurt, home made granola, goji berries and a variety of nuts and raisins or the French breakfast including a croissant, rye raisin bread with butter and jam.
The lunch menu offers a variety of choice and changes twice a year so that they can offer local seasonal products. Worth a try are the quiches with for example, leek and goat's cheese. You can also create your own sandwich by picking a sanwich filling, a spread and a topping. 'Filling' options could be a homemade hummus with carrot or a typical Dutch, slightly matured 'Beemster cheese'. Combine it with a spread of peas with mint and lemon or lemon mayonaise. Top it off with roasted hazelnuts or roasted zuchini.
Don't miss out on the different high tea packages the Bakkerswinkel offers. If you're not that hungry pick the 'Bakery Sweets High Tea', including a fruitshake, tea of your favourite flavour, a scone with cream and jam, home made cakes and a couple of friandises. For those who have lots of time and can dine for hours, try the 'Late Afternoon Tea' including all of the goodies mentioned earlier while adding a glass of wine or orange juice, a small home made soup, finger sandwiches, quiches and a fruit salad. The menu seems almost endless and offers so many options!
If you're in a hurry, just order someting for take-away. The Bakkerswinkel is also a perfect place to celebrate any kind of celebration you can think of (make sure to make a reservation)! Some locations even have a wedding permit! The ceremony can be combined with a breakfast, brunch, lunch, tea and/or reception. Always festively decorated, naturally.
Read next >> juice & salad café