the ALiLA manggis bali
Published: 20-11-2012 - Last Edited: 24-10-2022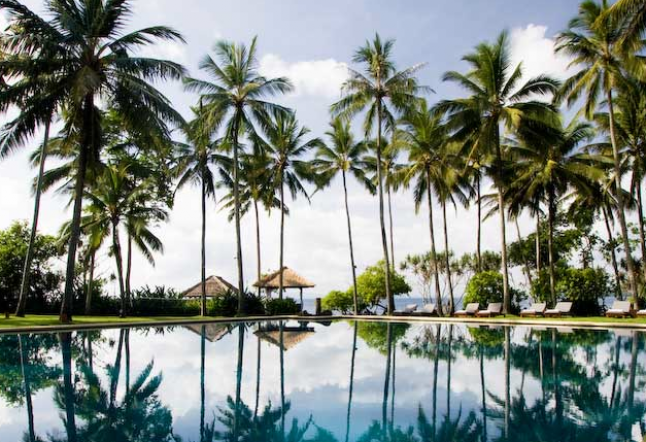 Alila Manggis sits facing the beach in a breathtaking location between the sea and Eastern Bali's sacred mount Agung.
First, the arriving guests will immediately be seduced by the landscape and the sea view though the beach is not the main attraction here. The large square pool comes as the centerpiece of the resort and invites you at first glance to ease-up and switch on the vacation mode.
A natural environment
A flowing interaction between the resort itself and the surrounding natural landscape gives a sensation of calm and perfect harmony. The traditional; thatched; Alang Alang roof covering the lobby and the four two-story buildings of the cool white stone contain guest rooms that remind you of where you are, Bali "the Islands of the Gods."
The resort offers an instant dive into a mix of modern and traditional Balinese architecture. All rooms have a simple décor that soothes the mind, a balcony facing the sea, and an outdoor daybed to nestle with a cup of tea (fresh ginger, lime or cinnamon, and lemongrass hot tea are served daily from 3 to 5 pm by the pool.)
Local activities
Cream, chocolate, and sand colors of the resort are reminiscent of the nearby traditional village of Tenganan, where the hand-woven textiles and indigenous wood are crafted by a handful of families who retain the skill and legacy of this art. The village is worth a visit to further understand the local art and culture of Bali. Ask your guide questions, you will find some of his answers will deepen your understanding of Balinese rules and traditional socio-cultural behaviors of the lifestyle there.
Added to your itinerary, a 30-minute bike ride could take you to the ALiLA Organic Garden for your private yoga class with Kawy, an expressive and serene teacher from the local Gandhi Ashram, a truly unique way to practice yoga in Bali. Follow up with a romantic breakfast whilst sitting in the garden's bale (a Bale is a Balinese word for a pavilion. It has four posts, a platform, and a roof, and is traditionally used as a retreat from the heat) all of it in the splendid natural surroundings of lush trees and rice fields, giving you a moment to gaze into each other's eyes in a lost paradise.
Outstanding cuisine
The ALiLA Manggis' SeaSalt restaurant is hosted in a Balinese pavilion set on a lotus pond and takes its name from a local nearby sea farm. The sound of the crashing waves is the only music played at SeaSalt, so the atmosphere is serene and romantic.
Also known for its excellent cuisine, SeaSalt attracts people from outside the resort for breakfast, lunch, and dinner however a secluded and peaceful environment for the guests is successfully maintained.
The AliLA Boost mocktail (fresh tomatoes, fresh orange juice, black pepper, and green pepper) will wake-up your palate and the Vegan Corn Soup with coconut milk and a delicious creamy texture will kick in your appetite. You may enjoy the Arugula Salad from the organic garden with fresh mozzarella, pesto, and local tomatoes. A great selection of entrées will satisfy even the most demanding of diners, and the Orog Orog, a traditional dessert made of a mix of black and white rice with local palm sugar and freshly cut mangoes, can be a perfect way to end your dinner.
A dedicated staff
The restaurant crew is extremely helpful with a head chef who would be delighted to get creative with any culinary requirement e.g gluten-free, dairy-free, sugar-free, you name it and you can have it without the taste-free!
With obvious outstanding training yet an unpretentious and authentic delivery, the staff greets you by name and make you feel right at home, attending to your every need without ever being omnipresent. Most of the staff at ALiLA Manggis have been employed for years, and seem to have taken ownership of their work, expressing their pride and gratitude to be part of such a company.
Committed to well-being
An overall sensation of well-being permeates within the entire resort. From the attentive staff to the delicious food, ALiLa resort is a haven surrounded by calming landscape, all in all creating an authentic experience of wellness and rejuvenation.
With the cultivation of the nearby organic garden to supply produce for the resort's restaurant to the mindful corporate culture and the attentive management, the AliLA Manggis resort becomes part of a realm of conscious companies that are looking for ways to give back to their employees and surrounding communities. (Children's community projects with local villages to enhance awareness on sustainability and eco-friendly behavior are organized monthly known as The Green Bank Project).
In essence
Couples seeking a getaway of pure relaxation, great cuisine, tranquility, and beauty while spending their dollars on a company that makes a difference, will find that AliLA Manggis offers a great mix of all, in an atmosphere of peace, serenity and understated luxury.
For more info on Bali's best spots for the modern yogi STAY | SPA | PLAY | EAT | SHOP | YOGA – Download our ULTIMATE BALI GUIDE for free.
Read next >> akasha eco resort