abs anything but salads
Published: 02-09-2015 - Last Edited: 30-10-2022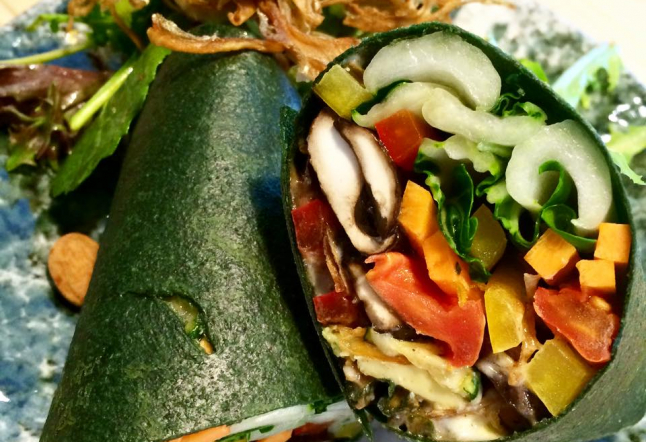 Tucked in the back street of Sheung Wan, this little shop carries as much goodness per square meter, as it possibly can. Walking in, you may feel like trying a bit of everything in your sight. A wide selection of healthy snacks, kale chips, chocolates and other healthy bites is hard to choose from but the best part is – they are all raw, gluten-free, paelo and absolutely delicious. They have recently started a brunch menu with a different selection every weekend as well as ice-cream.
Calista Goh, the founder, started Anything But Salads, in a way, out of necessity. As a young girl she faced some serious health issues which made her revolutionize the way she ate to never get sick again. When Calista got back to Hong Kong from the UK, she struggled with finding nutritious foods easy to digest. She says: "There weren't many options except salads drenched in commercial dressings with canned foods. Now you know why my business is called "Anything But Salads". I was so sick of unhealthy salads masquerading as health foods. There was much education needed. I knew all people needed was the OPTION to eat better. ABS is all about providing high quality functional health and superfoods to you, accessible and affordable health and synergistic ingredients and democratising health foods. We're all about social change and social advancement through foods."
With a degree in of Law, Psychology and Business, Calista teamed up with Delon Tuan and together in August 2013, ABS reopened as a snacks manufacturing company. "We came back with a stronger vision and a bigger mission. This time, I didn't just want to revolutionize the way some people ate, I wanted to revolutionize the way the world ate." And they succedeed, apart from the cute shop I PoHo, their products are now sold at the most popular grocery stores and their food attracts the health conscious foodies.
Calista's favourite include: Life Rawnola, CACAO organic herbal mushroom chocolates (all 4 flavours!), Living Almond Butter, Organic Chai Masala Kombucha, Organic Raw Spirulina Honey.
I went to try their Signature Raw Burrito (wraps made of coconut and spirulina) and Buddha Bowl. Burrito was my favourite, really tasty and super healthy!
Anything But Salads is a definite go-to for nutritious and fun snacks, desserts and so much more!
Read next >> tai tong organic ecopark