raw chili spiced broccoli tacos with cashew sour cream
Published: 16-03-2011 - Last Edited: 19-08-2021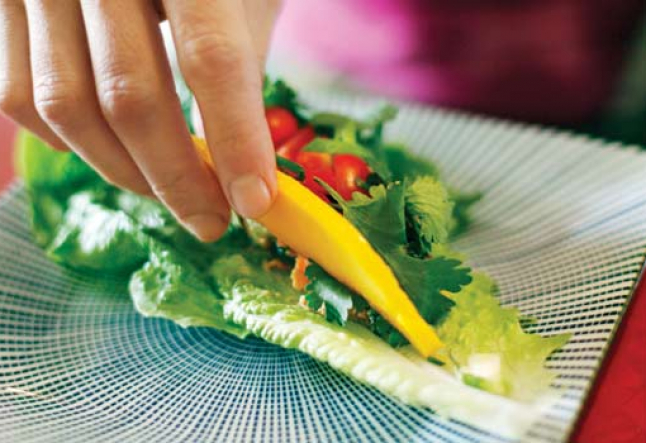 Orchid, former Chef of San Francisco's popular raw eatery, Café Gratitude, and co-author of the raw food cookbook I Am Grateful written with Café Gratitude owner Terces Engelhart, has propelled himself out of the kitchen and into the limelight, delighting raw food fanatics with dishes that are as inventive as they are delicious.
The self-taught chef began his culinary career nearly a decade ago on the banks of Nantucket Island, just off the south coast of Cape Cod. With experience working in restaurants, waiting tables and observing other chefs work their culinary magic, Orchid made the fated decision to take his passion for food into his own hands. As his luck would have it, he landed the perfect opportunity to explore  this desire and began working as a personal chef for a local Nantucket family. In this ideal outlet, Orchid nurtured his culinary creativity and experimented with healthy, nutritious meals the whole family could enjoy.
Spending many seasons on a commune in Liberty, Tenn., Orchid learned how to live off the land, preparing meals from vegetables grown in his own garden. He has witnessed a growing number of people becoming increasingly removed from the source of their food and is excited to be part of a movement that brings people back to nature. He shares a similar attitude as writer Michael Pollan, who says, "Don't eat anything that your great-grandmother wouldn't recognize as food." Orchid's experiences cultivating his own edible organics drive him to create organic dishes made from locally grown produce for his clients.
Orchid believes that "cooking with kids is a great way to get them into the kitchen and to teach them about nutritious eating." For this month's recipe, Orchid has created family-friendly raw tacos. He loves this dish because it's playful and interactive. "Kids have a sense they are making their own food when they are able to pile on their own toppings!" So, pile it on, roll up a nutritious raw taco and enjoy!
raw chili spiced broccoli tacos with cashew sour cream ingredients
For the Tacos
•One large head of romaine lettuce or other large-leafy green (washed and separated)
•3 cups bite-size broccoli florets
•3/4 cup diced sweet bell pepper
For the Chili Sauce
•10 sun-dried tomato halves (soaked for four hours, drained)
•2 tablespoons raw tahini
•1 tablespoon lime juice
•1 teaspoon chopped garlic
•1 teaspoon agave syrup
•1 teaspoon nama shoyu (raw tamari)
•1/2 teaspoon chili powder (mild)
•1/2 teaspoon oregano flakes
•1/2 cup + 2 tablespoons water
For the Sour Cream
•1 1/2 cups raw cashews (soaked for 8 hours drained and rinsed)
•1/2 teaspoon salt
•2 tablespoons lemon juice
•3/4 cup water.
Optional Toppings
Onion, chopped tomatoes, hot peppers, cilantro, sliced mango, pineapple, avocado or anything else your heart and taste buds desire.