Summer Bounty Quinoa Salad
Published: 29-06-2012 - Last Edited: 12-08-2021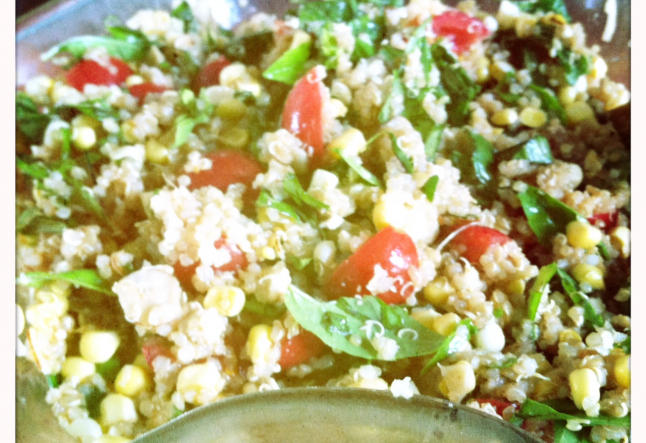 summer bounty quinoa salad ingredients
1 cup quinoa
1 ¾ cup water
¾ teaspoon sea salt
¼ cup walnuts, chopped
1 cup basil leaves, chiffonade (sliced thin)
2 ears of corn – slice the raw kernels off of the ear 
1 cup cherry tomatoes, quartered
6 oz goat cheese feta (or 1 cup of diced firm avocado if you want this to be a vegan salad)
1/2 cup olive oil
1/4 cup balsamic vinegar
½  teaspoon minced garlic
To prepare summer bounty quinoa salad
Step 1: Rinse quinoa and place in pot with water.
Step 2: Heat on high in covered pot until boiling, then lower to a very low simmer (don't stir while it cooks.)
Step 3: Cook until water evaporates, about 15-20 minutes. Let sit for another 15 minutes and then fluff with fork and bring to room temperature.
Step 4: In a bowl, add all ingredients to the quinoa and mix gently. Serve at room temperature or cold.