sitting down with meghan pappenheim
Published: 17-03-2012 - Last Edited: 12-08-2021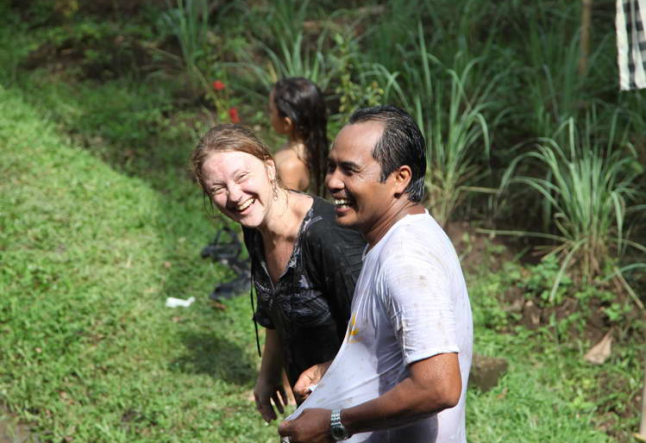 The BaliSpirit ethos is one of harmony. Co-founder Meghan Pappenheim has an ardent passion for all things yoga, dance, music and the group's successful Festival (this year March 28-April 1) is a joyful celebration of these art forms and much more besides. She also believes in the event's capacity to awaken awareness and to inspire and influence the community. This marriage of artistic and spiritual vision breathes a spirit of unison and oneness into the Festival that no doubt contributes to its status as the leading event of its kind in Asia, despite being a mere 5 years old.
The BaliSpirit Group is keen to raise awareness about its important new bamboo reforestation project at the Festival this year. Launched in 2011, the Festival works with the East Bali Poverty Project (EBPP) and the Environmental Bamboo Foundation (EBF) to help reforest the Desa Ban area. Restoring the forest canopy will improve the ecosystem and thus help the villagers of Desa Ban recover their land and their community.
With the Festival starting in just a few weeks, Yogi Times was keen to sit down with Meghan and ask her a few questions about her labour of love, the BaliSpirit Group.
YT: Each year it seems that the event grows larger in scale. What new height might you wish for the Festival in 2012?
M: We'd love to be able to turn a profit this year and attract greater support from businesses and the community. It's a massive undertaking to put on an event like this and the local economy benefits. So, no matter how big or popular we are, we have to remain viable and sustainable.
YT: Where did the inspiration for BaliSpirit come from?
M: The concept for BaliSpirit arose after the Bali bombings in 2002. What followed was an economic tailspin that plunged the island into recession. I decided that a holistic directory would not only support the economy but would also shift the focus of who Bali attracts–mindful people who are seeking growth and who can honor the best of what Bali has to offer with their pilgrimages here. It was a terrible tragedy but it spurred many to think about how we can pull together to heal and support each other through a difficult time.
YT: How does your work affect the Balinese community?
M: BaliSpirit has devoted tens of thousands of dollars to charities, and there is no end to the demand for supporting the local population.
Either through direct donations or raised funds, BaliSpirit and its partner organizations have collected close to $60,000 to support Balinese community action. If you count the logistical resources needed for hosting and arranging the number of free Festival family days, concerts and other special events that BaliSpirit has held for the local population, then the figure is about $100,000 more. It's been expensive, but I have strong businesses and you put your money where your mouth is. If we're creating waves that can positively impact the Balinese then it naturally raises the bar for others to do the same.
YT: How is Bali changing? Do you feel that an increasing Western influence has been beneficial to its development?
M: I think there is tremendous space for West and East to learn from each other in Bali, may be more so than anywhere else. Women here are hardworking and strong in spirit and I am amazed at their resilience. Rather than being influenced or pushed into it, I think they learn just by witnessing– my Balinese friends and staff see I have a style of my own which is energetic, enthusiastic and independent, but I am also deeply family-oriented. I try not to think in ways of influencing the Balinese as much I would like to be influenced by their ways, after all, I am still an adopted American.
YT: What sustains you in your work?
M: The good news is that Ubud's holistic business world has many options and practices for healthy living. But the intensity of my day to day operations reminds me that keeping energy levels going mostly comes down to my personal choices and knowing where to draw the line. I gain great strength from spending time with my husband and 2 children, so I have to make sure my schedule allows for them. I also gain immense joy knowing that my businesses feed people energetically and spiritually in a very very positive way.
On the flip side, there's also the verve that comes from identifying a need and creating a new opportunity to fill it, which is just my excitable social entrepreneur side trying to keep me thinking ahead.
YT: How has your vision changed over time?
M: I've always been one for following instincts, and I have always put my heart into my work. My vision about anticipating a large alternative health, holistic and wellness community in Ubud hasn't changed one bit, and this town is continuing to grow in size and popularity. I think the vision has shifted now to one of proactively conserving the islands greatest environmental and cultural treasures, so people can continue to enjoy the best of Bali without the rampant pollution and urbanization.
This was a priority when planning the expansion of the Yoga Barn yoga studio–our yoga, meditation, training and workshop center. Once we lost the ricefields next door to a big developer, we opted for a new sustainablity model, whereby we would use recycled materials for construction and could still expand. 80 percent of the new land has been left undeveloped. No car or motorcycle access will be allowed either. Since tourism isn't going away, we're hoping others take notice of more sustainable and responsible models for development.
YT: What do you love about Bali?
M: I came here in 1992 as a student because I was studying anthropology and ethnic art. As a student, living with a Balinese family, I gained a deep understanding of the culture and the people. What I love about Bali is the people and their unique position in the world – there is no other culture like it, a blend of animism and Hinduism.
YT: Where would you like to see yourself in fifteen years time?
M: Sitting between the mountains and the sea, giving and receiving blessings.
YT: Thank you Meghan for allowing us the privilege of learning a little more about the BaliSpirit Group, the BaliSpirit Festival 2012 and one of the driving forces behind both these operations- you! I'm grateful for the opportunity.
Make sure you check out the BaliSpirit Festival 2020 Line-Up and join the party!