meghan pappenheim & kadek gunarta
Published: 14-05-2011 - Last Edited: 06-11-2022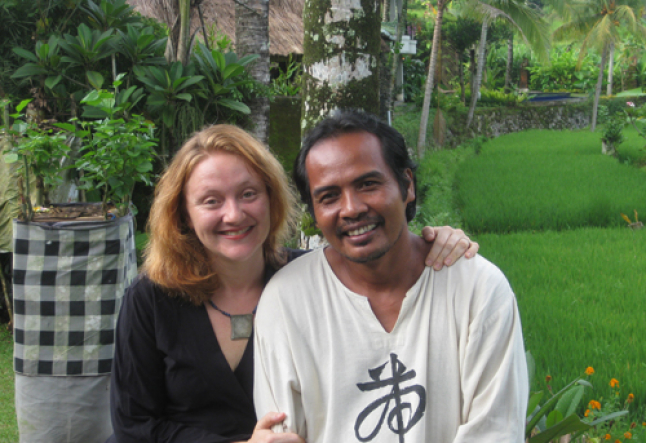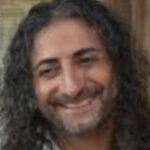 Shervin Boloorian
Shervin Boloorian, is a celebrated vocalist, multi-instrumentalist and recording artist,…
Having co-founded Bali's hugely successful BaliSpirit Group which includes The Yoga Barn and the rapidly growing BaliSpirit Festival, this power partnership is now building a stronger force for conscious community action in Bali, while continuing to make tidal waves in the holistic travel marketplace.
"Whoever said you can't profit doing what you love?" asks Meghan Pappenheim, American-born resident of Bali and a certified yoga instructor, although she doesn't teach. Meghan's entrepreneurial instincts are partly responsible for her successful business life, "It can be rewarding so long as you remind yourself of the fundamentals." The New Yorker, who is a mother of two children, credits her love of yoga and her intimate understanding of the Balinese way of life for that.
Both Pappenheim and her Balinese husband, Kadek Gunarta, are occupied these days with the monumental task of running 8 eco-friendly and holistic businesses AND overseeing the expansion of the BaliSpirit Festival into what it is today: Asia's top yoga, dance and music event. They say they lead a balanced enough life to enjoy what they do, and are even expanding their outreach activities this year to support local Balinese schools.
>>> Also Read: Interview of Meghan Pappenheim on YOGI TIMES
In 2011, the BaliSpirit Festival made "seva," the Sanskrit word for service, one of its central goals. The annual event attracted over 100 masters of yoga, dance and music from around the world, and a record 6000 guests– that's a 30 percent jump in attendance over the prior year's totals. "Someday it will make some money," Pappenheim half-jokes, noting that the four year old Festival almost broke-even this year.
Gunarta, who is a painter, architect, and craftsman takes pleasure in deepening his role as a cultural liaison for the BaliSpirit team. With the Festival's star rising, he is leading the charge on the ground for a stronger community presence. Thanks to the Festival's success, BaliSpirit and its partners raised $15,000 this year for an ongoing local HIV/AIDS awareness program. "The disease is spreading like wildfire in Bali," says Gunarta "Not enough people know about that."
The co-founders of BaliSpirit Group believe that people who take leaps of faith to follow their life's dreams are meant to find rewards. In their case, one dream was to establish a yoga studio in Bali's town of Ubud. The Yoga Barn's class volumes have incredibly tripled in the last three years, and the Barn is gradually becoming recognized as a Bali institution. Pappenheim reflects on how far it's come, "I'm not saying it's always been easy, but for the Yoga Barn the rewards for all the hard work are beginning to show."
Read next >> the magic and madness of teaching yoga to kids