looking for a yoga teaching job?
Published: 05-04-2011 - Last Edited: 09-10-2022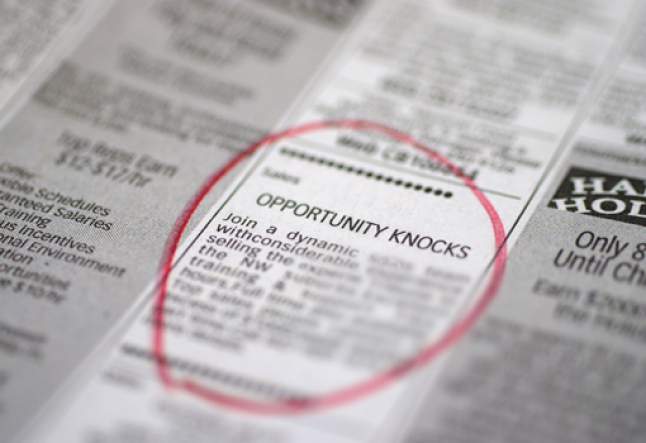 before going out – look in
You are fresh out of a yoga teacher training course, officially certified and filled with yoga wisdom. Now what? Unless the studio where you trained has a class slot waiting for you to fill, you will be out there with the large and growing pool of yoga teachers looking for positions. Or, perhaps you are relocating, or are interested in expanding your teaching arena. Wouldn't it be nice to have some insight into what studios are looking for? Before printing up a resume and taking it to the streets, here are four basic questions to consider. In the spirit of yoga, taking time to reflect on these questions will ease the path to livelihood, both for you and for your potential employers.
What Is Your Education And Training?
How much training do you have and how much is enough – 200 hours, 500 hours, 700 hours? Yoga Alliance, an organization focused on standardizing the quality of yoga teacher certification, has set the minimum standard at 200 hours. However, as a studio owner who hires teachers, I consider certification to be only one aspect of a potential teacher's education. I am much more interested in who your teachers were, and how those teachers influenced you. What seeds were planted and how have these teachings taken root? It is one thing to learn the lingo of yoga; it is another to be able to translate the teachings skillfully and compassionately, in a way that students can absorb. 
Among studio owners and directors, there is a common concern for integration. "There's a huge difference between learning sequences to show others, and learning how to teach," says Linda Sparrowe, Yoga Director of the Bay Club (San Francisco and Marin). She won't hire people from "˜quickie' trainings (some 200 hour trainings can be completed in a month), emphasizing that she wants people to be grounded in safety. At the same time, if a teacher is a bit green and she sees that they have potential, she will have them start out as an assistant, and then build up to eventually having their own class. While we all know there is no substitute for actual experience, devoting study to the art of teaching is invaluable.
What Are Your Educational ResourcesBeyond Teacher Training?
What inspires you? Teachers who feel inspired are the most attractive to potential employers. Yoga teacher burnout is not uncommon with all of the opportunities to teach, as well as the challenge of making a living as a full-time yoga teacher. Teachers sometimes end up running all over town, driving over bridges, into cities and out to rural community centers just to make ends meet. The result can be a lack of juice, inspiration and creativity in teaching. Veronica Zador, vice president of Yoga Alliance and former owner-Director of Namaste Yoga Studios in the Detroit metro area, feels strongly that the quality and depth of a teacher's training is bolstered by having a community of experienced teachers to connect with for advice, feedback and support. The training Veronica created at Namaste has a built-in mentorship program. Linda Sparrowe resonates with this emphasis on further education, "I look for people who really have a passion for continuing to learn. That's exciting to me," she says.
Why Do You Want To Teach Yoga?
What is your motivation for teaching yoga? Answering this question will help you decide where to focus your job search. Try sample classes at the places where you are considering applying in order to feel out whether it is a good fit for you. Due to the middle-age demographics of Marin County where my studio, the Yoga Garden, is located, I really appreciate teachers with some maturity – teachers who have had the opportunity to use the practice of yoga to move through injury, illness, or to ride the waves of life's changes themselves. This kind of experience is not a requirement, but it breeds compassion and allows for insight into what others may be going through.
I look for teachers who know how to adapt the practice of yoga to the needs of those who show up. If chanting the yoga sutras is your love, then targeting your search to fitness centers wouldn't be appropriate. Bikram studios require people who want to teach Bikram yoga, as with many other specialty studios – Ashtanga, Iyengar, Anusara. In places where there are a variety of styles, they will want to know what your philosophy is, and how it is aligned with theirs. At the Bay Club, Linda Sparrowe looks for "teachers who have a certain lightness of being, because we can all take ourselves so seriously."
More and more, studios are growing their own teachers. At the Piedmont Studio in Oakland, California, with its 18 month intensive, 750 hour Advanced Studies Program directed by Rodney Yee, they feel that the teachers coming out of their program are some of the most qualified, and bring them into the fold, cultivating a high level of consistency. Outside teachers are hired primarily based on word of mouth and recommendations from other teachers.
What Is Your Personal Yoga Practice?
Do you have a consistent yoga practice? How long have you been practicing yoga? How does your practice inform your teaching? Yoga is a living art and science, which, to be taught authentically, must come out of a teacher's own personal integration of the practice. You can have multiple trainings and certificates, tools and techniques, a long list of accomplishments, even a flashy web site, but if the practice is not taken home, digested and integrated, the result can be a teaching that is mechanical and superficial. For me, this is the most important question: What is your own personal yoga practice, on and off the mat? I want to know that a teacher has an experiential understanding of yoga and how it applies to their daily life. If a teacher has really taken the time to become steeped in the practice, they will have a deeper understanding of all the things that arise for their students. In other words, do you walk your talk?
Read next >> how to land a job teaching yoga abroad