mainstream green | part one
Published: 02-01-2012 - Last Edited: 16-11-2022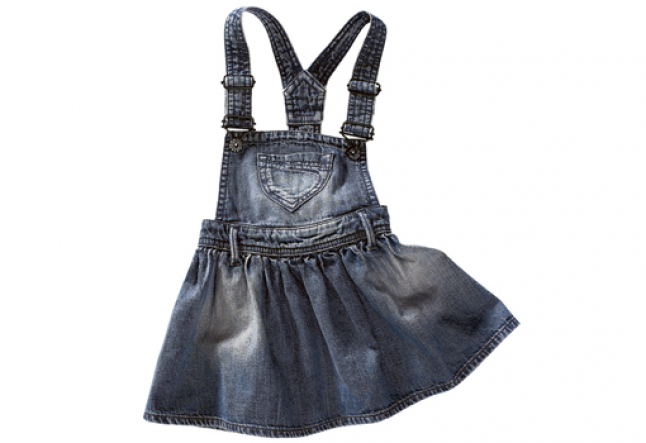 eco-fashion hits the big time
These days you don't need to wear a burlap sack to pay homage to the environment. In fact, it's getting harder and harder to be fashion forward and resist lending your support. Walk into Barney's hoping to indulge in expensive designer threads, to Levis for the latest denim or to Nike for high performance workout gear and you are bound to encounter organic clothing masquerading alongside its traditional counterparts without even the slightest hint of disparity. Catering to a society a-buzz with a renewed sense of environmental responsibility, organic textile manufacturers have entered a ripe marketplace hungry for new organics.
Moving beyond previous limitations of a dull reputation, eco-friendly clothing has become more than a viable option, but a stylish one too. As consumers spend more of their hard earned dollars on organic products, retailers continue to bring a growing number of organics to market. There is no question demand for eco-friendly fashion is in high gear, but uncertainty of its longevity remains. Given the fickle taste of consumers, inflated prices of organic cotton and limited supply of the crop, we must ask ourselves, is our newfound interest in sustainable clothing sustainable?
On the heels of the organic health food revolution, an interest in organic clothing is a natural next step. But, what many don't realize is that the organic apparel movement has been attempting to emerge for over a decade. A pioneer in organic textiles, jeans giant Levi Strauss unveiled Levi's Naturals in 1991. The premium, organic jeans were created from naturally produced cotton and utilized all-natural dyes. Overlooked by a less environmentally savvy society, organic cotton's first introduction was decidedly before its time, resulting in a flop for Levis. Shortly thereafter, a handful of other retailers brought short-lived organic lines to the public, only to discover demand wasn't great enough to inspire sales. More than a decade later, the organic apparel landscape looks vastly different. Trailing recent environmental feats in the mainstream media including Live Earth and Al Gore's film, An Inconvenient Truth, among others, organic apparel is finally in the position to successfully permeate mainstream culture.
Both responding to and further propelling consumer demand for organic apparel, large retailers are increasing their commitments to organic cotton. The Organic Exchange, a charitable organization that supports increased organic cotton agriculture worldwide, reports organic cotton sales have gone from $86 million in 2001 to $275 million in 2005. Sales projections for 2008 near $2.6 billion, displaying a 116% average annual growth rate. Some retailers attribute the change to corporate responsibility goals, while others more candidly admit to embracing organics in an attempt to appeal to consumers. Regardless of motive, change is apparent. Spreading from grassroots to mass-market retailers and influencing everyone in between, organic initiatives have successfully saturated the apparel industry. American Apparel, Patagonia, Barney's, Bloomingdales, Levis, Diesel, Nike, H&M, Target and Wal-Mart are just some of the retailers who have joined the ranks of the environmentally conscious.
Nike, a brand famous for perpetual innovation, has played an instrumental role in increasing the demand for organic cotton worldwide, prompting fellow retailers to do the same. Nike took an early interest in organics and began exploring eco-friendly options as early as 1996, debuting its first organic line in 1998. After purchasing an initial 250,000 pounds of organic cotton for its first organic products, Nike made a commitment to support the organic cotton industry by increasing its commitment each year. A co-founder of the Organic Exchange, Nike has worked to increase supply and consequently lower price points for organic cotton. Nike currently blends 5% of organic cotton into more than 50% of its garments worldwide and aims to reach a 5% organic cotton blend ratio in 100% of its cotton garments by the year 2010.
American Apparel has focused efforts on creating affordable organic options for consumers. Rolling out its Sustainable Edition line in 2003, American Apparel entered organics with a select group of T-shirts. Now available in ten of American Apparel's most popular selling styles, the Sustainable Edition has enjoyed tremendous growth. It is estimated that organic garment sales have increased by 40% in the last three years. Priced the same as traditional cotton apparel, Erika Martinez, American Apparel's organic program development liaison, reports that the retailer spends an extra dollar on each organic garment produced. Martinez explains, "We want people to know that they have options and to know that those options can be affordable." Future goals include expanding the Sustainable Edition, establishing blending techniques and ultimately undergoing a full conversion to organic apparel.
With a finger on the pulse of consumers, culture and trends, H&M has re-established an organic line in response to undeniable consumer demand. H&M's first organic line, unveiled in the late '90s, answered early consumer buzz surrounding sustainable wear. Too premature to generate substantial interest, H&M pulled the line, but its commitment to the organic cotton industry has remained. Also a member of the Organic Exchange, H&M's corporate responsibility goals include increasing the supply of organic cotton worldwide. In 2004, H&M began blending a sampling of organic cotton into its children's and baby wear lines. For its 2007 clothing lines, it's estimated that H&M purchased 1,100 tons of organic cotton, versus 30 tons in 2006. The mega-store has also started to generated more publicity for it's eco-endeavors by teaming up with high profile designers such as Stella McCartney, who recently created an organic T-shirt collection exclusive to H&M. Consumers' reactions to the line have exceeded projections. This fall, H&M plans to roll out a robust selection of organics sold alongside traditional cotton apparel. Lisa Sandberg, H&M's director of US communications and press relays, "The clothing will be representative of the whole collection theme. The minimalist trend is very big for the fall, so the organic clothes will also fall into that same category."
Adding dimension to the organic cotton boom, Wal-Mart is marketing a slew of eco-friendly options to the masses at discounted prices. Wal-Mart entered the organic scene in 2004 by introducing a line of 100% organic yoga wear through its Sam's Club stores. The initial 190,000 garments sold out in just 10 weeks. Wal-Mart identified the organic marketplace as a fruitful opportunity for growth and has continued to increase its organic cotton commitments. Five years ago, the entire organic cotton supply neared 6,400 metric tons. In 2006, Wal-Mart purchased 6,800 metric tons, making the mass-retailer the largest buyer of organic cotton to date. The decision to move into organics has paid off for Wal-Mart. Over the last few years, the retailer has sold over five million units of organic women's garments. Providing support and security to the organic cotton marketplace, Wal-Mart has committed to purchasing high volumes of organic cotton over the next five years.
Visit the YOGI TIMES BOUTIQUE to discover curated, artful and ethical brands that enhance your lifestyle.
Read next >> Autumn Awakenings