interview with DERMA E's dr. Linda Miles?
Published: 06-12-2017 - Last Edited: 15-11-2022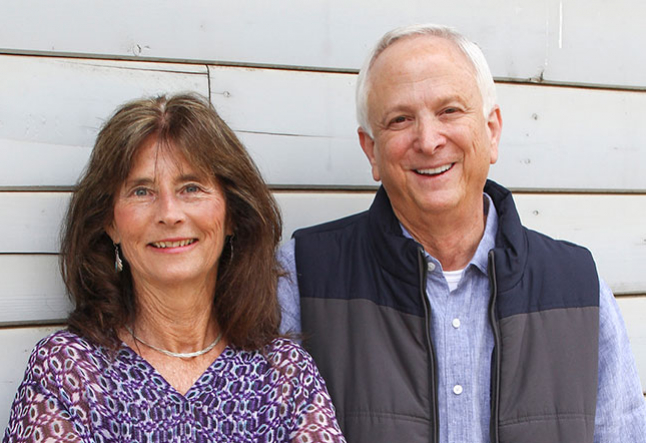 After beginning in a small health food store in Southern California, DERMA E developed as an all-natural skin care line fueled by the belief that skin deserves better. Created by Dr. Linda Miles and David Stearn, DERMA E aims to honor their customers with ethical products that not only promote healthier skin but also a healthier world. By using 100 percent vegan and cruelty-free products that are produced in their family-owned site, DERMA E has displayed their commitment to health and wellness to consumers since 1984. We asked Linda to share more about the vision and mission for DERMA E:
YOGI TIMES: Do you remember the first moment that sparked the creation of DERMA E?
DR. LINDA MILES: There wasn't an "aha" moment with the creation of DERMA E. David and I were on a gradual journey. We both knew we wanted to make a product from natural ingredients, and also to create products that truly work and were affordable for everyone.
YT: What was the process of developing your first skin care recipe? What were your main points of focus?
DR. LINDA MILES: Our first product was the Vitamin E 12,000 IU cream. Vitamin E is known as the grandfather of antioxidants and one of the most powerful ingredients with many benefits. It's an ingredient people know and respect. We wanted to use it to create a product that would work and be equally beneficial on both the face and body.
YT: Why was Vitamin E the initial product you chose to create?
DR. LINDA MILES: Many people knew about Vitamin E but were unaware of how beneficial and nourishing natural Vitamin E sources are. This super vitamin, which is key to skin health, was not being given the recognition it deserved. The lack of awareness worked perfectly in our favor as we looked to launch our first product because educating people on the natural vitamins that promote good health is very important to us. However, our ability to provide a product that is honest, safe and of high quality was even more important to us.
YT: What led you to grow so passionately about creating both an ethical and effective skin care line? Where did you draw your inspiration?
DR. LINDA MILES: Our inspiration came from nature! David and I are both very passionate about nature as well as the need to protect and preserve our beautiful planet. The knowledge and science behind the products are a constant inspiration to continue to create and do meaningful work. Knowing how powerful natural ingredients are and what to combine properly is fascinating.
YT: Do you feel that the importance of skin care is commonly misunderstood?
DR. LINDA MILES: Yes, I do believe it is often misunderstood. Most people perceive skin care as just good hygiene or the results in the mirror after getting ready. The importance of skin care runs much deeper than that. Skin is the body's largest organ. It not only serves as a protective barrier from the environment but also helps regulate temperature and acts as a filter for the body. Healthy skin helps make the healing process faster, helps the body withstand potential disease, and fights signs of aging.
YT: In what ways does DERMA E stand out amongst other skincare lines with similar mission statements?
DR. LINDA MILES: The core values DERMA E started with in 1984 are still the staple of who we are today. We are passionate about what we do and put a lot of thought into the ingredients used in our products. We believe in the integrity of our formulas and making products that work! And, we're transparent with consumers. As a result, we have a very loyal customer base with whom we are extremely grateful and humbled.
Also Read>>> Our review of Derma E's products on YOGI TIMES
YT: Explain the process that goes into selecting the ingredients you use in your products. Is there somewhere special from which you choose to source these?
DR. LINDA MILES: DERMA E only sources ingredients from non-animal sources we know are GMO free, vegan and cruelty free. We try to use as many organic ingredients as feasible when making our formulas and only buy from known sustainable sources. For instance, we would not use a product like red palm oil, which is a threat to the survival of the orangutan population and our environment. This is what our eco-ethical stamp means to us. We are very proud and passionate about giving customers only the best top-shelf products.
YT: DERMA E takes great pride in their commitment to environmental sustainability. Aside from recyclable packaging and wind energy, are there any additional environmental sectors you wish to explore for your products?
DR. LINDA MILES: Non-GMO is an environmental sector we wish to explore further. There has been a lot of debate on the topic of GMO. We stand against the use of chemicals being put in the soil that feeds the plants and produce we buy. Genetically modified products can be dangerous. We pride ourselves in being all natural, high quality, cruelty free and transparent about what is put into each product. Further, we support Keep America Beautiful, a national nonprofit that takes action to improve and beautify communities. Our goal is to help encourage awareness and volunteerism.
YT: Can men experience similar results and benefits from using DERMA E as women?
DR. LINDA MILES: Yes, DERMA E products are not gender specific. They are made for everyone – teens and adults alike. Skin care is universal and should be important to everyone. We strive to make product lines what can cover an array of skin concerns for both males and females.
YT: For some, skin care can be an exhausting experience of trial and error. How can your products be a solution for those with sensitive or damaged skin?
DR. LINDA MILES: Figuring out what works best for your unique skin can be a bit tricky. It's important for a consumers to do their research on ingredients commonly used in skin care products. DERMA E has worked diligently to make products that work for all skin types and concerns. Those who suffer from sensitive or damaged skin have to take extra precaution as to what they are putting on their skin. We've done extensive research into a variation of natural herbs and ingredients powerful enough to help sensitive or damaged skin but gentle enough not to cause further irritation. Our Sensitive Skin platform is fragrance-free and has key ingredients such as Pycnogenol®, green tea, chamomile and lemongrass extract. The combination of these ingredients helps to reduce inflammation, soothe redness and provide nourishment to the skin.
YT: Aside from skin care products, what other measures can individuals take in order to see improvements in the health of their skin?
DR. LINDA MILES: There are definitely other important measures that people can take to help see improvement in their overall skin health. First, people should focus on their water consumption. It has been said time and time again that drinking water is important for good health. It truly is the purest source for good health and skin rejuvenation. Additionally, consumers should maintain a well-balanced diet by eating less inflammatory foods, and reducing sugar intake and processed foods. It's a good idea to invest in high quality probiotics as well. And lastly, getting eight hours of sleep each night is very important to improve skin health. When people get enough rest, the body naturally repairs itself and reduces the signs of aging.
YT: In addition to your support of organizations such as the World Wildlife Fund and Vitamin Angels, how do you hope to continue your humanitarianism in the future?
DR. LINDA MILES: The current organizations we support do such an amazing job at having a positive global impact. For a little over 30 years, we have supported the Special Olympics. Most recently, we began supporting Keep America Beautiful, a nonprofit organization that works to help end littering, improve recycling and beautify America's communities. We are truly honored to do our part and help support each cause. In the future, we hope DERMA E continues to do its part in making an ecological footprint to help our beautiful planet. We plan to continue our support with the current organizations with whom we are affiliated and hope to collaborate with a few more to help make a difference.
YT: What is your vision for the future of DERMA E? What do you hope it achieves?
DR. LINDA MILES: In the future, we hope DERMA E continues to grow in alignment with our mission and reach more people. While that would be good for business, more importantly, it would allow us to make a greater impact on health and wellness in the skincare industry. Many companies suggest or advertise that they are eco-friendly and use natural products, but that is not exactly true. Many large companies are "greenwashing" their products. They are, in fact, operating in a way that is damaging to the environment and tricking consumers. Consumers deserve to receive real, honest and quality natural products that actually work for the benefit of the user.
YT: What three words would you use to describe a happy and healthy life?
DR. LINDA MILES: I'd say balanced, optimistic and appreciative. Here's why:
1. Balanced, meaning living with peace and harmony in every aspect of your life, and maintaining a healthy balance with the important things and people in your life.
2. Optimistic because I'm hopeful and confident about the future of DERMA E.
3. Appreciative of the constant effort from the DERMA E team and the continued support from our loyal customers.
Read next >>
Read next >> how to do your part for mother earth