thai basil, cane sugar gin cocktail
Published: 22-02-2011 - Last Edited: 19-08-2021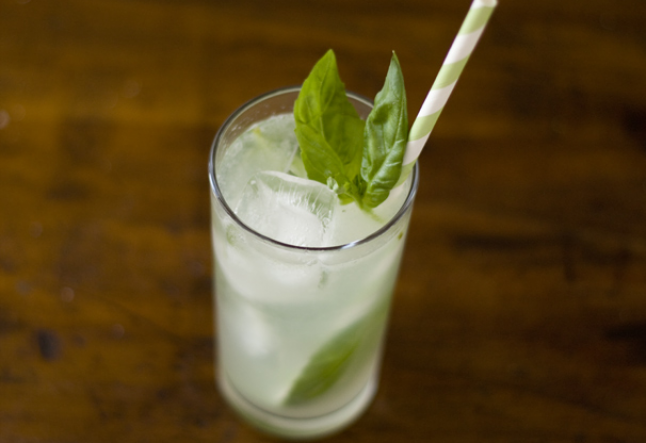 Chef/Caterer Akasha Richmond has created a cocktail menu spotlighting the most sustainable spirits on the market. Akasha incorporates seasonal and nutrient-rich ingredients such as açai, blood oranges, yumberries and agave nectar""all of which are poised for flavor and create a preeminent manner with which to imbibe.
The renowned chef and author opened Akasha Restaurant in the historic Hull Building in downtown Culver City where she serves up sustainability and organic food with a distinctly urban edge. It is here, in this architecturally magnificent and luminous space, where waiters don organic clothing, where the smells of fair trade coffee linger through the afternoon, where bio-dynamics, organic gardening and culinary artistry blend together in one seamless boutique of modernity.
From hemp and recycled fabrics to biodegradable and recycled to-go containers, Akasha spared no expense in setting the highest standard. The farms, ranches and fisheries she turns to are all guided by principles of sustainability and whenever possible, local produce is used. The wine list is all organic, and when pulling together the singular recipes for cocktail menus, Akasha discovered a few spirit-makers that are sure to become staples of your own home-bound festivities.
Akasha's "green" cocktail elixirs include such creations as The Adam & Eve with rain vodka and black mission figs muddled with organic apple juice and The Red Velvet Margarita which incorporates organic tequila with blood oranges and agave nectar. The Free Radical with its unique blend of veev, sambazon açai and yumberry juices might fool you into thinking that drinking is actually good for you. Veev, the world's first Açai spirit, is recognized as one of the only alcohol companies to be certified carbon neutral for its growing practices and wild harvesting of the açai berry in the Brazilian rainforest. They also donate one dollar for every bottle sold to help sustain similar efforts in the region.
Any mélange of these ingredients can be used in your own unique concoction. So grab your shaker and call over some friends, for these California cocktails are sure to please.
thai basil, cane sugar gin cocktail ingredients
2 ounces gin
1 ounce Thai basil simple syrup Juice of half a lime, plus one slice for garnish
how to prepare thai basil, cane sugar gin cocktail
Step 1. In the Shaker: Half-filled with ice cubes, combine the gin, Thai basil syrup and lime juice. Shake well. Strain into a martini glass and garnish with a slice of fresh lime floating on top of the drink.
Step 2.  Total time: 12 minutes, plus cooling time for the simple syrup.  Good for one serving.