aligning with nature – your guide to renewable energy and sustainable living
Published: 22-08-2011 - Last Edited: 12-08-2021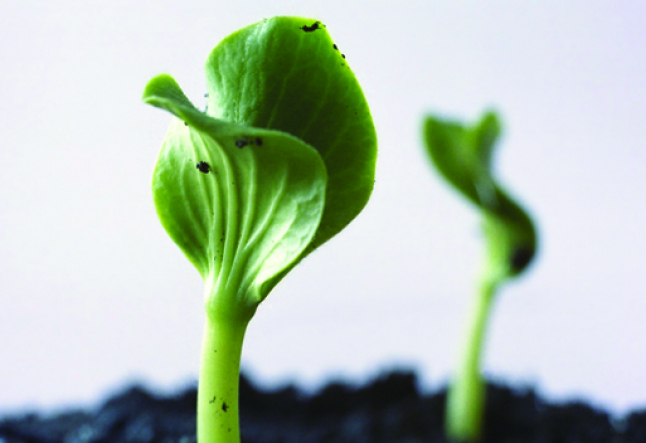 Wouldn't it be nice to feel the sensation that embraces us after a vigorous asana practice or deep meditation""that feeling of connectedness we have to ourselves, to the truth of our existence and to the earth and nature""after stepping off the mat? Well, it's not just possible, it is essential that we extend our yoga practice into all areas of our lives, allowing the care we've nurtured within ourselves to spill out into the rest of the world.
By making intelligent choices about how we sustain our day-to-day lives, we can align ourselves more closely with nature and embrace a proactive rather than reactive approach to the overall health of our environment. We can cultivate an energy-conscious life by making a few simple changes to our homes and to the places where we work and play. Employing techniques that utilize nature's inherent potential promotes efficiency and has a direct influence on our well-being and everything that surrounds us.
So enough of the doom and gloom associated with how to embrace a more sustainable way of life. Highlighted here are a dozen easy and inexpensive solutions that you can implement today. These useful products yield immediate benefits for the environment and your pocketbook, helping you sustain strong physical, mental and emotional health.


1. Lights Out:

The Object of Virtue: Full-Spectrum and Natural-Spectrum spiral light bulbs: These flicker-free, instant-start bulbs last 13 times longer than conventional bulbs. 13W/18W/26W equivalent to 60W/100W/150W.

Benefits for Life: Create less waste, significantly reduce your family's CO2 emissions and save up to $100 per bulb on your energy bill. Natural-spectrum lighting improves visual acuity and plays an important role in your overall well-being.

The Investment Factor: Replacement bulbs have a 5,000-hour life span and the design fits almost all household fixtures.

Cost: $12 – gaiam.com

2. In Another Light

The Object of Virtue: SunPipe Skylights: Innovative skylights collect sunlight above the roof and transfer it through an aluminum pipe to a diffusing lens in your ceiling.

Benefits for Life: Free sunlight is the best light! At midday, the 13-foot SunPipe delivers more sunlight than a dozen 100-watt light bulbs, and at a cooler temperature, too.
The Investment Factor: Installation takes only a couple of hours. Comes with a 10-year warranty and a 60-year life expectancy.
Cost: $62-$299 – sunpipe.com


3. The Drying Game


The Object of Virtue: Wall Shelf Drying Rack: Large enough to dry several loads at once, this space-saving clothes rack can open to 18 feet and extends only 6 inches from the wall when closed.

Benefits for Life: You can save 700 pounds of carbon dioxide when you air dry your clothes for 6 months out of the year. Also, it's made of rescued wood and mill ends, which would otherwise be chipped and burned.

The Investment Factor: Easily mountable, comes fully assembled.

Cost: $62 – abundantearth.com

4. Containers for Sustenance

The Object of Virtue: Servel RGE 400-Propane Refrigerator: Uses gas as its primary source of energy, and uses heat, in the form of burning propane, to produce the cold for the freezer. Requires no electrical hookup.

Benefits for Life: A new propane-powered refrigerator will save about $85 a year in electrical costs and reduces your home's CO2 contributions by one ton per year. Achieves 20% lower temperatures in 20% less time.

The Investment Factor: The life span is about 20 years, and paying somewhat more initially for higher efficiency offers solid payback in the long-run.

Cost: $1079-$2249 – lehmans.com

5. The Water that Cools as it Flows

The Object of Virtue: AM Chrome Handheld Showerhead: Use water more efficiently with this low-flow showerhead. A steady flow of water promotes a peaceful state of mind.

Benefits for Life: Releasing only 2.5 gallons per minute, this showerhead cuts water usage by 50-70%, which can save a family of four up to $250 a year.

The Investment Factor: Fast and easy installation, and the durable, impact-resistant hose will resist corrosion

Cost: $ 13 – blackenergy.com

6.Tap Into a Bottle

The Object of Virtue: Paragon Water Filtration System: Uses a titanium, silicate/carbon block filter to deliver pure drinking water from your tap. Carbon adsorption removes chemicals and microorganisms and improves taste by removing odors like chlorine. A built-in monitor tells you when to change the filter.

Benefits for Life: Americans add over 30 million plastic water bottles to landfills daily, costing a thousand dollars a year to get eight glasses a day. This system removes almost all hazardous contaminants found in tap water. Invest in a reusable bottle that can be refilled and start saving.

The Investment Factor: Provides you with two alternatives for installation. The under-the-counter design is easily mountable under the sink and the chrome model has a convenient spout for easy flow from your existing faucet.

Cost: $109-$169 – paragonwater.com

7. The Nose Knows

The Object of Virtue: UV Air Purifier: Using HEPA technologies, carbon, UV light and ionization, this air purifier removes unwanted pollutants from the air, leaving your family with an ideal space for pranayama and the eradication of toxins from your body.

Benefits for Life: According to an EPA study, 80% our exposure to airborne pesticides occurs indoors. This complex filtration system removes everything harmful to your heart and lungs, including pesticides, chemicals, odors, allergens and bacteria.

The Investment Factor: Uses minimal electricity (110W on high) and filters last for up to two years.

Cost: $599 – gaiam.com

8 . The Conscientious Flush

The Object of Virtue: Controllable Flusher: Can be placed on almost any toilet, meaning less water for fluids and more water for solids by either pushing up or down on the handle.

Benefits for Life: Municipalities charge 4-5 times as much for water leaving the home as water coming in. The controllable flusher can cut typical household water usage by 20%.

The Investment Factor: You can convert your toilet into a low-flow toilet without tools or a plumber. Comes with a lifetime warranty.

Cost: $30 – athenacfc.com

9. From Solid to Liquidity

The Object of Virtue: The Spinning Composter:Ideal for urban settings and compact enough to store on a patio or balcony. In as little as 30 days, and without any odor, this tumbler produces up to 7 cubic feet of fertile compost. Manufactured from 50% post-consumer plastic.

Benefits for Life: Turn your household waste straight into nourishment for all the CO2-eating plants that surround your living space. A fertilizer reservoir built into the base produces nutritious liquid run-off and is ideal for gardens and plants.

The Investment Factor: Arrives assembled with a 25-year warranty. Tumbles with minimal effort on a stable base.


Cost: $179- gaiam.com

10.The Solar Flow

The Object of Virtue: Toskana Sunjet 150 Mini Solar Pump Kit: Move the water in your fountain with solar energy rather than electricity. Comes with three heads for a water display up to 10 inches high. Can also be used to create your own water sculpture.

Benefits for Life: The solar panel can extend up to 16 feet away from the pump, allowing maximum exposure to direct sunlight, so it's perfect for fountains in the shade! Keep your water flowing at no cost to the environment or your electric bill!

The Investment Factor: No tools required. Fast, easy assembly

Cost: $70 – gardenwinds.com

11.The Power of the Sun

The Object of Virtue: Solar e-Power: Phone charging can be solar-direct with this pocket-sized cell phone charger. Also provides reliable back-up power for electronic devices like digital cameras, MP3 players and flashlights.

Benefits for Life: Eighty percent of the energy used by cell phone charges occurs when devices are plugged-in and no phone is attached. Eliminate unnecessary waste and CO2 production by using the power of the sun.

The Investment Factor: Charges Nokia, Ericsson, Motorola and Samsung phones. Great for travel, with no need to worry about cumbersome adapters.

Cost: $69 – thesolarstore.com

12. Dodge the Cold

The Object of Virtue: Keep-Warm Draft Dodger: This balsam-filled cotton tube will block cold air from entering your home.

Benefits for Life: Improperly sealed homes can cause a 10-15% increase in electric bills. This flexible tube, weighted to stay put, can seal off drafts entering your house through doorways and windows.

The Investment Factor: Easy to install, just lay it down where needed.

Cost: $20 – gaiam.com