yoga+
Published: 23-09-2015 - Last Edited: 14-11-2022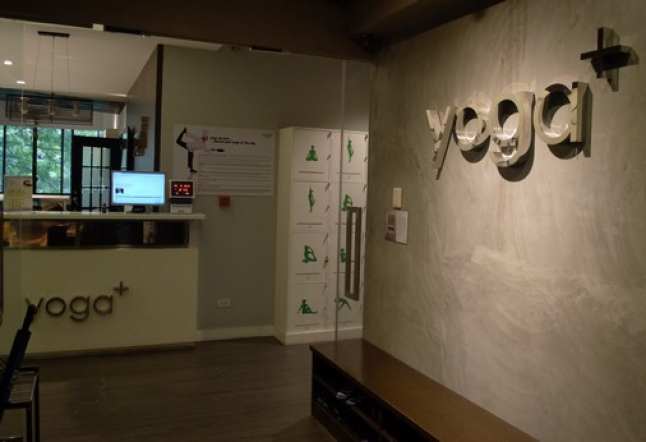 Yoga+ has four locations throughout Manila. The community that makes up Yoga+ is built on friendship with the intention to make Yoga available for EVERY body. In addition to typical yoga classes like Vinyasa and Power Yoga, you'll find unique offerings like, Yin, Jivamukti and Hot A, B and C. They also offer monthly workshops and events.
I visited two of their studio locations – Makati and BGC. Both locations are spotless and beautiful inside. Walking into the main lobby everyone is super friendly and welcomes guests with a warm smile. A display on the wall feature students of the month in different yoga poses. Both have relaxing lounge areas for waiting or visiting. You will love the little details and how they offer students lockers, towels, a refillable filtered water station and a nice shower and changing area.
The Makati location has two studio rooms. The larger Yoga studio is decorated with an earthy feel to it with expansive windows that lookout over large trees. Quality mats and props are set up and ready to go (bonus: leave them where they are when class is over). Mat towels and extra props are available upon request. I tried a relaxing and nourishing Yin class.
The BGC location is located in a large office building. It has one room that overlooks the skyscrapers of the city. Setup and quality is consistent with each location. I tried a Hot A class, a great choice if looking to sweat and want a boot camp style workout. At both locations the teachers give new students an orientation before class. Going over what to expect from the class, its benefits and a chance to get to know the students and any injuries they may have.
If you're looking for a good workout, relaxation, and a friendly community regardless of your gender, age, weight and flexibility, Yoga+ is the place. After all, their mission is, "to make every one of our students happy, healthy and forever young through the practice of yoga".
Price range P 700 (drop-in) to P 43200 (12 months or annual unlimited). Make sure to take advantage of their first timers special of P 1000 (one week) and P 3000 (first month).
Great for Yin and Hot A, B or C Classes
Open for morning, afternoon, and evening classes; seven days a week.
Read next >> yoga journal turns 40! interview with carin gorrell, editor-in-chief