yoga in action
Published: 01-09-2014 - Last Edited: 16-11-2022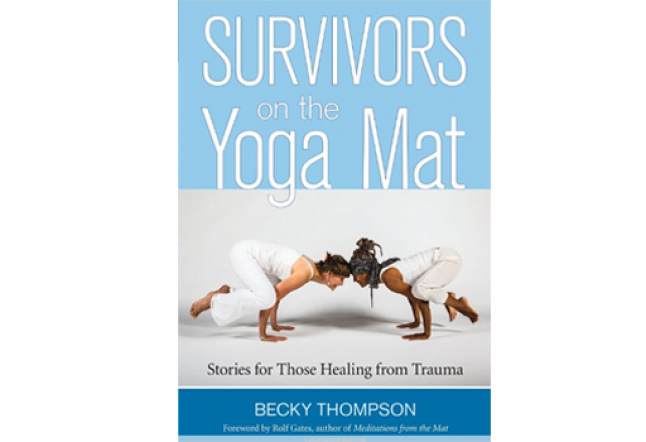 As we browse through a bookstore looking for a good read, I doubt that many of us would pick up a book about trauma. We would think it was likely too clinical, too graphic, or too depressing. While you may be drawn to award-winning author, Becky Thompson's new book, Survivors on the Yoga Mat: Stories for Those Healing from Trauma because of its inviting cover and uplifting title, when you open this book to check it out, you will find yourself making a beeline to the cashier.
This beautifully written book gives us a view inside the life of people who have survived a wide range of traumas""racist violence and emotional abuse as well as sexual abuse and injuries from war. Instead of accounts about how people have struggled on despite their "conditions," Thompson's book lets us see their strength and grit as well as their unique gifts""intuition, sensitivity to injustice, ingenuity, and determination. We hear from people who have gone to the yoga mat as a place to begin their healing as well as long-term yogis still seeking the subtlety and nuance of wholeness.
The reader is not only inspired by the power of yoga to heal people individually; we also see that yoga can move people to align their healing with activism as many of the survivors are drawn toward social justice work. We hear about Jarvis Masters, in prison for life, who meditates daily which allows him to intervene to stop acts of cruelty in prison. Lisa Houston, a transplanted Scot living in Thailand who is also profiled in Survivors, lives on a sustainable farm and practices yoga while continuing her work with refugees from Burma. As a long-term yogi myself and a Black feminist, I am grateful to find a book that links activism to yoga.  After reading Thompson's inspiring work, you will be convinced of the transformative possibilities of yoga.
Read next >> extra love: the art of hands-on assists, volumes 1 and 2