trust
Published: 01-05-2015 - Last Edited: 12-08-2021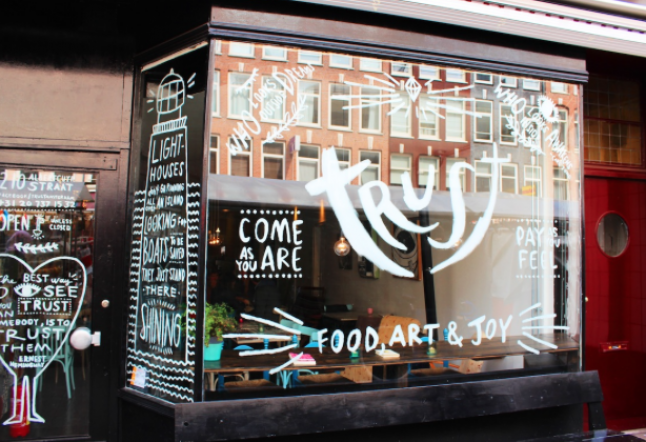 If you want to experience a truly unique concept, bring a visit to Trust. 'Come as you are, pay as you feel' is their motto. Pay as you feel? Yes. Pay as you feel! According to Trust giving from your heart encourages you to listen to your inner voice and will set in motion the cycle of giving and receiving. If that's not a beautiful concept, what is? It's not about serving coffee too the poor or to the rich for that matter, it's about removing price tags and trusting that the heart that gives unconditionally, gathers.
Now imagine paying as you feel while getting the most delicious coffee and spelt banana pancakes topped with love in return. It almost seems too good to be true, doesn't it? Go see it for yourself and experience what it's like to truly give from your heart. Try out one of the healthy juices, such as the carrot, beetroot apple and combine it with skinny buddha granola topped with fresh fruits and yogurt. If you're in the mood for a savoury lunch, try one of the soups or omelettes!
For those who want to experience the art of giving, check out their website to see what you can share with Trust to helpt them expand. This can be in any form; your talent, a professional kitchen stove, an outside bench and so on. Besides serving healthy food Trust also offers Constellation workshops evenings every Tuesday from 19:30 until 22:30. During these evenings you discover your sparkling self and learn what's holding you back through mind training and creating art.
Completely alligned with the whole concept, all the people who work at Trust are volunteers. If you find yourself discovering one of Amsterdam's must-see places, the Albert Cuyp market, make sure to stop by at Trust for a coffee, breakfast or lunch and don't forget to come as you are and pay as you feel. Nothing is too good to be true.