svarga loka resort
Published: 07-11-2018 - Last Edited: 24-10-2022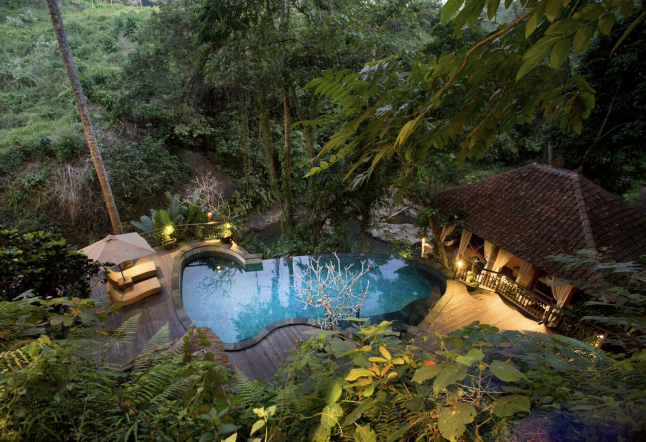 Svarga Loka Resort is located on the bank of the Campuhan River in Ubud, on land once belonging to the King of Ubud. The land is regarded as spiritual, emitting powerful energy. The landscape and surrounding forest have been maintained and very little of the ecosystem was disrupted since the resort was built. Guest can feel the spiritual energy of the area and find inner peace on the protected land.
The resort wellness retreats are led by guest expert practitioners, therapists as well as in-house staff. There are comfortable, clean rooms with garden views, an advanced detox and wellness center, traditional Balinese spa, yoga and meditation halls, a martial arts center, healthy dining and relaxation pools.
Their restaurant is based on a 'farm to table' concept, offering a healthy cuisine, using mainly vegetables from their organic garden. What they are unable to produce themselves, they source from local organic farmers.
Svarga Loka aims at offering culturally authentic experiences from water blessings and 'canang' flower offerings (you can take classes daily to learn how to make offerings), to White Crane martial arts, an indigenous practice called Silat as well as various options for temples, palace, priest and healer visits.They also support several charities in Bali, which can all be found on their website.
Among the vast array of programs offered on the property lay a river of authenticity flowing throughout Svarga Loka. The wellness center Director Nigel holds a passion for taking people on a journey to recovery from all kinds of addiction, offering residency as well as outside clients. Yogi Savitri gives her genuine love and experience with Kundalini through a gentle, yet balancing daily yoga class. She also curate and facilitate Yoga & Wellness retreats, and offer holistic services such as Life Coaching, Reiki, Chakra Balancing and Crystal Healing. Vibrant and passionate raw Chef Mathias inspires you in his class to more conscious consumption of the food you eat and gives you techniques to create some tasty and colorful dishes at home.
Beyond the understated beauty of this resort, delicious healthy food and traditional spa treatments, we love the idea of escaping for a holiday or a weekend in Ubud while experiencing authentic Balinese healing and fully immersing yourself in the magic of the culture of the island.
For more info on Bali's best spots for the modern yogi STAY | SPA | PLAY | EAT | SHOP | YOGA – Download our ULTIMATE BALI GUIDE for free.
Read next >> retreat center north bali coast