skinveda
Published: 20-08-2016 - Last Edited: 26-02-2022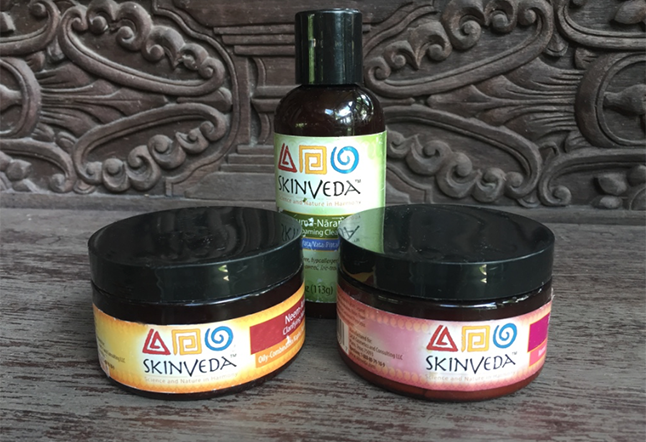 The Ayurvedic philosophy for natural skin care caught my interest, so when I came across Skinveda, I decided to give it a try. Skinveda means "science of the skin." Behind this understated brand, founder and chemist Shilpi Jain offers a fresh and new approach to skin care based on medical science that originated over 5000 years ago in India. The spiritual approach of yoga and the healing benefit of Ayurveda are very much intertwined, and work magic when combined.
From the Ayurvedic approach, we are all made of the same elements (space, air, fire, water, earth) just as everything in Nature. Shilpi Jain wanted to create a skincare line that would be appropriate for each person and their unique constitution based on their doshas – Vata, Pitta, and Kapha.
Using the doshas as a guide (you can fill out the questionnaire online to determine your constitution) you can choose which Skinveda products are appropriate for your skin type. Light in texture and delicate in scents (which makes it extremely enjoyable to apply on the skin) all products are natural.
I fell in love with the smell of the Curcuma-Narangi Gentle Foaming Cleanser, which does not foam (it's a good sign of natural ingredients!) yet leaves your skin very clean. The BB Tinted Sunscreen is really special. It appears thick at first, but disappears nicely into the skin and penetrates easily to give you a natural sunscreen protection of SPF 50+ (with Zinc Oxide and Titanium Dioxide and has a peptide for helping even out skin tone). The Tulsi Pore Refiner is a gem. This potent oil-free serum helps minimize pore size, clarify the complexion, and balance out the excessive Kapha (congested, oily skin).
After a few weeks of using the products to test them, I could see clear improvements of my skin and appreciate that Skinveda offers an option to health-hazardous chemicals to help us live a toxin-free lifestyle, while still experiencing a skincare that works!