senspa
Published: 03-05-2011 - Last Edited: 09-10-2022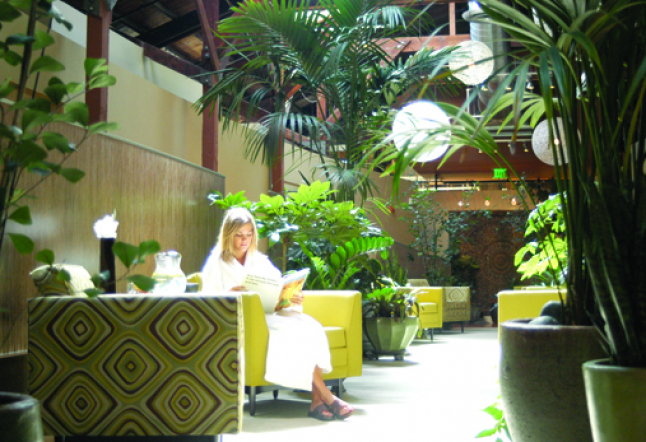 Within a long row of white clapboard barracks near Crissy Field in San Francisco's Presidio nestles a new Asian-influenced day spa called SenSpa, where the focus on wellness infuses every detail to create a relaxing and rejuvenating experience. Here you'll find the full range of spa services – massage, facial, waxing, aromatherapy and more – plus a sophisticated approach to holistic healing based on Chinese medicine. 
SenSpa founder Dave Spencer and his team have created a warm, uncluttered atmosphere that maximizes the natural spaciousness of the high ceilings and long lines of the old building. Moving from the front door through the reception and retail area, past the central resting room and into the elongated tea room, there is a deepening sense of unfolding and release. Every detail was carefully chosen based on the principles of feng shui to create an atmosphere supportive of healing, and the result is wonderful. 
After donning a cushy white robe and slippers, I found my way to the resting room – an intimate space with orange walls and sleek contemporary furniture. Stretching out on the lounge chair and sipping my tea, I was overtaken by the steady flow of the waterfall along the wall behind me. Already I had started to unwind after navigating the confusing maze of streets and buildings in the northeast corner of the Presidio. (Do yourself a favor and allow lots of extra time to find the spa, shed your car and settle in before your treatment!)
SenSpa draws on Chinese medicine and healing traditions from around the world to help you connect with your natural core wellness. They have identified three basic paths: Release, Restore Revitalize.  Makes sense, and why not explore and find out what the words mean? Release is about cleaning your system of everyday toxins, accumulated cellular waste, etc. Restore includes nutrition, movement and body/skin care. Revitalize includes therapeutic touch, energy channeling, breathing techniques and more. SenSpa's menu of services is color-coded to help you identify which treatments fit your focus, and SenSpa has a team of Wellness Coaches to help you choose the treatments that best suit your personal needs. 
At the heart of SenSpa is the Chinese Medicine healer on staff, Master Healer Ming Yi Wang. Born and trained in China based on the Shaolin tradition, Master Wong brings a holistic approach to evaluating and treating clients at SenSpa, in addition to leading early-morning meditative and martial arts practices before dawn every morning on Twin Peaks. He and his staff use techniques such as Chinese cupping, Tui Na, herbal remedies, Qi Gong and nutritional counseling to address a wide range of concerns – from sports injuries to cancer to depression. The idea is to increase the energy flow to the organs and bone marrow, and open energy pathways to the spine, pelvis and joints — ultimately helping the body become more resilient and resistant to injury and illness."
For healing, you need two people," says Master Wong. "Both must be committed." He provides treatments that have immediate benefits but is particularly valued for creating long-term programs that integrate many types of healing and behavior changes. "It is important to eat well – no animal products – and use all of your energy every day in service, so that at the end of the day you are an empty battery, ready to be recharged." 
While contemplating the benefits of a long-term commitment to healing, I enjoyed an immediate treat body treat called Island Indulgence. The heart of the treatment was a massage based on Hawaiian Lomi Lomi massage, which was inspired by hula dance, with long flowing strokes like currents in the water or waves of energy. I was gently rocked and stroked and released, with strokes that were sometimes light, sometimes more penetrating. They seemed to awaken my body's energy and release some tightly stuck patterns. The therapist also provided some steady grounding touch. 
As the massage wound down, I was lightly draped with cloths while the therapist gave a fabulous scalp massage and an exfoliating foot massage. The scents of Jasmine and citrus infused into the massage oil had just the right balance between clarifying citrus and lush floral sweetness.  
When the treatment ended and the gentle island music stopped, I was reluctant to leave the island of indulgence. Eventually, I wandered out to the aromatherapy bar and tried to "sniff [my] way to Nirvana" but I felt so good already. Nothing else seemed needed. When I stepped outside and rediscovered the Golden Gate, the shimmering Bay and the thriving dunes of Crissy Field  on a bright summer evening, I felt as alive and free as any bird soaring across the sky.
Read next >> yoga of transformation art exhibit lights up san francisco's asian art museum