mr. iyengar comes to town
Published: 08-04-2013 - Last Edited: 26-10-2022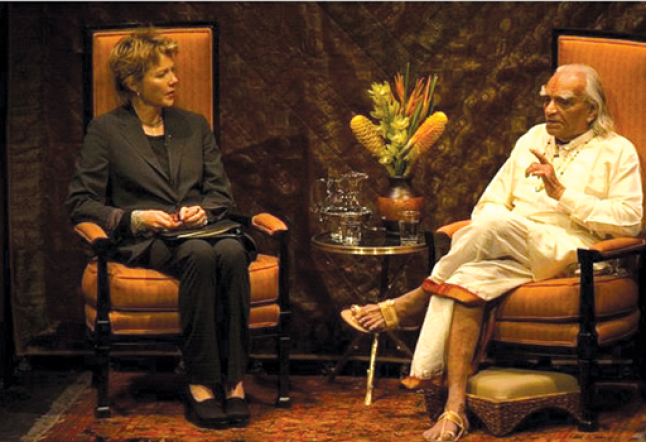 It's no ordinary day when Mr. B.K.S. Iyengar arrives in your neighborhood. If you've ever wondered, "What's Iyengar Yoga?" October 3rd was your chance to meet the man who stands as one of the great masters whose influence can be seen in much of the yoga practiced today. With guidance from his guru, Krishnamacharya, Mr. Iyengar dove so deeply into the practice of yoga that perhaps the practice and the person merged into one. His practice is known for its precise alignments and power in healing debilitating injuries. It has inspired countless devoted practitioners around the world.
Mr. Iyengar spoke at Davies Symphony Hall, after more than two hours of tributes and films. He then spoke to a small group of students at the Iyengar Institute of San Francisco.
At age 87, Mr. Iyengar exudes health and well-being – the kind of relaxed yet alert body and mind that eludes most mortals. His presence is unmistakably powerful. Yet, he is equally known for his kindness""where every action and every word aim to help students gain health and happiness.
The series of films showed Mr. Iyengar practicing asanas, teaching students, and lecturing at various gatherings. The fruits of his practice are visible in the quickness, fluidity, and precision with which his body moves; in the combination of stability and softness; and in the clarity of his sight and voice. If yoga practice is a way to destroy the impurities in the body and the mind, Mr. Iyengar gives us an opportunity to see the results as well as the process.
The tributes from his long-time students gave a taste of Mr. Iyengar's unique genius and profound influence on the practice of yoga. As Ramanand (one of his students) said, "Mr. Iyengar gives hope, confidence, vibrant life, and amazing miracles." Several grateful yoga practitioners told their personal stories of physical recovery from debilitating pain and injury through practicing yoga based on Mr. Iyengar's system. His long-time students praised his fearlessness in practice, his gift of sight, his balance of fierceness and kindness, his devotion to the practice and his students, and his "unflinching dedication to selfless service to humanity."
Mr. Iyengar received official proclamations from a half-dozen public officials, from long-time yoga practitioner Aaron Peskin (former President of San Francisco's Board of Supervisors) to Governor Arnold Schwarzenegger and U.S. Senator Dianne Feinstein. He accepted the plaques and praise with grace and spoke to the yogis gathered to honor him. He thanked the grace of god that he was chosen as an ambassador of yoga. He encouraged people to "continue to practice this art so there is only one mind…and that mind is only friendliness and compassion."
Read next >> fabulous faux