miosótis
Published: 25-04-2015 - Last Edited: 30-10-2022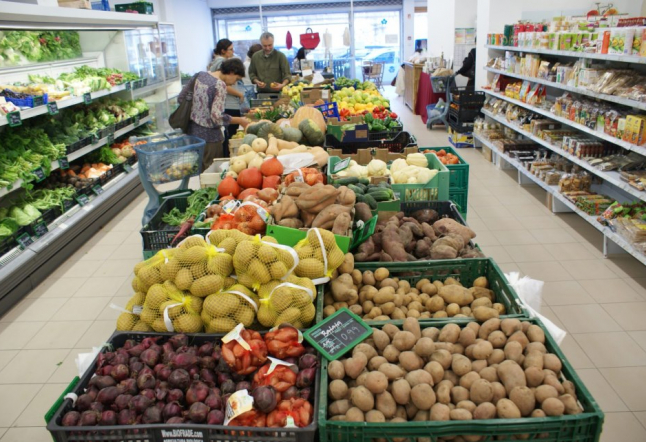 In Marquês Sá da Bandeira Street, very close to one of the Lisbon Institutions, the Foundation Calouste Gulbenkian, is a space that immediately grabs the attention of those who walk that street. The vibrant colours, the pleasant scent and the kind name of the place invites anyone to enter. Miosótis is an organic market that has countless options for a healthier life and is the first supermarket of the kind in Lisbon.
If it weren't for the different brands and products, one would think it is a conventional supermarket. There are constantly filled shelves, fruits and vegetables, a bakery and even a bookstore, not to mention the wine area. The waiters are always mindful and ready to help, refilling the shelves so that nothing is missing.
In this supermarket, there's no room for wonder: everything is 100% organic. And why should we pick organic? Miosóstis explains that "consuming must promote the protection of the planet and the wellbeing of man" and only through safe, pesticide free products is this protection guaranteed.
On the way in there are shopping carts you can use to easily carry everything. On the way out you can choose to trade the bags for card boxes that were initially used to bring the fruits and vegetables in to the store, thus applying the three Rs rule: Reduce, Reuse and Recycle.
This is a store for the entire family that has offers for the young, the old, pets and for the home in general. Everyone is welcome! After shopping, you can have a tea or a meal at the café inside, where it is warm and vibrant as the store.
Miosótis is more then just a supermarket: they have workshops, music concerts, plays, poetry readings and so much more. All focusing on the healthy, nature-friendly lifestyle.
This store is open Monday through Saturday, from 9am to 8pm. You can park in the parking spots in front of the supermarket, but, thinking about the planet, take the bike instead and leave it on a bicycle parking lot that Miosótis built for you and Mother Earth!
Open Monday – Saturday – 9:00am – 8:00pm
Read next >> jaya yoga shala