laya spa and yoga
Published: 07-07-2014 - Last Edited: 03-11-2022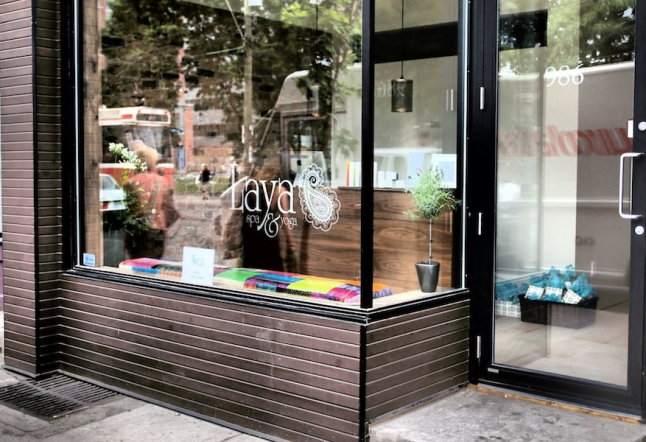 If you are looking to enjoy some spa pampering as well as your daily yoga practice, you have found the right place, Laya Spa and Yoga.
Upon your arrival you can enjoy the Moroccan inspired lounge that is equipped with free Wi-Fi, where lunch or a light dinner can be delivered to you. Get ready to relax!
Spa services at Laya Spa and Yoga include: The Laya Body Love which uses a scrub ideal for all skin types. Made with organic honey, cane sugar and delicately dried rose petals, the scrub is followed by a warm shower in your private suite, a clay mask for the face and body to draw out impurities from the skin and a rehydration ritual using organic essential oils. The scrub is also available in the boutique.
Try the Herbal Body Scrub with Shankara herbs (containing an Ayurveda-inspired mix of Dead Sea salt, spices, and the essence of oranges, lemons and other natural ingredients like amla, brahmi, ashwagandha) to remove dull skin cells. This scrub has a high mineral content and is renowned for its non-clogging properties. To complete this treatment, enjoy a massage with a blend of warm essential oils to rehydrate the skin.
Looking for something just for you? The Personalized Salt Scrub uses a blend of essential oils that is selected based on your likes and needs, perfect for after your sun vacation or between seasons.
The yoga classes offered are of various levels and inspired by the Ashtanga approach. There is group classes as well as individual teaching. Yoga classes are for all levels and are kept small to insure that you get personal attention from the instructor.
This lovely space has and offers it all from a steam room, waxing, Ayurveda Facial, Abhyanga Massage, Chakra Therapy, Yoga Classes and Meditation Classes. Laya Spa and Yoga is a modern healing oasis and a yogi's dream coming true!
Read next >> hammam spa