a.o.c. wine bar and restaurant
Published: 29-06-2011 - Last Edited: 19-08-2021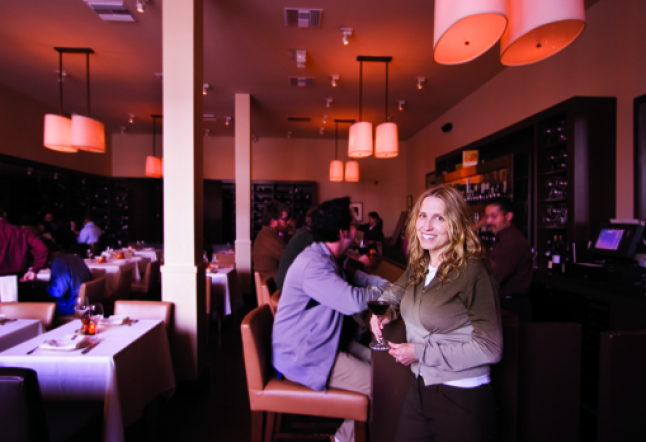 My boyfriend recently returned from a trip to Barcelona. When we walked into A.O.C. the other night, and he spotted the hanging cured meats behind the meat-and-cheese bar on one side of the restaurant and the choc-a-bloc wine bottles stacked every other place you could turn, he was instantly transported back.
"Ah, la buena vida," he said.
And that comment seemed about right, as we sat slow-food style for the next two and a half hours, sipping wine care-free and sampling lively small plate after small plate, in close quarters to our chattering fellow diners but in happy, relaxed comfort nonetheless.
A.O.C.'s Mediterranean-influenced food is daring and of the kind that promotes conversation. Just listen – everyone here is talking about it. You might debate the assortment of cheeses on offer, pondering the possibilities of goat, sheep and cow varieties. Your waiter will surely be glad to explain the differences between the Saint-Nectaire from the Auvergne region in France and the Constant Bliss from Jasper Hill Farm in Vermont. (In fact, our waiter often took the reins when recommending what we should order.)
If you're less of a purist, you might try the goat cheese, dried figs and saba ($8). We did, and contentedly made our way through two chunks of cheese atop thinly sliced radicchio, interspersed with succulent fig. All of this was dressed up in a sweet saba, a syrup vinegar produced from grapes.
At some point, you might think to say, "Who would have thought to pair blood oranges with roasted almonds?" when you try the lovely blood orange, date, parmesan and almond salad ($9). The refreshing zing of the light crimson orange slices is a remarkable complement to the rich dates, crunchy almonds and thick wedges of cheese.
We also tried an evening special, asparagus with saffron butter ($9). Coupled with shallots and spring green garlic, the saffron butter took the asparagus to another level. We talked about this dish long after we left the restaurant, as well as the next day, when I was eating a rather plain, homemade steamed batch of asparagus.
Before further ado, I must mention the wine, the obvious cynosure of A.O.C. The thirteen-page wine menu doesn't feature any organic varieties, but the list is impressive, spanning continents and styles. And there's plenty by the glass.
With Barcelona nostalgia in his eyes, my boyfriend took charge of the wine, and with the ever-available help of our superb server, ordered two Spanish red varieties, a glass of Toro ($10) and one of La Mancha ($7). The latter was a simple table wine, but a palatable choice. The Toro was the more complex, a good complement to richer foods, like the cauliflower, curry and red vinegar ($8), my favorite dish, with its satisfying portion and perfectly cooked heartiness. The slightly blackened bits on the cauliflower were like icing on the cake.
Though, at first glance, the menu seems largely meat-oriented, vegetarians will not have any difficulty here. Meat-eaters though might go dizzy with tempting possibilities. The fish ranges from pancetta-wrapped trout to Hawaiian ceviche, and also available are dishes like coq au vin, quail and lamb.
If your taste buds don't lay themselves down into savasana after an A.O.C. multi-course flow, you will simply have to try a dessert. We went with the wood-toasted pain perdu ("lost bread," $8). This consisted of two pieces of taut-on-the-outside, spongy-on-the-inside pain – in this case, as our waiter described, a cross between French toast and bread pudding. The heaven-made layer above it was a slightly tart sauce of cassis berries. The scoop of crème fraiche on the side was a harmoniously perfect fit.
A.O.C. stands for appellation d'origine contrôlée, a term referring to a French certification regarding quality, origin and authenticity in wines, cheese and other products. And the quality, professionalism and no-holds-barred vibrancy of the food are undeniably apparent here. In our minds, there's no doubt that A.O.C has well earned its seal of approval.