the global mala project unites yogis for a compassionate cause
Published: 14-08-2015 - Last Edited: 09-11-2022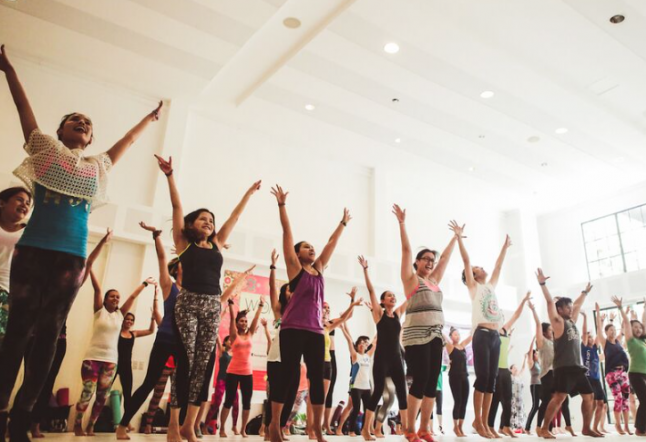 On its eighth year of celebrating peace and positive change through yoga, and in line with Fall Equinox and the United Nation's International day of Peace, the Global Mala Project Manila recently executed another successful event that achieved its objective of raising social consciousness and funds for noteworthy causes.
Held at WhiteSpace Manila last September 26th, this year's chosen beneficiary, was Children International. Inspired by the concept of a mala, which is a set of beads used to focus awareness during meditation in traditional yoga, the Global Mala Project sought to create "a mala around the earth", through simultaneous events happening in different cities around the world.

The largest worldwide yoga event was brought to our shores by model, host, environmentalist and yoga instructor Teresa Herrera, who shared the vision of her mentor and founder of the Global Mala Project, Shiva Rea.

During the months prior to the event, she worked closely with event producers and yoga centers around Manila to ensure its success.
Needless to say, all of the event collaborators worked completely pro-bono, to ensure that 100 % of its proceeds go to charity. People who attended the event were treated to what Herrera likes to call, "a yoga buffet".

They were given the opportunity to participate in classes such as Vinyasa, Ashtanga, Yin, Kundalini, Anusara, Iyengar, Pre-natal, Post- natal, Kids Yoga, Meditation, Drumming workshop, Yoga Trance Dance, and more.

Educational talks were given on topics such as how to prepare raw nut milk, veganism, chakras, self-development, and gratitude.
International Yoga Teachers Keith Kempis from Sydney, and Christi Christensen from Los Angeles, led the Jivamukti class and Awakening Flow Yoga class respectively during the event. Model and restaurateur Bianca Araneta-Elizalde ensured that participants were treated to delicious and healthy fare, care of The Wholesome Table.

Models were also spotted distributing bottles of Tropicana Coco Quench to guarantee to ensure that the participants stay hydrated and replenished.
Merging fashion and Yoga, instructor Missy Castro was seen wearing the latest SM Woman Active Wear. Global Mala Project Manila clearly achieved its goal of seeking worldwide unity through yoga and collective action, with the support of Tropicana Coco Quench, SM Woman, Certified Calm, ToeSox, Manduka, Sprout, and The Wholesome Table.

Thanks to the sponsors and food partners, the participants left not only with happy stomachs, but healthier bodies, happier hearts, and inspired souls.
Seen at the event were TV host and model Marco Lobregat, entrepreneur, stylist and editor-inchief Rosario Herrera, host and model Patty Grandidge Herrera, and director for Sea Biscuit Nicky Daez.

For more information Like Global Mala Project Manila on Facebook and Follow @globalmalamanila on Instagram.
Read next >> ill mercante di nuvole. studio65: 50 anni di futuro